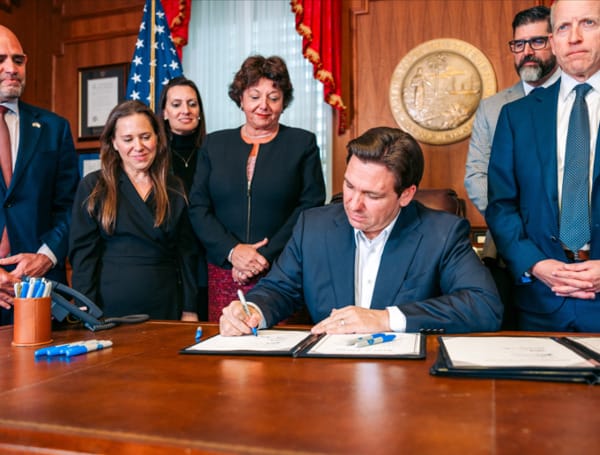 Florida Governor Ron DeSantis signed legislation that was passed during the Florida Legislature's special session last week.
This legislation puts sanctions on Iran and protects Jewish Day Schools in addition to providing aid for Floridians impacted by Hurricane Idalia and expanding Florida's Family Empowerment Scholarship for students with unique abilities.
The legislation also allocates $181.5 million to the My Safe Florida Home Program to help lower the costs of homeowners' insurance for Floridians.
"I applaud the Legislature for their fast work during this special session," said Governor Ron DeSantis last week. "Divesting from any company that supports Iran and ensuring that students are able to attend Jewish Day Schools safely is of utmost importance. I am also thankful we have been able to provide relief for Floridians impacted by Hurricane Idalia, take steps to lower the costs of homeowners' insurance and expand Florida's nation leading school choice program to include any student with unique abilities. I look forward to signing this legislation."
Read: Florida AG Moody Calls For Biden Admin To Remove Student Visas For Those Who Support Terror
The Legislature passed legislation, first proposed by the Governor, that will institute some of the harshest sanctions against Iran of any state in the nation. The legislation broadens the definition of a scrutinized company to include any company engaging in business operations with the government of Iran in the energy, petrochemical, financial, construction, manufacturing, textile, mining, metals, shipping, shipbuilding or port sectors. Additionally, this legislation will:
Redesignate the Iran Petroleum List as the Scrutinized Companies with Activities in Iran Terrorism Sectors List.
Require the State Board of Administration to divest holdings in the Florida Retirement System portfolio from companies that meet the broader definition of "scrutinized company." In addition, any new investment in one of these companies will be prohibited.
Prohibit a scrutinized company from contracting with an agency or local government entity.
To further protect Jewish Floridians, $45 million was appropriated to safeguard Jewish institutions like schools, synagogues and museums through the Florida Division of Emergency Management and the Department of Education to provide grants for security measures.
The Legislature has also taken action to create and fund programs that will support individuals, agriculture and aquaculture businesses and local governments as they recover from Hurricane Idalia.
The Legislature has appropriated a total of $417 million for disaster relief, including over $181 million for the My Safe Florida Home Program to provide mitigation inspections and grants for homeowners across the state to harden their homes against a hurricane.
Read: Alan Dershowitz: Today's Nazis Are Hamas Gays For Gay-Killers, Jews For Jew-Killers, Feminists For Wife-Beating, Progressives For Fascists
The bill also funds:
$50 million for the Hurricane Recovery Grant Program.
$30 million to provide local governments with the local match requirement to receive FEMA Public Assistance Funding.
$25 million to fund the Hurricane Housing Recovery Program.
$10 million for the Small County Outreach Program through the Department of Transportation to assist impacted counties with transportation projects.
$5 million for the Rural Infrastructure Fund dedicated to counties impacted by Hurricane Idalia.
Additionally, the Legislature passed legislation expanding Florida's Family Empowerment Scholarship for students with unique abilities (FES-UA) to include any eligible student who applies for a scholarship by December 15. This expansion will eliminate the current waitlist for this school year.
Android Users, Click To Download The Free Press App And Never Miss A Story. Follow Us On Facebook and Twitter. Signup for our free newsletter.
We can't do this without your help; visit our GiveSendGo page and donate any dollar amount; every penny helps
Login To Facebook To Comment