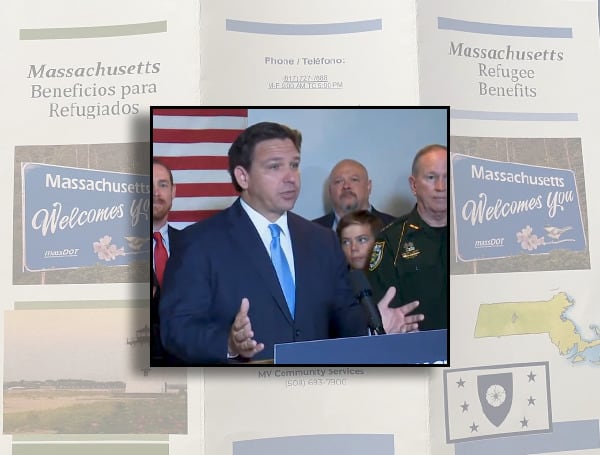 Florida Gov. Ron DeSantis' office is challenging claims that DeSantis "misled" illegal migrants into boarding planes heading to Martha's Vineyard, Massachusetts,
According to DeSantis's office, the migrants were given days to decide whether to travel to the island, senior officials with the governor's office said on a call with reporters Monday afternoon.
The illegal migrants, who were flown from Texas to the island, were informed of their destination and given days to decide whether they wanted to board the flights the governor was offering, the officials said.
DeSantis sent two planes of illegal migrants to Martha's Vineyard, a popular destination for many wealthy elites, on Sept. 16.
In the news: Florida Democrats Dispute Use Of State Money For Migrant Flights To Martha's Vineyard
"Everybody was given multiple opportunities to you know to voluntarily go or to decide even after receiving meals, accommodations, and an opportunity to clean up and get some rest to stay behind if they wanted and some chose to do that. These were people that were in a rough situation, and undoubtedly had their circumstances improved," an official said.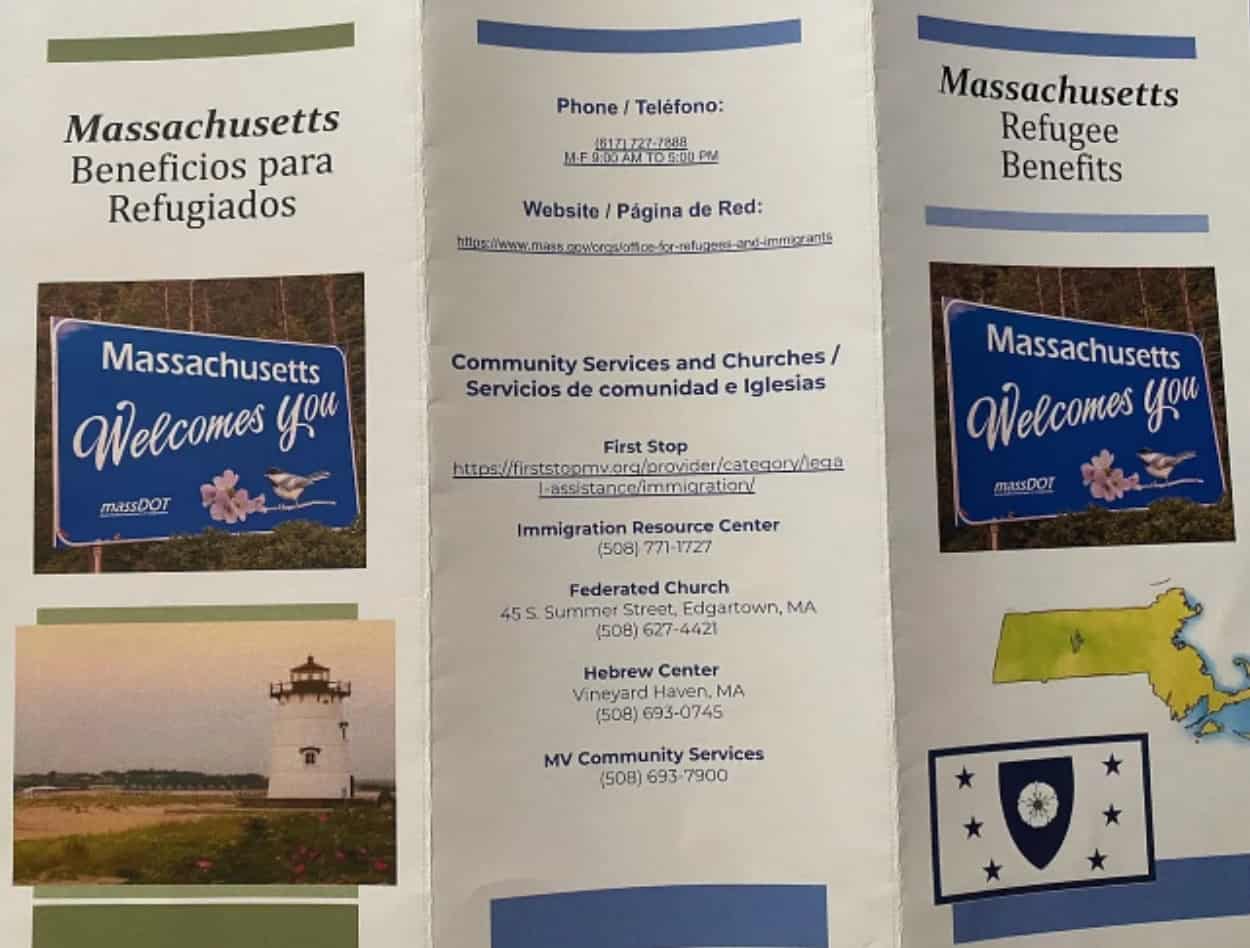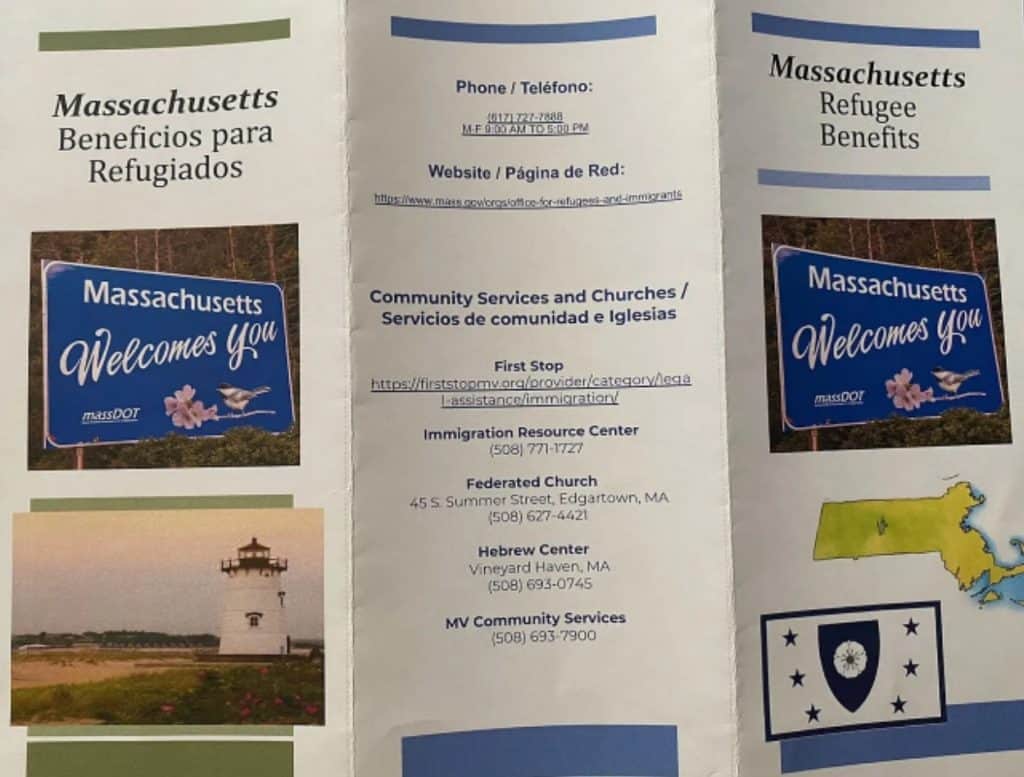 Pamphlets that DeSantis' office gave to the illegal migrants that pointed them to local refugee and shelter resources and a map with the island labeled and marked with a red star were posted to multiple social media outlets.
DeSantis' office acknowledged reporting the pamphlets from multiple outlets, saying some reports show "authentic" packets.
Multiple media outlets reported that the illegal migrants were told they were going to Boston, not Martha's Vineyard, and promised specific job, which the official said wasn't true.
"They were given every opportunity over a multiple-day period to decide if they didn't want to go on the trip and to go a different direction," the official said. "Indeed, some of these individuals after a night or two of accommodations chose to stay behind and not go on the trip. During the flights, individuals were given bags with snacks, with water, with other provisions of information taken from the Massachusetts website that talks about benefits that are available in a sanctuary state."
In the news: Florida Man Beats Female CVS Employee While Screaming "F*** Joe Biden"
The illegal migrants were homeless, malnourished, and had been sleeping in parking lots around the Texas border before they were given shelter and time to decide whether to take the flights, according to the officials.
"Many had been in a shelter at some point previously and had been kicked out, did not have a place to go and essentially we're wandering homeless along the border," the official said. "We gave everybody a voluntary opportunity, it was made very clear it was voluntary to go to Massachusetts, and on multiple occasions prior to the departure of these flights these individuals were told they would be going on Martha's Vineyard."
Several states have threatened DeSantis with possible legal actions.
Democratic California Gov. Gavin Newsom urged Attorney General Merrick Garland to investigate Republican governors' efforts to ship illegal migrants to other cities for alleged kidnapping and civil rights violations in a letter Thursday letter.
"Like millions of Americans, I have been horrified at the images of migrants being shipped on buses and planes across the country to be used as political props," Newsom wrote in his letter to Garland. "Clearly, transporting families, including children, across state lines under false pretenses is morally reprehensible, but it may also be illegal."
Gainesville Mayor Lauren Poe tweeted last Thursday that he(his/him) would happily resettle illegals in the home of the University of Florida.
"Instead of sending families fleeing violence in Venezuela to Martha's Vineyard, bring them to Gainesville," said Poe.
"They will be welcomed, we will use the money to house them and they will add to [the] cultural and economic foundation of our city."
The "money" Poe referred to was his caveat for accepting the folks the Republican governor is assisting to find aid in wealthy Martha's Vineyard.
His condition for accepting the illegals was that they come "along with the $12m."
This year, the Republican-led Legislature banked $12 million for DeSantis' discretion to deal with the illegal immigration problem.
Back in April, when he announced the funding, DeSantis said, "If you sent [the illegal immigrants] to Delaware or Martha's Vineyard or some of these places, that border would be secure the next day. That border would be secure."
The border may not be secure – yet. But DeSantis has made a point.
The governor sent just 50 illegals to Martha's Vineyard and, as the New York Post reported Thursday, the local tourism board immediately declared a "humanitarian crisis."
That is the equivalent of the number that would have crossed the Texas border in just 25 minutes in April, when a record 234,000 people flowed illegally into the U.S.
Nonetheless, Mayor Poe wanted the $12 million, apparently, so his constituents, who like the folks in Martha's Vineyard have cloaked themselves with the "sanctuary city" mantle, won't have to cover the actual cost of caring for these illegals. He instead wants that burden spread across all Florida taxpayers.
Visit Tampafp.com for Politics, Sports, and National Headlines. Support journalism by clicking here to our GiveSendGo or sign up for our free newsletter by clicking here.
Android Users, Click Here To Download The Free Press App And Never Miss A Story. Follow Us On Facebook Here Or Twitter Here.
Copyright 2022 The Free Press, LLC, tampafp.com. All rights reserved. This material may not be published, broadcast, rewritten, or redistributed.
Login To Facebook From Your Browser To Leave A Comment