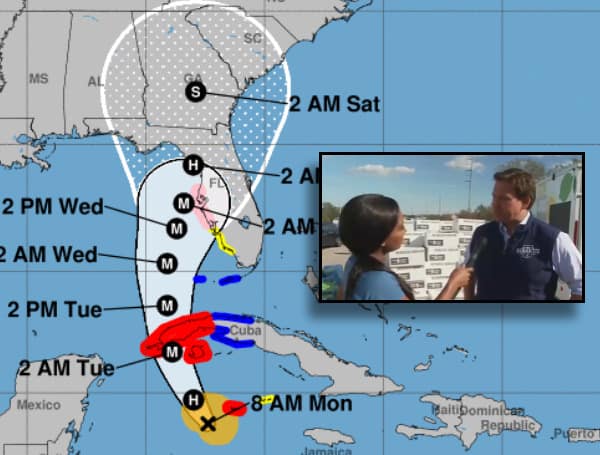 Florida Gov. Ron DeSantis fired back at CNN after being questioned about Lee County, Florida, not having a mandatory evacuation for Hurricane Ian until the day before the storm hit the Florida Gulf coast.
A reporter from CNN, Nadia Romero, questioned DeSantis on Sunday in Arcadia, DeSoto County while the governor was surveying the damage to the area.
Since Hurricane Ian made landfall last Wednesday, mainstream media have criticized Lee County's decision to not issue a mandatory evacuation order until Tuesday.
Romero asked, "Why do you stand behind Lee County's decision to not have that mandatory evacuation until the day before the storm?"
"Well, where was your industry stationed when the storm hit?" DeSantis replied. "Were you guys in Lee County? No, you were in Tampa."
Days leading up to the massive hurricane, the path of storm did not have Lee County in the cone. In fact, the Tampa Bay area prepped and braced for impact leading multiple counties to declare a state of local emergency and issue evacuation orders.
In the news: House Dems Vote To Block Parental Notification For Mental Health Services In Schools
DeSantis added that more attention was given to Tampa, likely leading people to hesitate on evacuating in the southwestern part of the state.
"But I think part of it was, so much attention was paid to Tampa, a lot of them thought they wouldn't get the worst of it but they did, and I think it is easy to second-guess them. But they were ready for it the whole time and made that call when [it] was justifiable to do so," DeSantis said. 
Romero continued to remark that neighboring counties to Lee County issued mandatory evacuation orders earlier.
"I think it's easy to say in hindsight. We had most of our supplies stationed in the Tampa Bay area. As that track moved, we shifted our response further south as well," DeSantis said.
Romero asked whether or not Lee County's hesitation to issue a mandatory evacuation will be reviewed following recovery. 
DeSantis said that at the end of the day, this was still a decision made on the individual level.
"They informed people and most people did not want to do it," DeSantis said. "That's just the reality. So you're in a situation, are you going to grab somebody out of their home that doesn't want to. I don't think that's the appropriate use of government. I mean, I think that takes it a little too far."
Attempts to paint Florida Republican Gov. Ron DeSantis as a hypocrite over Hurricane Ian disaster aid are spreading throughout mainstream and social media.
At issue is DeSantis' vote for Hurricane Sandy relief for New York and New Jersey. As The New York Times tweeted on Thursday, "DeSantis, as a freshman congressman in 2013, opposed a federal bailout after Hurricane Sandy. Now, as Florida confronts the devastation and costly destruction wrought by Hurricane Ian, DeSantis is seeking relief."
In the rush to help victims of Sandy late in 2012, Democrats did what they do best: spend big with other people's money. Then-President Barack Obama demanded $60 billion for New York and New Jersey.
After some back and forth over how much pork Obama and the Democrats stuffed into the first bill, Congress settled on a $9.7 billion relief package — the first of two — that allowed FEMA to borrow that funding to support the National Flood Insurance Program relative to Sandy.
In the news: SBA Adds Four Florida Primary Counties To Disaster Declaration For Hurricane Ian
DeSantis voted against this. There is no dispute as to why.
As WUSA in Washington quoted the former congressman, DeSantis posted on Facebook in January 2013, "I sympathize with the victims of Hurricane Sandy and believe that those who purchased flood insurance should have their claims paid. At the same time, allowing the program to increase its debt by another $9.7 billion with no plan to offset the spending with cuts elsewhere is not fiscally responsible."  
Where the liberals' big lie comes in is not telling the public that Congressman DeSantis backed a relief bill that almost doubled that amount — as Dustin Carmack, an analyst at the conservative Heritage Foundation pointed out on Twitter on Thursday.
Carmack's thread included a link to a 2013 article in The Hill that noted House Republicans, led by Rep. Mick Mulvaney, who championed an amendment for $17 billion in Sandy relief that would be paid for by cuts to other federal programs unrelated to the disaster aid.
"It's important to me that this money goes to the folks who need it very badly. It's so important to me, that I think we should pay for it," Mulvaney argued. "The time has come and gone in this nation where we can walk in here one day and spend nine or 17 or 60 billion dollars and not think about who's paying for it."
DeSantis supported Mulvaney's measure, which was defeated after being rejected by all but five Democrats and about a third of the GOP majority at the time.
In other words, Democrats, as they always do, did not care about driving taxpayers deeper into debt or want to sacrifice any of their other big government programs, and they convinced dozens of Republicans, who at the time reportedly claimed to care about responsible spending, to go along.
Ultimately, DeSantis joined 178 other Republicans in voting against a second bill for $50 billion in Sandy relief.
In the news: VP Kamala Harris Says Florida Disaster Relief Should Be 'Based On Equity'
As GOP Sen. Ted Cruz pointed out in 2017, two-thirds of that spending was for projects that did not provide immediate relief to Sandy's victims.
As for DeSantis, when WUSA asked for a comment about his 2013 vote, his office replied, "Thanks for the well wishes, but give it a rest with amplifying all the critics. We are completely focused on hurricane response. As the governor said earlier, we have no time for politics or pettiness."
Visit Tampafp.com for Politics, Sports, and National Headlines. Support journalism by clicking here to our GiveSendGo or sign up for our free newsletter by clicking here.
Android Users, Click Here To Download The Free Press App And Never Miss A Story. Follow Us On Facebook Here Or Twitter Here.
Copyright 2022 The Free Press, LLC, tampafp.com. All rights reserved. This material may not be published, broadcast, rewritten, or redistributed.
Login To Facebook From Your Browser To Leave A Comment