Florida is known for many things: alligators in swimming pools, Disney World, "Florida Man" headlines, and subjectively one of the best grocery stores to ever exist, Publix. Publix is best known for its subs, specifically their Chicken Tender Pub Sub. The recipe was created in 1992 and has been a favorite ever since.
Bobby Packard, 24, born and raised in Tarpon Springs, Florida, is a big fan of the chicken tender pub sub: such a big fan that he got it tattooed on his body.
"My aunt and I decided that we wanted matching tattoos," Packard said. "We are very close, and since I was a kid, it was always our thing to get pub subs together. We had talked about matching tattoos for years."
Packard, who has lived in Texas the past few years, was planning a trip home when his aunt Barbara told him to save time for a tattoo appointment. Barbara took him to Savage Ink Tattoo in New Port Richey.
"My aunt mainly goes to Corey Savage for her tattoos," Packard said. "He's a good friend of hers," Packard said he wanted the tattoo to be cartoon-like with bright colors. "We described what we were thinking, and he made it come to life," Packard said. "Corey found it hilarious and loved the idea. He was very excited to get a chance to do something like that."
The tattoo takes up a large portion right above Packard's left knee-where it's easy to show off but can be hidden when necessary. "The size is bigger than I expected because my aunt pulled a fast one on me and got a much smaller version," Packard said.
Barbara Packard got a 5-inch version of the tattoo on the inside of her right calf. She said, "When people notice it, they just find it funny. But, when Floridians see the tattoo, they already know the deal."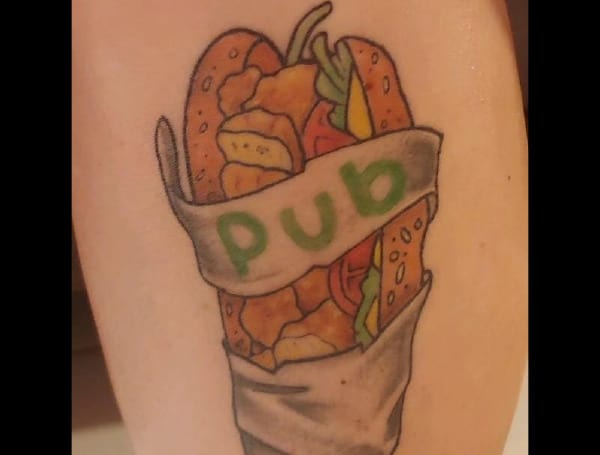 Packard said he tends to show more people after having a few drinks, and he especially likes showing his tattoo to Floridians because they have a better understanding of why it's so great. "I've had a few random people see it barely poking out from my shorts and ask me what it is," Packard said. "I always love explaining it."
The last time Packard visited his home Publix in Tarpon Springs, he showed the employee making his sub and got his sandwich for free. He looks forward to moving back home to enjoy a regular Buffalo Chicken Tender Pub Sub.
Support journalism by clicking here to our GoFundMe or sign up for our free newsletter by clicking here
Android Users, Click Here To Download The Free Press App And Never Miss A Story. It's Free And Coming To Apple Users Soon.
Login To Facebook From Your Browser To Leave A Comment