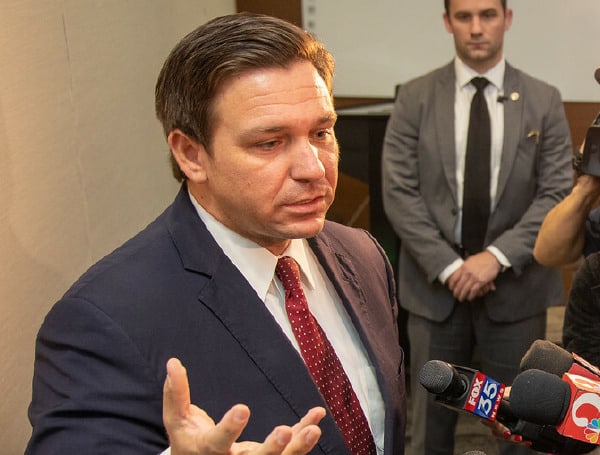 The meltdown over the re-election of Florida's Republican Gov. Ron DeSantis continues.
This time, as highlighted recently by Fox News, it was the Fort Lauderdale Sun-Sentinel, which in an editorial griped about having to live under the "crimson hellscape" created by Florida Republicans.
"Nice knowing you, Florida," the newspaper's editorial board wrote in a piece following the elections.
"After Tuesday's stunning election results, the state's political transformation is now nearly complete, from deep purple battleground to crimson hellscape, an ideal launch pad for Gov. Ron DeSantis' presidential aspirations," the Sun-Sentinel added.
Fox News noted that the paper eventually replaced the word "hellscape" with "landscape," but did not explain the change or respond to Fox's request for comment.
Nonetheless, DeSantis' strength in South Florida may have played a role.
While Democrat Charlie Crist easily carried Broward County, whose county seat is Fort Lauderdale, DeSantis became the first Republican governor in 20 years to carry neighboring Miami-Dade County to the south.
What got less attention after the election was that DeSantis also carried Palm Beach County on Broward's northern border — even though Palm Beach has roughly 108,000 more registered Democrats than Republicans.
In other words, Fort Lauderdale is sandwiched by two massive liberal enclaves where Democrats hold significant majorities, but which also voted to live in the "crimson hellscape." Broward County was, in fact, one of just five counties that Crist carried.
Continuing, the Sun-Sentinel added, "We now await a second-term agenda that may feature an open-carry gun law, tighter abortion restrictions, new strategies to suppress the vote and more charter flights for out-of-state migrants, presented with even more of the governor's trademark hubris."
Fox News noted the paper did credit DeSantis with a "historic and nothing short of astounding" victory last Tuesday, one that indicated "an epic Democratic collapse" in the Sunshine State.
Accordingly, it now seems "impossible for Democrats to slow down an extremist GOP agenda for the next couple of years" — although that seems to be an agenda supported by many Democrats, especially in South Florida.
In response to the Sun-Sentinel, the Twitter account DeSantis War Room, which supports the incumbent governor, tweeted over a screenshot of the word change: "It's okay, Florida legacy media… we understand it's hard to type words while crying."
Android Users, Click Here To Download The Free Press App And Never Miss A Story. Follow Us On Facebook Here Or Twitter Here.
Login To Facebook From Your Browser To Leave A Comment