Recently Florida state Rep. Anthony Sabatini was promoting a bill to hold Big Tech accountable for scrubbing conservatives off their platforms.
Now, to further that, another Florida lawmaker wants to scrub Big Tech from the state's investment portfolio.
In a letter Tuesday to Gov. Ron DeSantis and the Cabinet, Rep. Randy Fine advocated the "immediate divestment" of state holdings of Amazon, Apple, Facebook, Google and Twitter.
The Palm Bay Republican called the riot at the U.S. Capitol last week "one of the saddest days of my life." He recalled working as a House page three decades ago and lamented that his desk was used as a barricade to hold rioters at bay.
"It was at that desk that I learned what has always made America great. … And then last week, it was at that desk that heroic officers balanced their guns as they held back a violent mob," Fine wrote.
"These terrorists defiled a sacred temple of democracy, and in my mind, there is no penalty too severe for them."
However, Fine added, "I am deeply disturbed to see the country's major technology companies use the actions of these few as a pretext to silence ten of millions of patriotic Americans, millions of whom live here in Florida."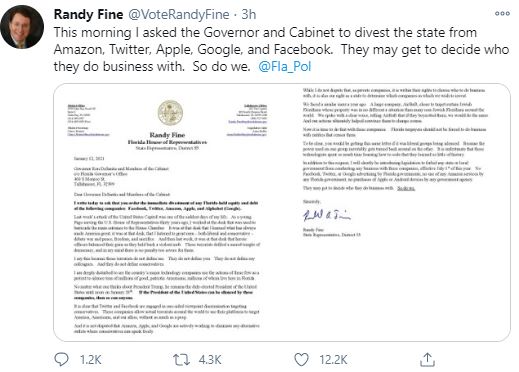 He noted President Donald Trump remains the duly elected chief executive until Jan. 20, and "If the president of the United States can be silenced by these companies, so can anyone."
Fine then accused social media firms of engaging in "one-sided viewpoint discrimination targeting conservatives." "These companies," Fine wrote, "allow actual terrorists around the world to use their platforms to target America, Americans, and our allies, without so much as a peep."
Moreover, they are working to crush competitors, such as Parler, which has been billed as a conservative alternative to Twitter.
Fine maintained that private companies can choose business partners. But, he added, "It is also our right as a state to determine which companies in which we wish to invest."
Noting that last year the state promised to boycott AirBnB for policies that seemed to discriminate against Jewish Floridians, which forced the firm to reverse its rules, Fine argued: "it is time to do that with these companies."
In addition to divesting of state assets, Fine said he will offer a bill banning state agencies and local governments from accepting advertising from the firms in question.
"It is unfortunate that these technologists spent so much time learning how to code that they learned so little of history," Fine added. "They may get to decide who they do business with. So do we."
Sabatini, a Lake County Republican, has filed the "Stop Social Media Censorship Act."
The bill would prohibit large tech companies, defined as having more than 75 million subscribers and with no specific affiliation to any one religion or political party, from killing accounts or content because of politics or religion.
The bill, if enacted, would permit users to sue a tech firm if it "deletes or censors the user's religious speech or political speech," or if it "uses an algorithm to disfavor or censure the user's religious speech or political speech." The state attorney general also would be allowed to sue under such circumstances.
Login To Facebook From Your Browser To Leave A Comment