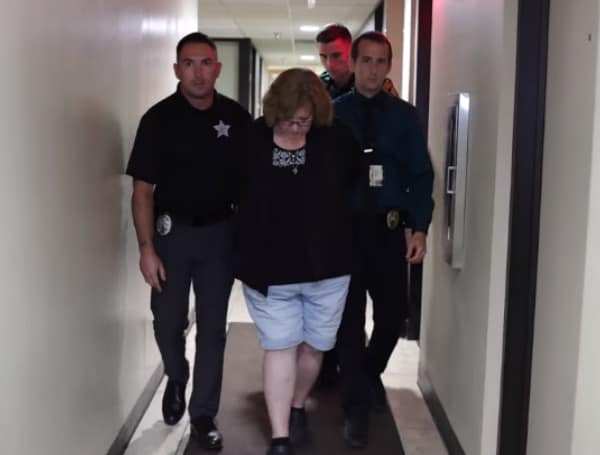 A Florida woman accused of fatally shooting her neighbor last week after a long-term feud was arrested Tuesday, Marion County Sheriff Billy Woods said.
Susan Louise Lorincz, 58, was arrested on charges of manslaughter with a firearm, culpable negligence, battery, and two counts of assault in the death of Ajike Owens, a Black mother of four, woods said.
In a video posted on Facebook late Tuesday night, the sheriff said this was not a stand your ground case but "simply a killing."
"Now many of you were struggling to understand why there was not an immediate arrest," the sheriff said. "The laws here in the state of Florida are clear. Now I may not like them. I may not agree with them. But however, those laws I will follow."
In the news :Florida Confirms Role In California Migrant Flights
The video shared by the sheriff's office shows two detectives and a deputy leading down a hallway with her hands behind her back.
Ajike Owens, 35, was fatally shot after going to the Ocala apartment of her neighbor Lorincz, who earlier had yelled at Owens' children as they played nearby and threw a pair of skates that hit one of them.
The mother of four was taken to a nearby hospital in Ocala, where she died.
"I wish our shooter would have called us instead of taking actions into her own hands," Woods said. "I wish Ms. Owens would have called us in the hopes we could have never gotten to the point at which we are here today."
The sheriff pointed out that because of Florida's "stand your ground" law, he could not legally make an arrest unless he can prove the shooter did not act in self-defense.
Before the shooting, Woods said that Owens' children had been playing in a field near the shooter's apartment. When Owens later confronted the woman at her apartment, an argument ensued, and the woman shot Owens through the front door, according to police.
In the news :New York City Unveils New Vending Machines Offering Free Crack Pipes
Civil rights attorney Benjamin Crump, who is representing Owens' family, said in a statement that the shooter had been yelling racial slurs at the children before the confrontation with their mother who is black.
The sheriff's office hasn't confirmed there were slurs uttered or said whether race was a factor in the shooting.
Woods also said they hadn't interviewed Owens' children at the time, who witnessed the shooting, because investigators first want child therapists to work with them. Most of the information the deputies have is coming from the shooter.
"There was a lot of aggressiveness from both of them, back and forth," Wood said the shooter told investigators. "Whether it be banging on the doors, banging on the walls, and threats being made. And then at that moment is when Ms. Owens was shot through the door."
Android Users, Click To Download The Free Press App And Never Miss A Story. Follow Us On Facebook and Twitter. Signup for our free newsletter.
We can't do this without your help; visit our GiveSendGo page and donate any dollar amount; every penny helps.
Login To Facebook To Comment