Constitutional law attorney Jenna Ellis' Twitter account was restricted this week for 'hate speech.'
Ellis said the restriction came after a tweet that quoted a White House correspondent who said 30,000 Afghan supposed refugees, unvetted, were going to be coming into the United States because of Biden's orders.
"So Biden is literally bringing in terrorists," Ellis tweeted. "#IMPEACHBIDENNOW".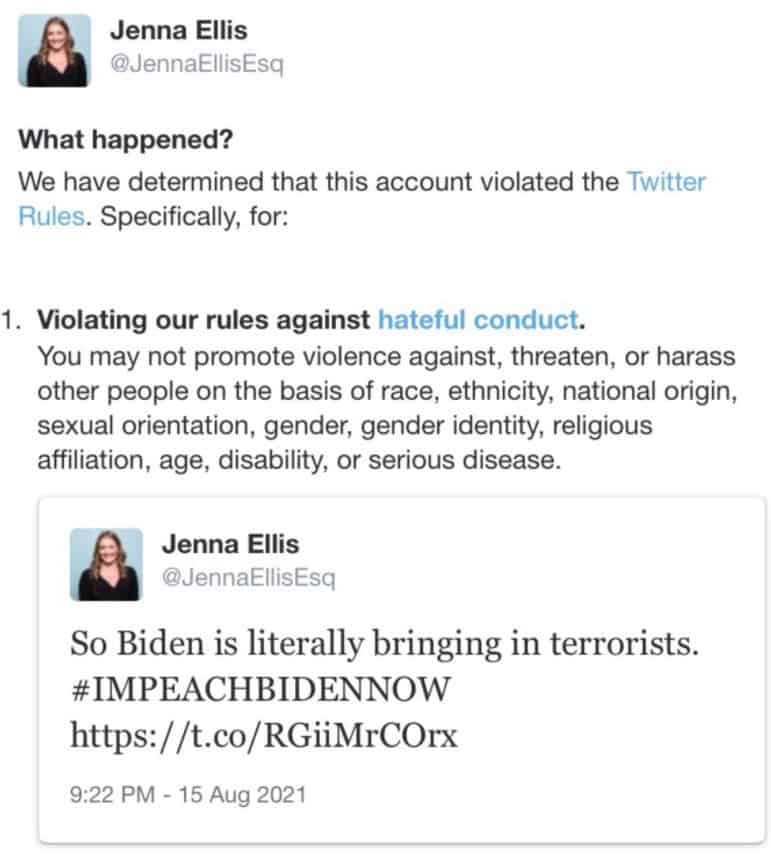 Wow, such hate from Ellis. Just reading that tweet made me want to find a 'safe space' and talk to someone about how it made me feel (insert eye roll).
Somehow, @jack (Jack Dorsey, Chief Tweet King) thinks that Ellis is promoting hate. However, on Jack's platform, this morning, are Afghan citizens getting beaten in the streets by the 'not so hateful' Taliban, and that is all good I'm assuming since Twitter hasn't restricted those videos.
Watch for yourself. Is this not hate or violence?
In other news: the Spokesman of the Islamic Emirate of Afghanistan, Zabihullah Mujahid's Twitter account is up and running with updates on the terror unfolding on the Afghan people. Yes, we can get live, unfiltered, news directly from the Taliban on Twitter.
I'd like to know what the hell has happened to the #metoo crowd, and why the silence? My only guess is confusion as those on the far left are trying to figure out what they stand for.
Maybe nothing at all in reality. Yeah, maybe that's it, like a shiny object one day and on to the next shiny object the next.
Maybe it was all bullsh*t. Women's right? LGBTQ+ rights?
Jack, You stand for those rights? Don't you? Or not?
Jack, why don't you fly your wealthy tail over to Afghanistan, or what's left of it, and ask the 'new leader' his stance on women's rights and the rights of LGBTQ+. You see, in this country, America, those rights exist already, but some want to act as they dont.
A woman was killed by the Taliban on the street of Talogan, Takhar province (Afghanistan), for going out in colorful clothes and without a burqa.
This occurred on the same day that a Taliban spokesperson mentioned that it was "would respect women's rights under Islamic doctrine".
As reported by Fox News the woman refused to cover her hair and face with the traditional burqa, which was requested on the street by the Taliban.
In the images released, the woman's body is observed on the ground and surrounded by her relatives for the actions of the taliban.
Yeah, maybe it was all bullsh*t. Ask yourself, regardless of where you stand politically, what do you stand for?
Jack, what do you stand for? Maybe spend some time reflecting on what this great country of ours has allowed you to become, and stop stifling the conversation of those with who you disagree, but rather listen to a different point of view. We can all agree to disagree.
But to smother freedom of speech from Americans, and at the same time allow terrorists to have a voice on your platform, that speaks volumes of your character.
Support journalism by clicking here to our GoFundMe or sign up for our free newsletter by clicking here
Android Users, Click Here To Download The Free Press App And Never Miss A Story. It's Free And Coming To Apple Users Soon
Login To Facebook From Your Browser To Leave A Comment