Searching for and buying a used car can be a stressful and daunting process. From trying to negotiate with a sales-person to the buyer's remorse that can take place at the signing of a deal.
Not anymore.
Meet Derek Sheeler, a 40-year old Tampa businessman and owner of Auto Search and Sales at 6209 Causeway Blvd in Tampa. This is not at all your typical dealership and not your typical sales-person.
His office area is cozy and decorated with paintings from Back To The Future, an array of famous license plates from comedic films, and toys that bring back memories from the 80"s. Sheeler is friendly, talkative, and I could immediately sense the genuine nature of who he is.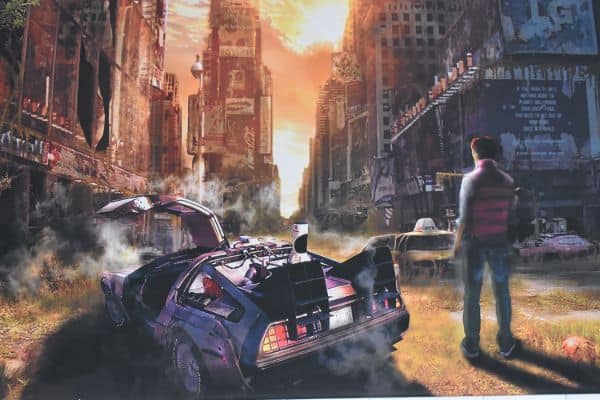 Sheeler and I were in an immediate conversation, like two old friends. A conversation that took some very unique and unexpected turns. I knew right away that he had a love for cars, people, and Motley Crue.
"I don't want customers; I want friendships. I want to go out in public and when people see me, say things like, 'that's that dude that sold me my car,' and it's a good thing, right?" said Sheeler.
Sheelers humor is profound but not overbearing. He's serious about getting people into a quality vehicle that meets their needs and expectations, and he does this is a very fun way.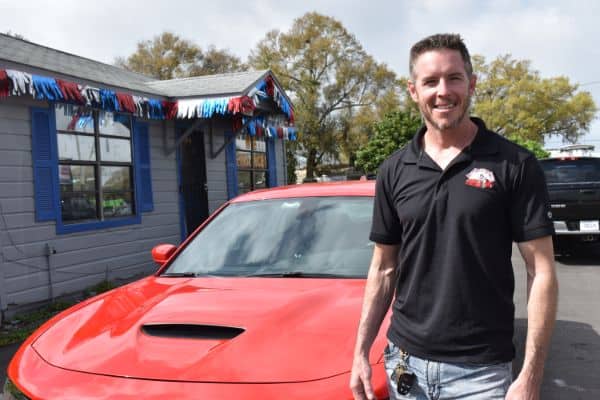 "Ever since I was a kid in school, I've always been the person nominated as the class clown, every single year, so my whole life, you know, I've always loved to make people laugh. I wanted to be a comedian, and I try to have fun with everything I do," said Sheeler
In that moment, Sheeler donned a bandana that was red, white, and blue and complete with a mullet hairpiece. I was taken back to a scene from an early 80's roller derby competition and could almost hear Devo jamming "Whip It".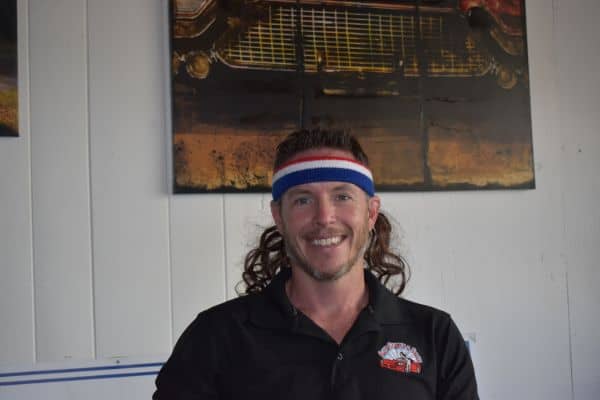 "I've got kind of a different sense of humor, so I try to make it a fun experience for people when they are shopping for a vehicle. I put weird things all over the office and certainly funny ads website. There's all kinds of subliminal things and everything I do to try to make people laugh good, so to me, and it's just how I want to make it for others."
And when it comes to customer satisfaction with the vehicle, Sheeler cuts no corners.
"I predominantly try to stick with higher-end, cheaper cars, so I knit pick or cherry-pick the best cars that I can find at auction, that have the best history. I'm steady at one-hundred percent feedback on Google, so with that, I think that shows that I'm pretty good at what I do," said Sheeler.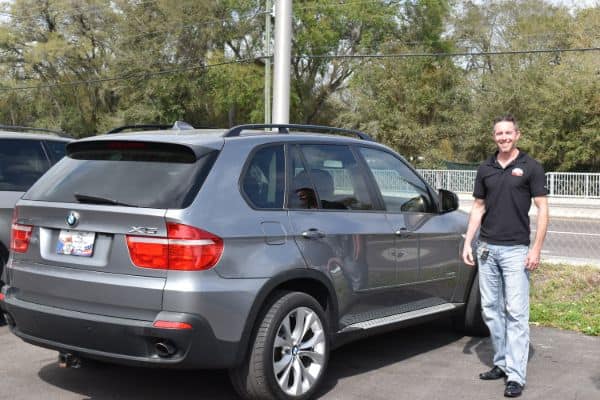 We spoke on the stereotypes that exist in the car business, when it comes to sales and particularly, high-pressure sales in the automotive business.
"You know, it's all about upbringing. I was raised with the saying, always to treat people how you want to be treated. My uncle once told me, 'before you ever open your mouth to talk to someone, always put yourself in the other person's position and think how it is to be them'." said Sheeler
One of Sheelers repeat customers, Nicole Felicatta had this to say, "I've never been more satisfied buying a vehicle! Derek is honest and lives up to his word. I've purchased three vehicles from Derek and will be back again when I'm ready for a new car!"
Nicole isn't the only one. Looking at Auto Search and Sales's Google Business page, there are many others.
Paul Kermer says "Bought a 2007 Volvo V70 with 178,000 miles three months ago. Since I purchased during the day I did not realize the passenger side headlight was out. Derrick the owner replaced it at no charge. I've put approximately 3,000 miles on the car since purchasing and everything still works and runs fine."
While Kay Wysocki added, " I love my car! Derek found the perfect car for me. It was everything I asked for and more. His prices are more than reasonable and he goes out of his way to make you comfortable and confident in your purchase. This is not your typical used car lot. It's way better!"
I would concur.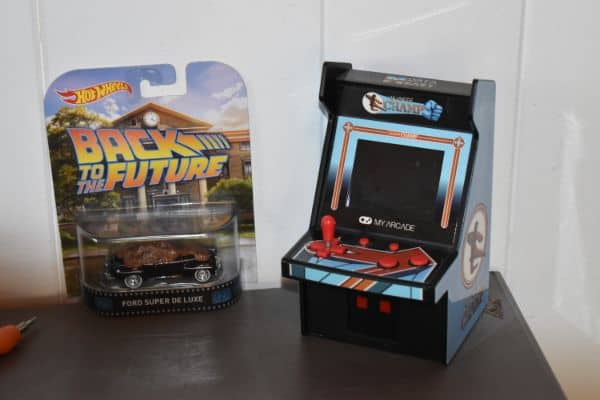 Now this is where the conversation went from car sales to Motely Crue. Literally.
Last weekend, a video of Motley Crue's frontman and lead singer, Vince Neil, popped up on my mobile news feed. In a somewhat drunken manner, Neil, went onto wish "Decker" a happy birthday, through the video wish app called Cameo.
The irony was, Derek Sheeler at Auto Search and Sales, is the Decker that Vince Niel spoke to on that message.
The sluggish and forced birthday wish was funny enough, but the real humor was the fact that the message was completely distorted. You are given 250 characters of what you want the celebrity to say. and this is what Vince Niel was to say:
'Happy Birthday to Derek from Christian, Mom, Tanya, Ethan and Blake. Shout at the devil to start off this new decade and take the opportunity to kickstart your auto search and sales!! Listen to the Dr. and feelgood about the big 4-0 in 2020.'
The video below is what was sent from Vince Neil.
Auto Search and Sales Vince. Yes, I am sitting with Decker, I mean Derek Sheeler and man, he's a fan.
"I thought it's great! Oh wait, it's blowing up and it's going to keep blowing up the internet. I don't take offense to the message he sent, because that's what rockers are like. It's what you expect from a rocker like that, you know," said Sheeler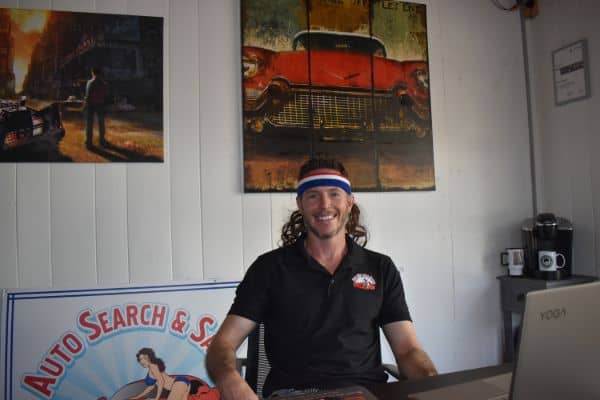 Vince Niel, if you are reading this, Derek will be in the 5th row at the Orlando show. I think he deserves a backstage pass. Look for the red, white and blue mullet bandana.
My time with Derek Sheeler at Auto Search and Sales, was an eye-opening experience on the falsehood of auto dealer-sales stereotypes. Sheeler is a class act that has genuine respect for others, their time, and wants to make his customers his friends.
If you are in the market for a used vehicle, give Decker, I mean Derek a buzz at 813-539-1410 or visit Auto Search and Sales at https://autosearchandsales.com/
Login To Facebook From Your Browser To Leave A Comment