DUNEDIN, Fla.- After 22 fiery disputes since 2017, allegedly filled with threats to call the police, nasty orders (Get off my f—ing water!), and physical confrontations, a pair of million-dollar homeowners are expected to duke things out in the Pinellas County courts.
James and Adriana LeFebvre are suing Dr. Abraham and Rima Totah – a neurologist and licensed pharmacist respectively – for inducing among other things, the Plaintiff's fear that the "Stand Your Ground" law may result in a deadly confrontation.
The scene of the sometimes fifteen-minute profane tirades by the Defendants is Tookes Lake in Dunedin, Florida. The waterbody flows into the Gulf of Mexico so it is a federal water body where it is expected that anyone can enjoy navigational pleasure in it under riparian law.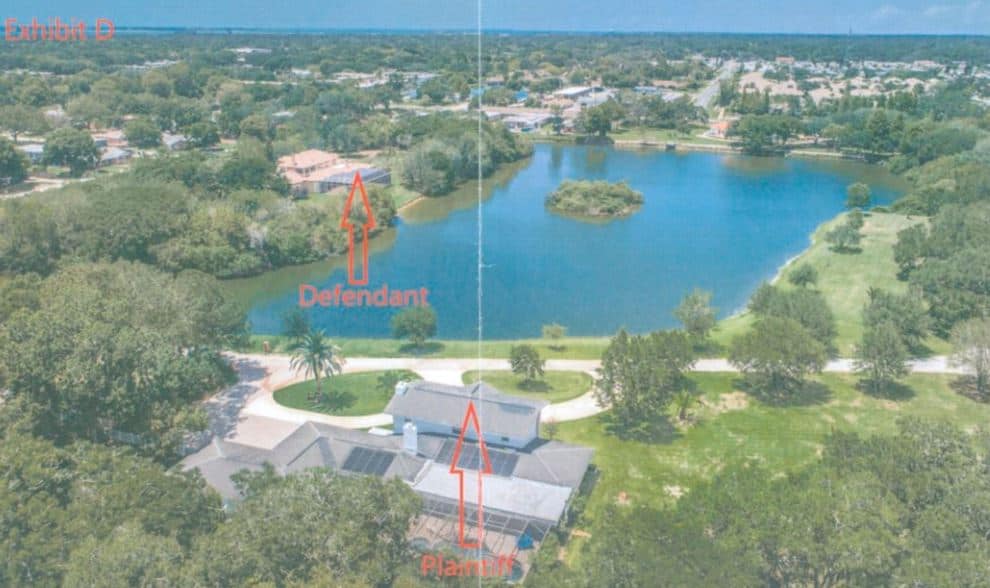 However, it appears the Totahs believe that since they own nine acres or the majority of Tookes Lake's submerged land, they actually own the lake and can shoo away fishermen and kayakers like their neighbors, the LeFebvres.
However, the Totahs have allegedly refused on three separate occasions to contribute along with their five residential neighbors to the cost of suffocating a weed that overwhelms the lake. Yet Rima Totah yells at her neighbors, "No fishing in my private lake!"
LeFebvre was contacted on Friday, September 11 to discuss the situation.
"We're not litigious people, but we want a judge to affirm our riparian rights…We have asked the Totahs if we can solve this like adults, but I get nothing but crickets."
LeFebvre described one incident with Dr. Totah where he was demanded to explain exactly what property he owns. "Dr. Totah said, 'This is private property – you own where?' He asked me three times, 'you own where?' We have 16 witnesses to these disputes, including neighbors and our guests. I consider all of this extremely anti-social behavior."
When asked if the police have ever come to his home, LeFebvre said they have not, but his wife is concerned the arguments could become violent.
The Defendants, the Totahs were contacted several times, but there was no response. The LeFebvres expect a trial over counts of "Denial of Riparian Rights," "Private Nuisance" and "Denial of Quiet Enjoyment."
Publishers Note: While The Free Press will always be free for our readers, and ad-supported, we are asking our loyal readers to consider a monthly donation of $3 to maintain our local journalism and help us grow, as we ramp up ad sales locally.
We thank you all for your consideration and for supporting local journalism
Login To Facebook From Your Browser To Leave A Comment