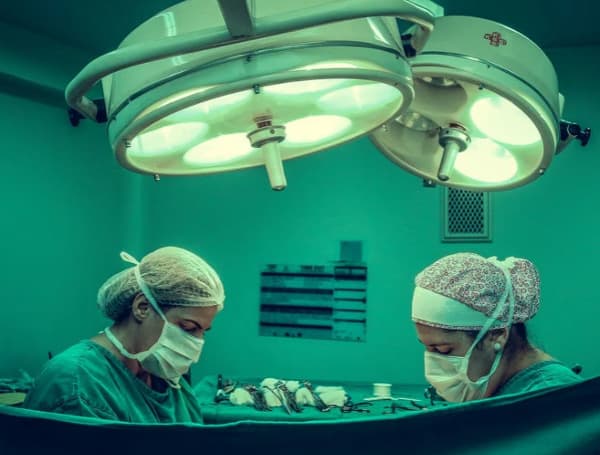 From local school boards to Capitol Hill rioters to his former and perhaps future election rival, President Joe Biden has shown no hesitation in siccing the FBI on his political enemies.
Yet Republican senators are warning Attorney General Merrick Garland, and by extension Biden, not to criminalize free speech.
At issue is an astounding letter released last week by the American Medical Association, the American Academy of Pediatrics, and the Children's Hospital Association.
The powerful healthcare organizations united in begging Garland to hunt down and prosecute people who criticize their efforts to entice children to undergo gender transition procedures.
"We write to urge you to investigate the organizations, individuals, and entities coordinating, provoking, and carrying out bomb threats and threats of personal violence against children's hospitals and physicians across the U.S.," the letter said.
"These coordinated attacks threaten federally protected rights to health care for patients and their families. The attacks are rooted in an intentional campaign of disinformation, where a few high-profile users on social media share false and misleading information targeting individual physicians and hospitals, resulting in a rapid escalation of threats, harassment, and disruption of care across multiple jurisdictions," the letter continued. "Our organizations have called on technology companies to do more to prevent this practice on digital platforms, and we now urge your office to take swift action to investigate and prosecute all organizations, individuals, and entities responsible."
"Attacks against health care institutions that threaten violence, intimidation, and physical harm have left hospitals, staff, and their communities shaken. Providers of evidence-based gender-affirming health care and their colleagues are facing increased stress and fear on top of the conditions they have faced while working on the frontlines of a global pandemic for nearly three years. Families seeking care at these institutions as well as our those providing their care fear for their personal safety in the wake of these attacks."
In the news: Florida Man Charged With Killing His Ex-Wife, Burning Her Body In His Backyard
The groups then add that they are committed to providing "gender-affirming care," which can be anything from administering drugs to actual surgical procedures that forever alter children's bodies.
The complaints made by the trio certainly urge Garland to criminalize free speech, as shared by conservative commentators such as Matt Walsh and Christopher Rufo.
They and others on the right have stepped criticism of hospitals and doctors who perform such procedures on children, mostly recently providing examples of how this "are" is actually a major moneymaker for hospitals.
While Garland has not announced what action he may take on the letter, a handful of GOP senators encouraged him to stand down.
According to The Daily Wire on Tuesday, Sens. Ted Cruz of Texas, Mike Lee of Utah, Ron Johnson of Wisconsin, Roger Marshall of Kansas, and Marsha Blackburn, of Tennessee issued their own "stern" letter to Garland in defense of the critics of those who seek to trans the children.
"This request by advocacy organizations to have the federal government stifle critical speech on their behalf would have been unthinkable before your tenure as Attorney General," the lawmakers wrote.
"It is important to note that violence and threats are not protected speech and should be prosecuted to the fullest extent of the law," the senators added. "However, parents who voice their concerns about the health and safety of their children, or express opinions on matters of public policy more generally, are engaged in core First Amendment activity."
The senators also noted how Garland worked with the left-wing National School Boards Association, or NSBA, to send FBI agents to police local school board meetings, where conservatives complained about curriculum based on gender ideology and Critical Race Theory and objected to pornographic materials in school libraries.
Garland also did not dispute the group's characterization of school board critics as "domestic terrorists."
The lawmakers warned Garland against a repeat of the school board association controversy and further politicization of the Justice Department.
"If there is a bedrock principle in American self-governance, it is that the federal government has no place in quashing or criminalizing civic discourse. The issue of how best to treat minors struggling with their gender dysphoria is the subject of ongoing and emotional debate, which Americans have a protected First Amendment right to fully engage in. The strength of our democracy is dependent on the ability of all citizens to peacefully participate in public debate without fear of persecution from your agency or any other," the senators' letter noted.
"Your actions in regard to the NSBA letter sent an inappropriate message that federal law enforcement can and will be used to aid one side of a political debate, and to either silence or chill the speech of the other," they added. "Now, in a remarkably similar fashion, medical associations have written to you asking you to again treat any speech critical of their position on a sensitive matter of public policy as a physical threat warranting a law enforcement response."
"We call upon you to reaffirm that you will faithfully protect the First Amendment rights of all Americans to peacefully debate this and all other policy questions, irrespective of viewpoint. The weaponization of federal law enforcement agencies like the DOJ, in order to produce preferred policy outcomes, cannot continue – our democracy depends on it."
Visit Tampafp.com for Politics, Sports, and National Headlines. Support journalism by clicking here to our GiveSendGo or sign up for our free newsletter by clicking here.
Android Users, Click Here To Download The Free Press App And Never Miss A Story. Follow Us On Facebook Here Or Twitter Here.
Copyright 2022 The Free Press, LLC, tampafp.com. All rights reserved. This material may not be published, broadcast, rewritten, or redistributed.
Login To Facebook From Your Browser To Leave A Comment