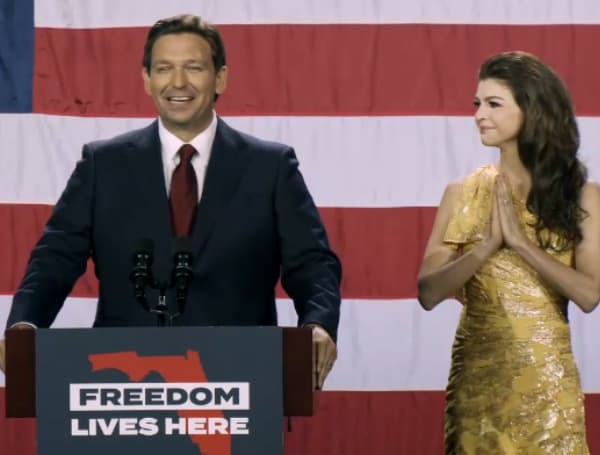 Florida Gov. Ron DeSantis delivered a message to Republicans who fret that bold action may repel voters: Get over it.
Speaking to the Republican Jewish Coalition convention in Las Vegas over the weekend, the Republican governor said the election outcome in Florida offers others a "blueprint for success."
"I think some of the things that we do that work are we're all about exercising leadership, and delivering results for the people that we represent," DeSantis told the group.
He noted that he has not taken any public opinion polls as governor.
"The job of a leader is not to stick your finger in the wind and try to contort yourself to wherever public opinion may be trending on one given moment. No, the job of a leader is to set out a vision, to execute that vision, to show people that it's the right vision and to deliver concrete results. And when you do that, the people respond," said DeSantis.
"And, boy, on Nov. 8, did they ever respond."
He offered examples:
Four new Republican congressmen were elected to the U.S. House of Representatives
Supermajorities in the Legislature, the most Republicans ever elected in state history.
A GOP victory in the state House district that includes Miami Beach
A record margin of victory with Hispanic voters
A "gravity-defying" vote that delivered Miami-Dade County for DeSantis, and the first win for a GOP candidate in Palm Beach County in nearly 40 years
He compared Florida to New York and noted how recent transplants from the Empire State say infrastructure and services are better in Florida, which gets it done with no state income tax, the second-lightest tax burden in the nation, and half as much spending.
"Where is all the money going (in New York)?" he asked. "We respect taxpayers in the state of Florida."
He also urged Republicans to stop whining about liberal election rules regarding issues such as ballot harvesting and mail-in voting. "You can't just let them do it and us sit there with two hands tied behind our back," he said. "Whatever the rules are, take advantage of them."
In addition, said DeSantis, Republicans refused to let Florida descend into a "Fauci-ian dystopia."
"We believe in lifting people up. We believe in protecting rights," said DeSantis. "We were a refuge of sanity when the world went mad. … We chose freedom over Fauci-ism, and we are better off for having done that."
DeSantis also noted how Florida has fought back against the "woke mind virus," including defunding the police and introducing Critical Race Theory and gender identity in schools.
"It is wrong to teach a kid that they were born in the wrong body," he argued. "It is wrong to teach a kid that their gender is a choice. And in the state of Florida, that will not happen. … We stand up for the rights of parents in Florida."
"We reject woke ideology in the state of Florida, and we will fight it," DeSantis said. "We will fight it in the classrooms, we will fight it in the corporations boardrooms, we will fight it in the halls of the Legislature, we will never, ever surrender to the woke mob."
"The state of Florida is where woke goes to die."
Continuing, DeSantis spelled out what led to him achieving the biggest margin of victory for any governor in state history, including with support from Democrats and independents.
"What we've shown in Florida is you can stand up for truth, you can stand on principle, you can fight the woke elite, and you can win," he said. "And I think this is important because the survival of the American experiment requires a revival of the enduring American principles that make this country unique. And Florida's formula is everything we do is rooted in those founding principles of our country."
"We douse it with a very heavy dose of common sense, which is in very short supply nowadays. And we buttress that, with having the courage to lead on issues where you know, you may get incoming fire, but that's the price of leadership nowadays."
"Anything you do that's meaningful, you are going to have people that are going to shoot at you. They're going to take potshots at you. They're going to criticize you. They're going to smear you. You got to be willing to stand strong. You got to be willing to take those hits, and keep on going," DeSantis added.
"But guess what, when you stand up for what's right, when you show people you're willing to fight for them, they will walk over broken glass barefoot to come vote for you. And that's exactly what they did for me on November 8 in record numbers. But what we've shown is people respond to strong leadership."
'We treated people as individuals, and as fellow Americans, and they responded," said DeSantis.
"Florida really is showing a way out of this morass, and this mess. But you gotta be willing to do it, and you gotta be successful in implementing it."
"In times like these, there is no substitute for victory," he concluded. "We in Florida are the light, freedom will reign supreme with Florida leading the way. … I can tell you this, we've got a lot more to do and I have only begun to fight."
Visit Tampafp.com for Politics, Sports, and National Headlines.
Android Users, Click Here To Download The Free Press App And Never Miss A Story. Follow Us On Facebook Here Or Twitter Here.
Login To Facebook From Your Browser To Leave A Comment