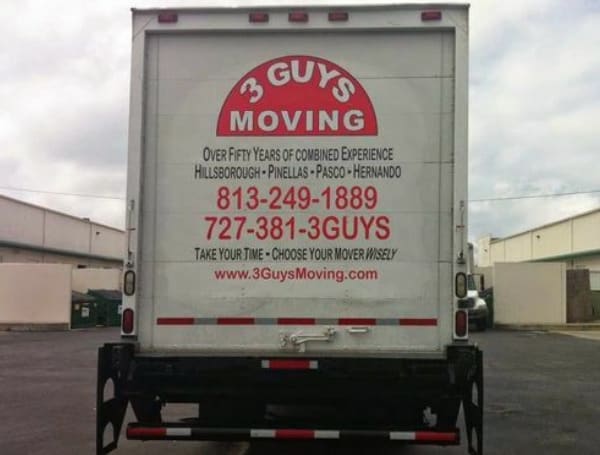 TAMPA, Fla. – On May 6, Eric Aldinger, a former employee of a 30-year-old moving company, 3 Guys Moving, filed suit in the Hillsborough County courts.
He believes his employer was conducting unfair and deceptive trade practices with its customers during his time of employment and that he was unfairly terminated based on his expressed disapproval.
In this case, Plaintiff Aldinger states he was hired by 3 Guys Moving to perform as Director of Quality Control, Recruitment, and Training on May 1, 2021. According to the lawsuit, he was terminated on August 23, 2021, without explanation.
Aldinger was instructed to assume additional sales duties when the company fired a sales representative.
In summation, Aldinger claims that he was relegated to moving and packing duties most of the time despite his job titles.
According to the lawsuit, "In July of 2021, Mr. Aldinger noticed that 3GM routinely held its customers' goods hostage until the moves were fully paid for, notwithstanding contrary language in the estimate or contract for services provided to the customer."
On July 22, Aldinger's supervisor, Samantha O'Laker, instructed him to hold a customer's goods, unless the customer accelerated his payment to the moving company.
The lawsuit continues that "Mr. Aldinger objected to Ms. O'Laker that 3GM's actions violated, inter alia, Fla. Stat. § 507.07, as well as Fla. Stat. § 501.201, et seq, Florida's Deceptive and Unfair Trade Practices Act."
Another employee was assigned the task of holding the customer's goods, but on August 23, Aldinger was informed by a manager that he was terminated, effective immediately. Aldinger alleges he was offered no explanation for being fired.
The lawsuit indicates that "Under Florida law, terminating an employee for refusing to partake in, objecting to, or filing a report regarding a violation of law, rule, or regulation is contrary to the protections of the FWA."
The termination is referenced as a violation of Florida Statute 488.102.
However, when ownership of 3 Guys Moving was contacted, a different story emerged.
Mark and Samantha O'Laker responded to The Free Press's inquiry. Mark stated, "I've never heard anything so preposterous. Eric came to our company in hopes of doing sales. It's the other companies that charge customers upfront. Moving companies have been challenged during COVID-19, but we have one complaint for every 150 customers."
Samantha O'Laker detailed the events related to the lawsuit's mention of a customer who was allegedly unlawfully required to pay upfront before his move transpired. Aldinger prepared the customer's estimate.
Samantha stated, "When the crew arrived at the customer's house, it was clear the local move would cost more than what Aldinger originally quoted. The job was based on the number of estimated hours it would require to complete the move. Local moves are typically charged by the hour (rather than a flat fee). When we were talking to the customer, she indicated she only wanted an estimate.  So part of the instruction to all of the sales staff is to ensure that they make sure the customer understands that the estimate as provided is just an estimate and it may go over.
"When asked if the contract states in writing that the estimate is non-binding, she replied, "Most of our local moves are non-binding, stating charges may vary. The actual cost may go over or go under. Eric was instructed to call them and confirm that they were aware that this was a non-binding estimate and that it could go over. And they would need to pay the actual charges at the end of the move…local moves are rated out at the end of the move."
When asked if 3 Guys Moving collected any money before the move was completed, Samantha replied, "No. We never do."
"I'm looking at the order in our system. Originally this customer was going to require storage. Every time someone logs into our system and makes notes, it is time stamped. For example, it was updated by Heather in our office on July 14 at 6:43 a.m., stating that inventory was updated and no packing was going to be required at this point. So clearly, the customer made a change at that point because they would need less services. On July 12, at 10:29 in the morning, an email was sent by the customer indicating they found a house and would no longer need storage," said Samantha.
"On June 28 at 9:16 a.m., the system was also updated that packing items were above kitchen cabinets and miscellaneous items in the garage, one mirror, customer is taking all the art work and packing themselves. When our crew arrived, the customer did not do all that they were going to do, and that's why the estimate was going to go over. It wasn't that the company did the estimate, and then the crew showed up and said, 'hey by the way, we were inaccurate, and our quote is going to go way over.' Sometimes the customer when we go into their homes, they say, 'don't inventory that sectional because we're going to donate it, or we're going to sell it,' but come move day, they were so busy, they didn't donate, they didn't sell, and now the estimate has changed.
"We always try to communicate first thing in the morning if the estimate is going to vary because we don't want at the end of the day to say, 'By the way, you didn't do what you were supposed to do, or this didn't get done – to us, we just consider that unethical. To be frank and honest with you, unfortunately, Eric Aldinger – he didn't work out here, he wasn't what he said he was going to be, we parted ways, and I feel, in my honest opinion, that he's just looking for some money, and I don't mind saying that on the record. It's unfortunate. Everything he told us when he came into our building – we didn't have an advertised ad out to hire anybody – he showed up and said he had experience, he was going to do whatever it took to get a job and that he could fill in various positions, and so we gave him an opportunity and here we are now. It's bogus and I am going to make sure that we pursue this in a way that's fair for all," Samantha concluded.
When the Free Press recited to Samantha the lawsuit's allegation that Aldinger objected to violations of Florida's Unfair and Deceptive Trade Practice, she replied, "That conversation never took place."
Noah E. Storch, attorney for Richard Cellar Legal, P.A. in Davie, represents the Plaintiff.
Visit Tampafp.com for Politics, Tampa Area Local News, Sports, and National Headlines. Support journalism by clicking here to our GoFundMe or sign up for our free newsletter by clicking here.
Android Users, Click Here To Download The Free Press App And Never Miss A Story. Follow Us On Facebook Here Or Twitter Here.
Login To Facebook From Your Browser To Leave A Comment