May 22, 2020
By: Deborah Childress
Despite a few wrenches tossed into a new toolbox designed to build and sell more new homes, Hillsborough County's new housing markets are outperforming the nation during the COVID-19 crisis, with few exceptions. Year-to-year statistics show Tampa new home sales down 11 percent compared to the national average of over 30%, and a dramatic jump from #11 to #2 in new home sales, second only to Phoenix, Arizona. Specifically, the sales decline in detached single-family homes due to COVID-19 is only one-third of what the rest of the nation has experienced. Generally, townhomes and condos fared well.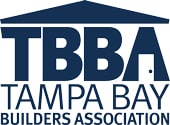 These and other statistics were presented in the Tampa Bay Builders Association's one-hour webinar on the industry's COVID-19 "State of the Union," so to speak, delivering the latest details of the coronavirus' impact across housing project categories and lot land. The impression is the new 7% Hillsborough County impact fee could hurt as much or more than the coronavirus pandemic. Full recovery from COVID-19 side effects is generally expected to occur from 2022 to 2023, perhaps 2024.
But the impact fee could further extend the recovery with myriad new housing consequences: It will persuade some new homebuyers to purchase in outlying counties. 2,000 square-foot-and-up new homes will see $16,000 to $25,000 price tag increases if industry leaders can't convince local government officials that the nearly-doubled fee is going to swipe Hillsborough County housing at a bad time. The 55+ housing market is already the most sluggish in sales and will hurt even worse with the fee hike.
The industry is indeed, already gripping itself as it looks to 2020 COVID-19 new housing sales cancellations that will hit the market throughout the rest of the year, alongside the increased impact fee. It is estimated that new home closings could drop 10 percent for the year.
But underlying COVID-19 influences is a strong, solid housing market buoyed by high migration, high-paying finance and information technology jobs, a housing market that is not yet over-priced and lot inventories that suggest there is ample land for new developments. Once competitive with Orange County for new housing starts, Hillsborough has taken over as the state's top new housing market, with 7,300 homes built in the last year, compared to the Orlando area's production of 4,500.
New homebuilders put on their "thinking cap" as COVID-19 shuttered daily life and developed new marketing strategies and realtor incentives to battle COVID-19 effects. The new approach shifted their traffic-building focus from physical, model home sales centers dictated by appointments, to online presentations with smart changes in website design and content. Kristine Smale, Senior Vice President of Meyers Research, disclosed the re-structuring of builder websites to keep consumers' attention and satisfy unmet demands for convenience and control over the shopping experience. The "new normal," Ms. Smale said, are websites with lots of content, a more dramatic visualization of floor plans and properties, 24-hour access to desired information, and a litany of reasons to buy a new home versus a pre-existing home.
A health-benefits angle, promoting a new home's modern safety, healthier environment, and energy efficiency compared to used homes, has proven to be a sales success, enabling new homes to expectedly re-gain an edge against recent trends of buyers purchasing pre-existing homes. As COVID-19 has removed the "lookers or shoppers" from the marketing and sales equation, closings are increasing because the traffic that is connecting is more serious about buying. Ms. Smale said, "Consumers are spending 30% more time on shopping for homes because of the enhanced online experience." New realtor incentives have provided sales agents normally geared toward selling pre-existing homes with more enticing opportunities to promote new homes.
These marketing changes, combined with Hillsborough County's ever-growing, high-paying finance and information technology jobs, robust migration and quickly rebounding consumer confidence, help the new housing market to remain fairly buoyant.
Tony Polito, Regional Director of Metrostudy, warned that record home prices are expected to be seen starting May through June, and indicated condominium sales have increased 10.2% compared to last year, but agrees other factors will help retain a fairly stable market.
"Housing will help us get out of this recession," Ms. Smale said.
Login To Facebook From Your Browser To Leave A Comment