HILLSBOROUGH COUNTY, FL. – In partnership with NaphCare, Inc., the Hillsborough County Sheriff's Office (HCSO) was awarded the inaugural Pinnacle Award by the National Commission on Correctional Health Care for achieving three NCCHC accreditations, a demonstration of its commitment to quality correctional health care.
The Falkenburg Road Jail and the Orient Road Jail are the first correctional facilities in the nation to earn NCCHC accreditation for jail health services, mental health services, and opioid treatment programming. NCCHC accreditation signals achievement of compliance with the highest nationally accepted standards of care across each category.
"When I stepped into my role as Hillsborough County Sheriff, I knew that as a law enforcement agency, we could not arrest our way out of problems like drug addiction and mental health issues in our community," said Sheriff Chad Chronister. "We had to take a holistic approach in order to reduce recidivism, which is why we began offering and expanding our options for substance abuse treatment, mental health counseling, vocational training, and connecting inmates with resources that will help get their lives back on the right path upon release. We are grateful for our partnership with NaphCare, whose medical staff helps make these services possible, and we are humbled by the NCCHC recognizing our continued efforts."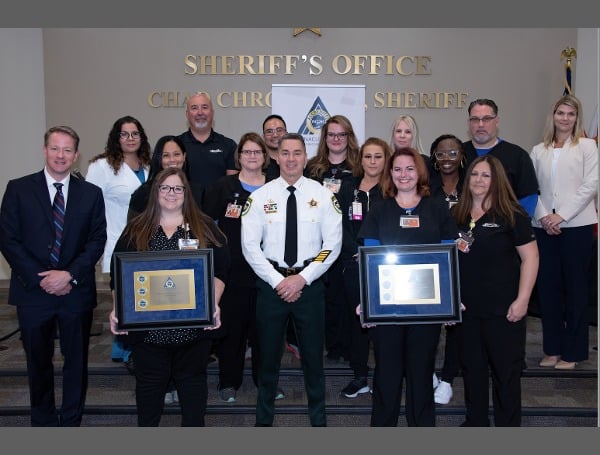 Both jails underwent rigorous assessments by surveyors from NCCHC, the nation's leading authority on correctional health care, in November 2020 to assess compliance with NCCHC standards across the three areas of accreditation. Upon passing the survey requirements, the Falkenburg Road Jail and the Orient Road Jail each received renewed accreditation in January 2021 for health services in jails.
This is the first time either facility has received accreditation for mental health services and opioid treatment programming, in January 2021 and March 2021, respectively.
"This prestigious Pinnacle Award is the highest honor in correctional health care, signaling the Hillsborough County Sheriff's Office's commitment to excellence. By achieving multiple accreditations, HCSO stands at the forefront of correctional health care," said Jim Martin, MPSA, CCHP, Vice President, Program Development, NCCHC. "From now on and moving forward, HCSO will be a model for other sheriffs to follow. Let this be a challenge to our nation's sheriffs to not only meet the basics of constitutional correctional health care but to go well beyond the basics."
HCSO and NaphCare have partnered to launch multiple innovative programs aimed at addressing the mental health and substance use epidemics impacting America's jails. Specialized programs such as Medication-Assisted Treatment (MAT), a Mental Health Stabilization Unit, and the Veterans Resurgence Program are designed to prepare incarcerated individuals for a safe and healthy return to their communities, which in turn reduces recidivism rates.
"We're proud of our NaphCare team for working diligently with the Hillsborough County Sheriff's Office to achieve this unprecedented award in the midst of a global pandemic," said Brad McLane, NaphCare CEO. "The Hillsborough County Sheriff's Office exemplifies a culture of excellence, beginning with the leadership of Sheriff Chronister and extending through each and every member of his team. We're excited for the future of our partnership in launching new programs to support mental health crisis intervention, alternatives to incarceration, and successful community partnerships."
Related News: Sarasota County Sheriff A. Hoffman Issues 2021-2025 Strategic Plan
Login To Facebook From Your Browser To Leave A Comment