June 23, 2020
By: Staff Report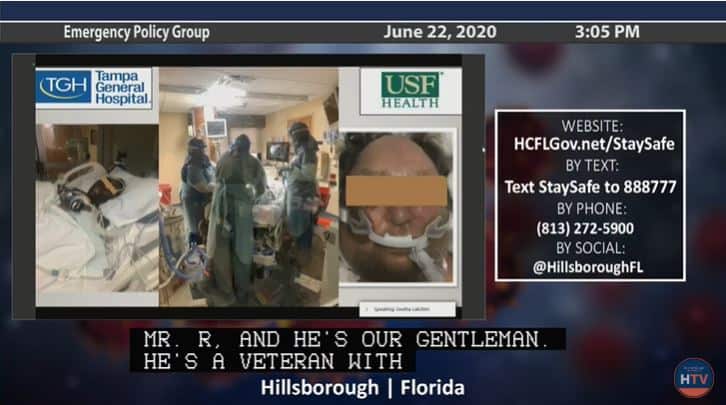 TAMPA – The Hillsborough Emergency Planning Group met Monday, with a county-wide mask mandate on the agenda.
With a vote of 5 to 3 , the EPG voted yes on a mask mandate for Hillsborough County. This mandate includes all employees and patrons of indoor businesses to use face coverings. The ordinance does not force people to wear a mask outside.
Chronsiter, Snively , and Lott voted no on this mandate.
This mandate goes into effect Wednesday at 5 PM.
Last week, Mayor Castor issued a mandatory mask ordinance for the City of Tampa, "This is an emergency now," Castor told the Emergency Planning Group. "The community is looking for leadership and that is what they need right now. I'm going to put a mandatory mask ordinance for the city of Tampa right now to protect citizens."
Commissioner Sandy Murman said, "If they are going to leave their house and go to a place, this will play a major role in stopping the spread."
The new executive order requires that all persons within any indoor location of a business that is open to the public in Hillsborough County shall be required to wear a face-covering when not maintaining social distancing from other people, excluding family members or others residing in their home. "Business" means any business entity that provides goods or services directly to the public. Business operators will be responsible for ensuring compliance.

The order provides exceptions for:
• Children under the age of 2
• Persons observing social distancing in accordance with CDC guidelines
• Persons for whom a face covering would cause impairment due to an existing health condition
• Persons working in a business or profession who do not have interactions with other persons
• Persons working in a business or profession who maintain social distancing from another person
• Persons working in a business or profession where the use of a face covering would prevent them from performing the duties of the business or profession
• Persons exercising, while maintaining social distancing
• Persons eating or drinking
• Public safety, fire and other life safety and health care personnel, as their personal protective equipment requirements, will be governed by their respective agencies
• The requirement shall not apply when a person who is hearing-impaired needs to see the mouth of someone wearing a face-covering in order to communicate
• The requirement shall not be applied in a manner that would conflict with the Americans with Disabilities Act

The face-covering order does not apply to religious services, non-profit organizations, private clubs, and government agencies. The order will be reviewed weekly.

For more information: https://www.hillsboroughcounty.org/en/residents/public-safety/emergency-management/stay-safe/face-coverings-and-masks
Earlier today, Mayor Bill Mutz's motion for a mandate on masks, in Lakeland, couldn't gain support from the commissioners.
Login To Facebook From Your Browser To Leave A Comment