June 24, 2020
By: Staff Report
Hillsborough County, Fla. (June 24, 2020) – Beginning at noon today, Hillsborough County will begin distributing free, reusable cloth face coverings to residents at four County locations.

The distribution locations are:
E.G. Simmons Park, 2401 19th Ave. NW in Ruskin
Upper Tampa Bay Park, 8001 Double Branch Road in Tampa
Lake Park, 17302 N. Dale Mabry Highway in Lutz
Lithia Springs Park, 3932 Lithia Springs Road in Lithia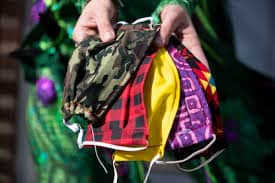 The sites will be open as supplies last:
Today, Wednesday, June 24 from noon to 5 p.m.
Thursday, June 25 and Friday, June 26 from 8 a.m. to 5 p.m.
Saturday, June 27 from 9 a.m. to 1 p.m.
Monday, June 29 through Thursday, July 2 from 8 a.m. to 5 p.m.
Each person in the vehicle will receive two face coverings. Drivers may also request face coverings for immediate family members not present.

Hillsborough County's Office of Emergency Management has ordered 2 million cloth face coverings from the state of Florida for public distribution. Already, Emergency Management has issued approximately 950,000 of the reusable coverings to the municipalities, HART, the Hillsborough County Sheriff's Office and other public agencies, the James A. Haley Veterans' Hospital, and non-profit and charitable organizations, to assist in distributing to residents.

To further protect the public against the spread of the COVID-19 coronavirus, Hillsborough County's Emergency Policy Group (EPG) this week enacted an order requiring that face coverings be worn inside businesses that are open to the public, with certain exceptions. The order applies to all persons, including customers and employees, inside Hillsborough County businesses that are open to the public when social distancing cannot be maintained. The City of Tampa has a separate order.

More information will be available soon on how businesses can request a quantity of the free cloth coverings.

For more information about the EPG order and the importance of wearing face coverings to stop the spread of COVID-19, go to HCFLGov.net.
Get Connected. Stay Alert.
For more information on COVID-19, and any other potential emergency in the region, visit HCFLGov.net/StaySafe and sign up for the HCFL Alert system. Additionally, you can follow Hillsborough County on social media at Facebook, Twitter, and Nextdoor for updates. For general County information, call (813) 272-5900, the County's main information line.
Login To Facebook From Your Browser To Leave A Comment