Hunter Biden admitted in court that a businessman linked to the Chinese Communist Party (CCP) had been his business partner, according to a transcript shared by the Republican House Oversight Committee on Thursday.
Biden testified that Ye Jianming, former chairman of CEFC Energy, had been his business partner when asked by the court, transcripts state.
The House Oversight Committee has alleged that Ye sought to cultivate a relationship with the Biden family. and towards that end wired millions of dollars to Hunter Biden's businesses and associates through a complex laundering scheme.
In the news: Republican Senator Presses Biden Admin For Answers On Ex-Official Accused of Stealing Luggage
"The fourth paragraph says during the calendar year 2017, you earned substantial income including just under a million dollars from a company you formed with a CEO of a Chinese business conglomerate. Is that the same or a different Chinese company from the one you referenced earlier?" Judge Maryellen Noreika asked Hunter Biden.
"I started a company called Hudson West, Your Honor, and my partner was associated with a Chinese energy company called CEFC," Hunter Biden replied.
"Who was your partner?" Noreika asked.
"I don't know how to spell his name, Yi Jianming, is the chairman of that company," Hunter Biden said.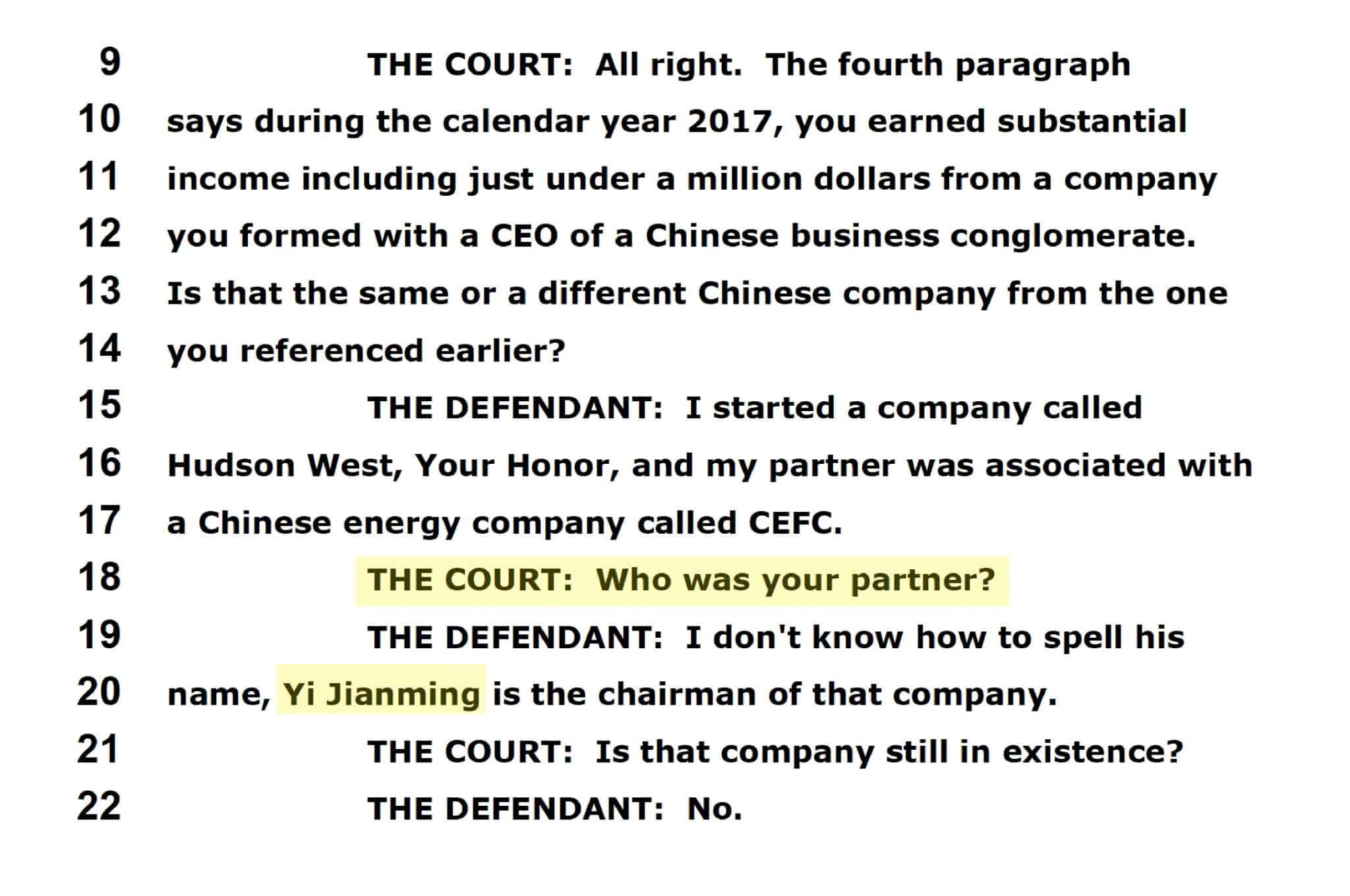 In June, Hunter Biden was charged with illegally possessing a handgun, and was also charged with failing to pay federal taxes in 2017 and 2018. Although he pleaded not guilty on Wednesday,
Noreika refused the plea deal Hunter Biden's legal team had struck with the Department of Justice, citing concerns about "broad immunity" after the pretrial diversion agreement included immunity from a host of other charges unrelated to the plea deal.
In May 2023, a House Oversight Committee memo alleged that Ye is tied to the CCP and Chinese military.
In the news: Conservatives Celebrate Collapse Of Hunter Biden 'Sweetheart' Plea Deal
"From 2003 to 2005, Ye reportedly was the deputy secretary-general of the China Association for International Friendly Contact (CAIFC), 'an international outreach arm for the PLA [People's Liberation Army],' and 'platform for deploying undercover intelligence gatherers," the memo stated.
In 2017, Ye gifted Hunter Biden a diamond "worth up to $80,000," according to the House memo.
The following year, Ye was arrested on bribery charges by Chinese authorities, according to Chinese-language media reports.
Ye used CEFC to "bribe and corruptly influence foreign officials," the House memo alleges.
Hunter Biden and Ye could not be reached for comment.
Android Users, Click To Download The Free Press App And Never Miss A Story. Follow Us On Facebook and Twitter. Signup for our free newsletter.
We can't do this without your help; visit our GiveSendGo page and donate any dollar amount; every penny helps
Login To Facebook To Comment