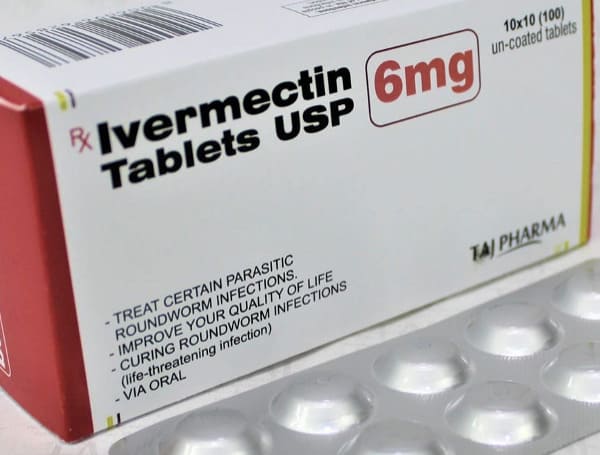 The Biden administration's gaslighting machine is back in motion.
Federal lawyers recently argued in a Texas courtroom — and apparently with straight faces — that the government's war on ivermectin during the COVID-19 pandemic was a figment of your imagination, the Epoch Times reported on Monday.
At issue is a lawsuit brought by three doctors against the U.S. Food and Drug Administration. The doctors maintain that the FDA wrongfully interfered with their ability to treat their patients with claims that ivermectin was useless to stop or cure COVID.
Yet during a hearing earlier this month, the Times noted, the Biden administration's lawyers maintained the agency's rejection of Ivermectin was simply a "recommendation."
"The cited statements were not directives. They were not mandatory. They were recommendations. They said what parties should do. They said, for example, why you should not take ivermectin to treat COVID-19," Isaac Belfer, an FDA lawyer, told the court, according to the Times.
"They did not say you may not do it, you must not do it. They did not say it's prohibited or it's unlawful. They also did not say that doctors may not prescribe Ivermectin."
Except, of course, the FDA did just that.
The Times provided multiple examples.
On the FDA's official Twitter account, the agency wrote a post with the headline, "Why You Should Not Use Ivermectin to Treat or Prevent COVID-19." An accompanying tweet stated, "You are not a horse. You are not a cow. Seriously, y'all. Stop it."
Another post, later on, added, "Hold your horses, y'all. Ivermectin may be trending, but it still isn't authorized or approved to treat COVID-19."
The Times noted the FDA created an actual Q&A webpage devoted to ivermectin. The first question: "Q: Should I take ivermectin to prevent or treat COVID-19? A: No."
That answer also noted, "While there are approved uses for ivermectin in people and animals, it is not approved for the prevention or treatment of COVID-19. You should not take any medicine to treat or prevent COVID-19 unless it has been prescribed to you by your health care provider and acquired from a legitimate source."
The website also suggested ivermectin might be a "fraudulent" COVID treatment.
In response to the FDA's argument, the p[laintiffs' lawyer, Jared Kelson, replied that the FDA "clearly convey(ed) that this is not an acceptable way to treat these patients."
Ivermectin became a favorite and repeated target of criticism from leftists, especially after former President Donald Trump suggested it might work — as some trials have shown, if administered early enough.
Liberals ridiculed Trump and other advocates of the drug for prescribing people a horse dewormer. People who suggested online that Ivermectin could be used for COVID saw their accounts blocked or eradicated for spreading "misinformation."
In August 2021, Dr. Anthony Fauci told CNN of Ivermectin, "Don't do it; there's no evidence whatsoever that it works and it could potentially have toxicity… with people who have gone to poison control centers because they've taken the drug at a ridiculous dose and wind up getting sick," he said. "There's no clinical evidence that indicates that this works."
As The Free Press has reported, these were simply lies.
Ivermectin is an anti-parasitic drug given to livestock. But it also has been adapted for human use.
In 2015 the Nobel Prize committee awarded the prize for medicine to researchers who utilized ivermectin to fight parasitic-driven diseases in Africa. In making the award, the committee noted, "The importance of Ivermectin for improving the health and well-being of millions of individuals with River Blindness and Lymphatic Filariasis, primarily in the poorest regions of the world, is immeasurable. Treatment is so successful that these diseases are on the verge of eradication, which would be a major feat in the medical history of humankind."
Last year, Republican Sen. Rand Paul noted that "hatred for Trump" had "deranged these people so much that they're unwilling to objectively study" Ivermectin as a possible treatment.
Now, in a classic case of gaslighting, the government now says it never told anyone not to use the drug.
As the FDA lawyer Belfer told U.S. District Judge Jeffrey Brown the Times reported, the statements on ivermectin "did not set agency policy," and "simply provide(d) nonbinding recommendations to consumers."
Visit Tampafp.com for Politics, Sports, and National Headlines.
Android Users, Click Here To Download The Free Press App And Never Miss A Story. Follow Us On Facebook Here Or Twitter Here.
Login To Facebook From Your Browser To Leave A Comment