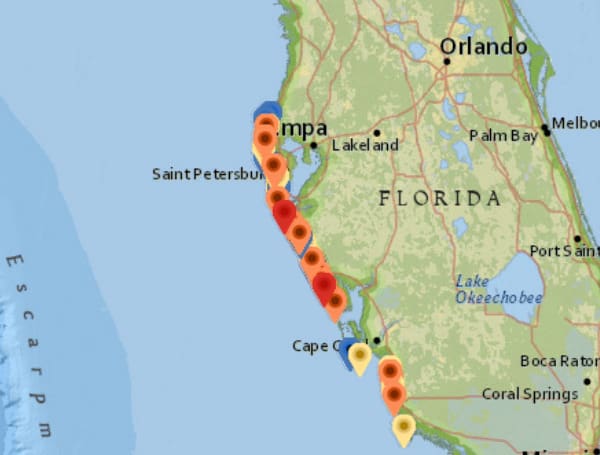 INDIAN ROCKS BEACH, Fla. – After careful consideration and review of the beach conditions, the Indian Rocks Beach Homeowners Association, in consultation with the City of Indian Rocks Beach and Pinellas County Health Department Officials has made the determination to cancel IRB BeachFest. 
Red Tide is currently present on the beach and is forecasted to remain in the area in the weeks to come.
The Florida Fish and Wildlife Conservation Commission is reporting low to high concentrations of Red Tide samples along some beaches in Pinellas County.
In the news: Florida Gov. DeSantis Delivers 'State Of The State' Address, Democrats Respond
City of Indian Rocks Beach residents who live along the beach or waterway can collect dead fish and place them in double plastic bags. The bags from clean up should be tied and placed in an IRB trash can which will then be collected by the IRB Solid Waste Division on your regularly scheduled collection day.
Condos and multi-family properties impacted by red tide may place fish remains in double plastic bags in their city-provided dumpsters.
A Marine Fish Kill Hotline is maintained by the Fish & Waterlife Health group at the Florida Fish and Wildlife Commission. Residents may report fish kills by calling 800/636-0511.  Additional health information may be gathered by visiting the Florida Department of Health website.
"The City of Indian Rocks Beach is monitoring this issue on a daily basis and is responding with our Pinellas County partners as the situation warrants" said Gregg Mims, City Manager.
In the news: Florida Lawmakers To Consider 6-Week Abortion Limit
BeachFest was scheduled for April 15, 2023, and is the largest fundraiser held by the Indian Rocks Beach Homeowners Association. All the proceeds raised go back into the community.
"It is unfortunate that it had to be canceled, but it is the best decision in the interest of public health," said City of Indian Rocks Beach.
Android Users, Click Here To Download The Free Press App And Never Miss A Story. Follow Us On Facebook Here Or Twitter Here. Signup for our free newsletter by clicking here.
Login To Facebook From Your Browser To Leave A Comment