TAMPA, Fla. – Overlooked, far too many times, former Tight End and Buccaneers legend, Jimmie Giles, deserves to be in the Pro Football Hall of Fame.
"When I started in professional football," Giles said in an interview with Sports Illustrated, "I had no idea about the Hall of Fame. All I knew is I wanted to be the best tight end that ever played the game."
Giles's career spanned from 1977 to 1989; drafted in the 3rd round by the Houston Oilers in 1977, and starting as a rookie for Bum Philips, Giles went on to become a Tampa Bay all-time great.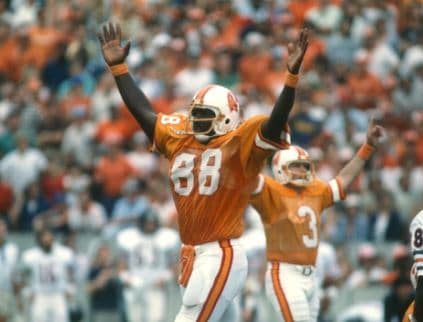 With career 350 receptions, 41 TDs, 5,084 yards, and 14.5 yards per reception, Giles's record speaks for itself. Giles was a four-time Pro Bowl Selection (1980, 1981-82 (2-year starter), 1985), 1979 alternate, and three times led the NFL TEs with the most yards per reception.
"(Bill) Parcells always used to say listen. One guy you're going to have to worry about is that dam Jimmie Giles," Pro Football Player Lawrence Taylor said about Giles.
Here is a breakdown of Jimmie Giles' on-field accomplishments:
Giles was a four-time Pro Bowl Selection (1980, 1981-82 (2-year starter), 1985), 1979 alternate, three times led the NFL TE's with the most yards per-reception.
1982 1st Team All-Conference UPI
1980, 1981, 1985 2nd Team All-Conference UPI
Three times led entire NFL TE's (min 25 rec) with most yards per reception (1980, 1982, 1985)
1980 led NFL TE's (min 25 rec) with 18.2 yards per reception (33 rec, 602 yards)
1981 led NFC TE's (min 25 rec ) with 17.5 yards per reception (45 rec, 786 yards)
1981 2nd in the NFL TE's (min 25 rec) with 17.5 yards per reception (45 rec, 786 yards)
1982 led entire NFL TE's (min 25 rec) with 17.8 yards per reception (28 rec, 499 yards)
1985 led entire NFL TE's (min 25 rec) with 15.7 yards per reception (43 rec, 673 yards)
Led all NFL TE's 1979-85 with an average of 16 yards per reception
8-year stretch 1978-85, averaged 15.8 yards per reception
Scored TD every 8.5 receptions, 2nd among all nine PFHOF TE's
Only two of the nine PFHOF TE's had yards per reception average better than Jimmie Giles 14.5
*Tied for 3rd in NFL history for TE's with a career average of 14.5 yards per reception (min 350 rec)
TD reception of 81-yards (1981) (Longest tied for 1st with PFHOF TE's from his era (1977-89), 80-yard reception (1983), 75-yard reception (1981), 66-yard TD reception (1979, 1989)
Tampa Bay Ring of Honor (2011) First Offensive Player
112-yards on 7 receptions in a single game vs Chicago Bears (1985) – considered to be one of the greatest defensive units in the history of the NFL
Scored 4 TD's (7 rec, 116-yards) in a single game against Miami Dolphins (10.20.85). Only TE opponent in Miami Dolphins history to achieve such a feat
Played with 15 different QB's at Tampa Bay, a run-oriented team, scoring 34 of his 41 career TD's – Doug Williams (20), Steve DeBerg (10), Mike Rae (2), Jack Thompson (1), Steve Young (1), Detroit Lions Eric Hipple (2), Joe Ferguson (1), Philadelphia Eagles – Randall Cunningham (4)
Retired as Tampa Bay Buccaneers career leader in TD receptions (34), currently 2nd in franchise history
Caught passes from 14 different NFL QB's
Blocking skills – sealed edge for 5th leading NFL rusher, RB, Ricky Bell, as part of 1979 NFC Central Division Champions. Followed up in 1984 by leading the way for NFL's leading rusher, RB, James Wilder, and the next year in 1985 he was 3rd in the league. *Source Elias Sports Bureau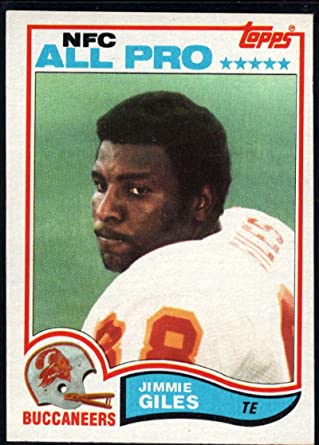 "Jimmie Giles was a great football player in my mind.  I had the responsibility of covering Jimmie most of the time because we wanted to blitz and put some heat on them.  I always prayed that our line got there quickly because I had to run with him.  Jimmie was going straight down the middle.  He ran great routes, whether it was a post route or whether he was setting you up on the banana route.  He was tough to handle.  Jimmie really made me work at my craft.  He was certainly a mismatch for most linebackers and most safeties.  We had to cover him many times with two and three people to make sure he was the one guy on the pass route that we had to take away.  That doesn't happen very often, where the tight end is the main go-to guy.  To me, he was exceptional.  He was a receiver playing tight end.  That is about as well as I can state it.  He was a very good blocker.  There is no reason he should not be in the Pro Football Hall of Fame.  He is very deserving," said former coach and NFL Pro Mike Singletary.
On the field, a great player, yes, and deserving of the HOF jacket, yes. Off the field, Giles is a genuinely good person, with a big heart, whom I've had the opportunity to spend some time with.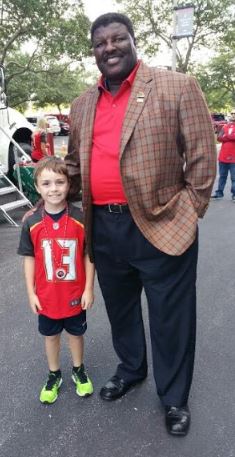 "Tell your son hello from me, please," said Giles, in a conversation I had with him recently, reminiscing about an NFL Draft party we were at together back in 2015 with the Buccaneers.
Giles was more than a football player to this kid, who at the time thought the only person alive was WR Mike Evans. That is until Jimmie picked up my son and carried him to a table to meet other players. Giles took an interest in what my son had to say and listened to, my then, 9-year olds take on if the Bucs would choose Jaemis Winston that night.
If you know Jimmie, you know he's the type of guy to greet you with a smile or take the time to send you a text to say 'Happy Holidays.'
Enjoy this video below, provided by Jimmie Giles, Case for Canton.
Android Users, Click Here To Download The Free Press App And Never Miss A Story. Follow Us On Facebook Here Or Twitter Here.
Login To Facebook From Your Browser To Leave A Comment