July 24, 2020
By: Chris Ingram
TAMPA, Fla. – Despite just six years as a practicing attorney, Monique Scott fancies herself well enough to see herself sitting on the Hillsborough County Court bench as a judge. Scott is running as a candidate in Group 7 against three other candidates: Nancy L. Jacobs, Rickey "Rick" Silverman, and Bill Yanger.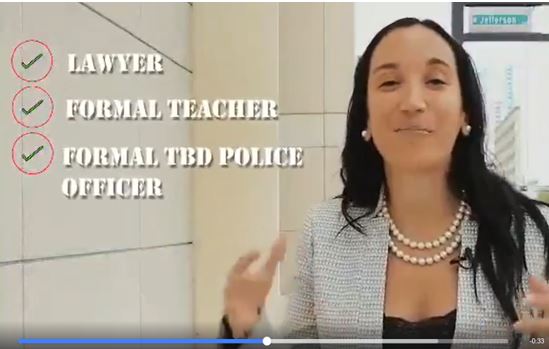 Although it is unusual for such a young attorney with little experience in the courtroom to run for judge, according to Florida law, Scott meets the requirement of being eligible to run – but just barely.
Put aside her lack of significant experience in the courtroom, what is most disconcerting about Scott is her touting her experience as a police officer with the City of Tampa in her campaign materials. (See campaign video here).
That is because, while yes, Scott did in fact go to the Police Academy, and was in fact employed with the City of Tampa P.D., she was terminated about one week after joining the force.
According to a wrongful termination lawsuit filed by Scott (whose last name at the time was Garavito) in U.S. District Court, she was terminated for a medical condition in which she had epilepsy and seizures or convulsions. Scott's lawsuit was dismissed in a motion for summary judgment filed by the City of Tampa.
The doctor who reviewed Scott's condition for the City of Tampa wrote a detailed four-page opinion, ultimately concluding that, "[Scott's] history of seizures and the possible side effects of her antiseizure medication limits her ability to perform the essential functions of a police officer with the Tampa Police Department. Accommodation could be considered such as limiting high-speed vehicle operations, avoiding weapon use, and minimizing shift changes. However, these would seem to be essential to police officer functions and difficult to modify while maintaining organizational needs."
In short, Scott's condition meant she could not be a cop because cops cannot be effective pursuing suspects if they have a seizure in the middle of a chase or a gun battle. But she was a cop for one week, and during that week, according to the lawsuit "She was placed in 'holdover,' – a month of training in which new police officers learn agency policy and procedures." Although certified, and given a gun and a badge, it appears at no time did Scott walk the streets of Tampa and fight bad guys or do so much as write a parking ticket.
While Scott's termination was unfortunate for her, and one may have empathy for her medical condition, the court concluded the City of Tampa did not violate her rights by letting her go.
Fast forward to present day, and Monique Scott is running for judge and stating she was a cop in her campaign materials. While that is technically true, it is very misleading. It would be like me saying I studied at Harvard because I once read a book in the university's library.
Candidates for judge should be held to a higher standard than your typical politician running for public office for good reason. Judges are expected to have high standards of ethics, transparency, fairness, and good judgment, to name a few. Scott's use of her one week of employment on the Tampa Police force as some sort of life experience she will bring to the bench says lots about her – and none of them are good about how she would serve as a judge.
Vote Monique Scott

We need someone in court who brings diversity, objectivity, integrity, and experience to the bench.

Monique Scott has been a police officer, a teacher, and a prosecutor. She's a Tampa native, a first generation American, and community leader. pic.twitter.com/DclPZWZW6x

— Monique Scott (@Scott4Judge2020) July 10, 2020
Chris Ingram is a Tampa communications, political, and media consultant. Follow him on Twitter at @IrreverentView or send him an e-mail to chris@tampafp.com.
Publishers Note: While The Free Press will always be free for our readers, and ad-supported, we are asking our loyal readers to consider a monthly donation of $3 to maintain our local journalism and help us grow, as we ramp up ad sales locally.
You can click here to support us.
We thank you all for your consideration and supporting local journalism.
Login To Facebook From Your Browser To Leave A Comment