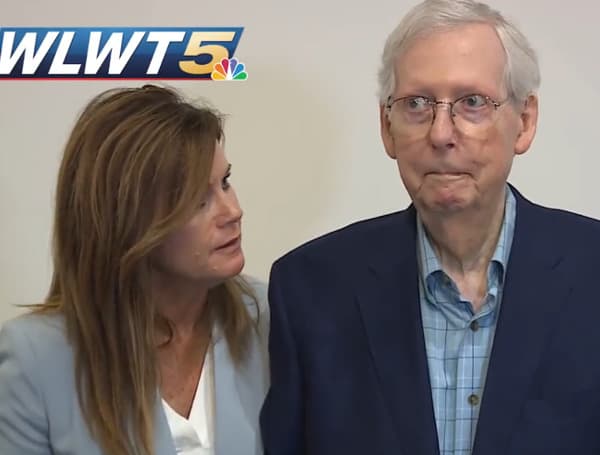 Senate Minority Leader Mitch McConnell has said that he will stay on as leader of the Senate Republican Conference amid criticism that he is medically unfit to serve, according to his remarks as reported by The Hill.
McConnell, age 81, froze before cameras on Aug. 30 during a press conference — the second such instance that has occurred in public — which had led several Republican officials and conservative commentators to call for his retirement.
McConnell, following a weekly policy lunch with Senate Republicans, indicated that he would remain in office for the remainder of the 118th Congress, according to a report by The Hill.
In the news: Kentucky Sen. Rand Paul Questions Doctor's Diagnosis Of Mitch McConnell
"I have no announcements to make on that subject," said McConnell to reporters after the lunch meeting, adding that "I'm going to finish my term as leader and I'm going to finish my Senate term." McConnell did not say whether he would seek reelection to another term in the Senate, with his current term expiring in 2026.
Several influential conservative commentators and elected officials have called for McConnell to resign as leader of the conference following his second freeze. "To the layman, the incidents looked more concerning than that. Regardless, this obviously is not normal and affects his ability to function as the leading representative of his caucus," wrote the editorial board of National Review, a conservative magazine, calling for his retirement.
"McConnell should resign tomorrow," said former Fox News host Bill O'Reilly, according to The Hill.
In the news: Wisconsin Dems Launch $4M Campaign Against GOP Impeachment Efforts Against Liberal Justice
"Severe aging health issues and/or mental health incompetence in our nation's leaders MUST be addressed," Republican Rep. Marjorie Taylor Greene of Georgia wrote on Twitter, now known as X, following McConnell's latest freeze. "Biden, McConnell, Feinstein, and Fetterman are examples of people who are not fit for office."
Android Users, Click To Download The Free Press App And Never Miss A Story. Follow Us On Facebook and Twitter. Signup for our free newsletter.
We can't do this without your help; visit our GiveSendGo page and donate any dollar amount; every penny helps
Login To Facebook To Comment