If Democrat Terry McAuliffe loses the Virginia governor's race on Tuesday, as he appears set to do, he may have to wonder why, considering who claims to be his friends, he needs any enemies.
For one thing, as recent controversies have rocked liberal county school boards in Northern Virginia, some McAuliffe backers put up signs calling for parents to essentially be banned from having a say about the left-wing tilt of the state's public education system.
Then, McAuliffe brought in the likes of divisive former President Barack Obama to assert that Virginians didn't have time for "phony" culture-war issues.
This is the same Obama who once bathed the White House the color of the LGBT flag to celebrate the legalization of gay marriage, and who advocated for the types of transgender-access policies that are now being blamed for a Virginia ninth-grade girl being raped in a girls' locker room by a boy claiming to be a transgender girl.
Now, as McAuliffe fades in the polls behind Republican Glenn Youngkin, the Trump-hating Lincoln Project has ridden to his rescue.
On Friday, the Lincoln Project, a group of former Republicans who claim to be cleansing American politics of all things Trump, dispatched five operatives to stand outside Youngkin's campaign bus during a stop.
The quintet donned long-sleeved white shirts and khaki pants and held tiki torches, while standing in front of Youngkin's campaign bus.
The uniform was supposed to be a reminder of the August 2017 "Unite the Right" rally in Charlottesville, Va., where some white supremacist groups protested the removal of a Robert E. Lee statue from a public park, and clashed with left-wing demonstrators.
The violence left one young woman, a progressive who was a counter-protester, dead.
Liberals blamed the violence four years ago on then-President Donald Trump, and made their case by repeatedly lying about Trump's comments on the rally, saying he praised the white supremacists as "very fine people."
In its statement on Friday's incident, the Lincoln Project, which has faced a PR disaster after it was revealed that John Weaver, one of its founders, was trying to poach young male volunteers for sex, said it sent the supposed Youngkin supporters as a reminder.
"Today's demonstration was our way of reminding Virginians what happened in Charlottesville four years ago, the Republican Party's embrace of those values, and Glenn Youngkin's failure to condemn it," the group said in a statement.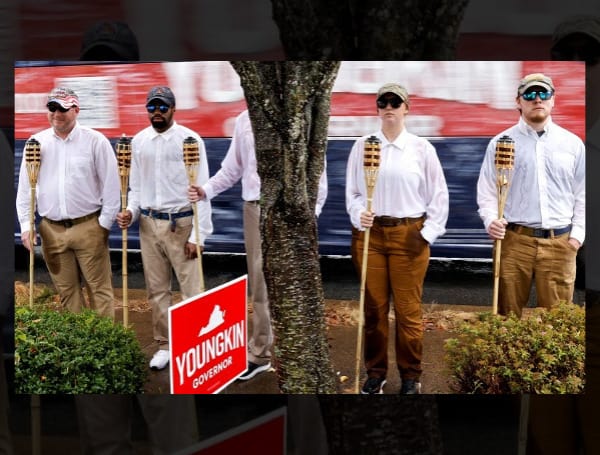 Youngkin immediately went on the offensive, accusing McAuliffe of planting the group at his campaign.
Which then showed that the Lincoln Project's stunt had backfired on the Democrat.
McAuliffe's campaign itself quickly issued a strong statement, saying, "What happened today in Charlottesville is disgusting and distasteful and the McAuliffe campaign condemns it in the strongest terms. Those involved should immediately apologize."
Andrew Whitley, a spokesman for the Virginia Democratic Party, tweeted that the party did not have "any role" in the stunt.
"What happened in Charlottesville four years ago was a tragedy and one of the darkest moments in our state's recent memories, and is an event not to be taken lightly," Whitley said.
Other liberals also condemned the stunt.
Lis Smith, a former senior adviser for now-Transportation Secretary Pete Buttigieg, tweeted, "What a massive, massive screw up. The last thing that the McAuliffe campaign needed this weekend. A total disservice to the hundreds of hard-working staffers on the ground."
State Del. Sally Hudson, a Democrat who represents Charlottesville, tweeted, "Charlottesville is not a prop. Our community is still reeling from years of trauma — especially this week. Don't come back, @ProjectLincoln. Your stunts aren't welcome here."
Even the Lincoln Project's alleged allies turned on it.
Conor Rogers, a former digital director for the group, tweeted, "A wonderful activist for peace died in Charlottesville on 8/12 (2017). Her name is Heather Heyer. She and that event are not a prop or a stunt. It's not anyone's to use. What a profound miscalculation."
Also on Twitter, former congressman Joe Walsh, another anti-Trump Republican, said, "What a stupid, desperate, dishonest thing to do. @ProjectLincoln, you ought to be ashamed of yourselves."
But the McAuliffe campaign should buck up.
After all, in its statement, the Lincoln Project promised, "We'll be back."
Support journalism by clicking here to our GoFundMe or sign up for our free newsletter by clicking here
Android Users, Click Here To Download The Free Press App And Never Miss A Story. It's Free And Coming To Apple Users Soon
Login To Facebook From Your Browser To Leave A Comment