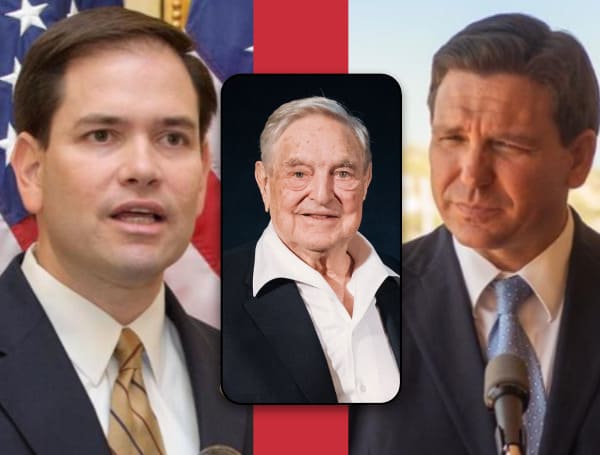 Ultimately, Radio Mambi couldn't be saved.
The Biden administration approved a deal that allows a group backed by left-wing billionaire George Soros to buy 18 Spanish-language radio stations.
The Latino Media Network, led by Democratic activists who once worked for Hillary Clinton and Barack Obama, respectively, acquired the broadcasting network for $60 million, which was funded in large part by Soros.
The deal includes Radio Mambi, a Miami station renowned among South Florida's community of Cuban exiles for its anti-Castro, anti-communism commentary.
Republican Sen. Marco Rubio was among the most outspoken critics of the deal to give Soros a piece of the action in a takeover of stations that collectively can reach one-third of Hispanic voters nationally.
In a letter to Federal Communications Commission Chairwoman Jessica Rosenworcel in June, the Florida Republican wrote, "Far from benign, the proposed sale is the latest in a series of moves by elite progressives desperate to claw back support from Hispanic voters, who have rightly turned their backs on Democrats and their socialist priorities."
"But instead of overhauling their own unpopular policies," Rubio added, "we are concerned that far-left ideologues are attempting to consolidate and expand their control over the media, so they can flood the airwaves with propaganda with the hopes of fooling listeners so that they can silence effective conservative voices who challenge their progressive propaganda."
Florida Republican Gov. Ron DeSantis also opposed the sale, as The Free Press noted.
During the election campaign, he warned that Soros is financing a scheme by devout leftists "to manipulate local media in Florida to push their Marxist agenda on voters."
"In Florida," his campaign added, "we reject the professional Left & their attempt to infiltrate our state & will always stand for truth and freedom."
South Florida GOP Reps. Mario Diaz-Balart, Maria Salazar, and Carlos Gimenez also fought the purchase. They called it "an attempt by the left to sell Hispanics on their woke ideology and culture wars."
But one conservative voice in South Florida argued Soros will not win.
Radio host Lourdes Ubieta quit Radio Mambi in July, declaring that she would never take a paycheck from anyone tied to Soros.
She and two other former Radio Mambi anchors have started a new station, Radio Libre, to compete with their former employer.
"America is a free country. Even an avowed global socialist with a clear radical political agenda can buy our media outlets to silence their opposition," Ubieta told Fox News recently.
"It's also a country where we can leave such a workplace, start our own radio station at Radio Libre, and beat the pants off that socialist in the ratings," Ubieta added. "George Soros tried talk radio once before with Radio America and failed miserably. And today Miami market ratings show he's on his way to defeat again, even before he gets started." 
Visit Tampafp.com for Politics, Sports, and National Headlines.
Android Users, Click Here To Download The Free Press App And Never Miss A Story. Follow Us On Facebook Here Or Twitter Here.
Login To Facebook From Your Browser To Leave A Comment