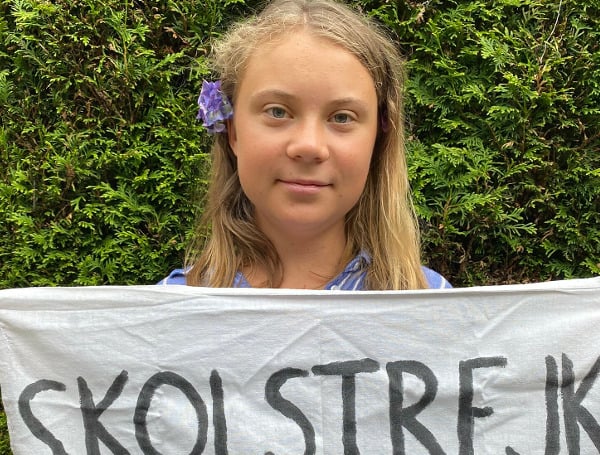 Greta Thunberg literally became the poster child of global left-wing climate change activism, spending most of her teenage years racking up monstrous amounts of street cred among liberal political leaders who have declared war on modern life.
But the Swedish 20-year-old apparently has backtracked from one of her more famous claims — and, predictably, the liberal media is covering for her.
At issue is a June 2018 tweet Thunberg posted. She circulated a story about end-of-times claims from Harvard professor James Anderson, a leading climate scientist.
In the news: The "Gaetz Effect"? Poll Shows More Americans Reject Spending More On War In Ukraine
Thunberg, according to The Post Millennial, had deleted her own tweet of a news story covering a speech Anderson gave.
She posted a quote from the story, which read, "A top climate scientist is warning that climate change will wipe out all humanity unless we stop using fossil fuels over the next five years."
As in 2023.
It's 2023, and we're all still here.
Accordingly, conservative commentator Jack Posobiec posted a screenshot of Thunberg's tweet.
"Hi @GretaThunberg!" Posobiec tweeted. "Why did you delete this?"
Thunberg had defenders who claimed critics were being misleading about the context of Thunberg's original tweet.
In the news: Quarantine Zone Set Up In Florida To Contain Giant African Land Snails
Among them was Newsweek magazine, which issued a "fact check" of Posobiec and others who circulated her tweet on Monday.
Newsweek reported, "The [original] article [at gritpost.com], which quotes Harvard professor James Anderson, does not say that humanity will be wiped out in five years, however."
"What is confusing here is that the gritpost.com article doesn't accurately summarize the quotes from Anderson. Anderson is not quoted (at least not in the article) saying that humanity would be wiped out, but rather that continued use of fossil fuels could cause irreversible damage to the polar ice caps," Newsweek continued.
Ultimately, and not surprisingly, Newsweek judged Thunberg's critic's liars.
"The tweet that Thunberg allegedly sent referenced an article that did not say the world would end by 2023," the magazine noted in its "ruling."
"The article, which is no longer online, did inaccurately reference quotes from climate expert Professor James Anderson, who said in 2018 that unless the world stopped using fossil fuels by 2023, the effect on the polar ice caps would be irreversible."
In the news: Florida Gov. DeSantis Leads Alliance Of 18 States To Fight Against Biden's ESG 'Financial Fraud'
"While none of Anderson's quotes (at least those online) state that humanity would be wiped out, it is also inaccurate to claim that Thunberg's tweet or the article she referenced said the world was going to end this year."
Yet where Newsweek went off the rails is that it didn't carry out its own self-proclaimed mandate to be the arbiter of truth.
In other words, Newsweek was misleading about others being misleading.
The magazine referenced a Forbes account of Anderson's comments. It even linked to Forbes' article and offered some direct quotes from the professor.
But what Newsweek did not do is quote the most relevant part of Forbes' reporting.
For one thing, the headline Forbes slapped on its piece read, "We Have Five Years To Save Ourselves From Climate Change, Harvard Scientist Says."
Then, just below the parts that Newsweek does quote, Forbes has this: "The chance that there will be any permanent ice left in the Arctic after 2022 is essentially zero,' Anderson said, with 75 to 80 percent of permanent ice having melted already in the last 35 years. 'Can we lose 75-80 percent of permanent ice and recover? The answer is no.'"
In the news: Florida Gov. DeSantis' Office Responds To Trump PAC Ethics Investigation Request
A few paragraphs later, Forbes, but not Newsweek, quoted Anderson thusly, "'People at this point haven't come to grips with the irreversibility of this sea-level rise problem,' Anderson said."
Sure sounds like he believes humanity would be wiped out.
The magazine noted that Anderson displayed a series of maps, including one that showed almost the entire tip of Florida below Lake Okeechobee underwater because of sea-level rise.
As far as we can tell, Miami is still with us.
Forbes then closed its article with another quote from Anderson: "I don't understand how these people sit down to dinner with their kids, because they're not stupid people."
He said that of climate-change skeptics; we might say that of "fact-checkers."
Android Users, Click Here To Download The Free Press App And Never Miss A Story. Follow Us On Facebook Here Or Twitter Here. Signup for our free newsletter by clicking here. We can't do this without your help; visit our GiveSendGo page and donate any dollar amount; every penny helps.
Login To Facebook From Your Browser To Leave A Comment