TAMPA, Fla. – The Lightning now have permission to be Stanley Cup champions, possibly as early as Saturday.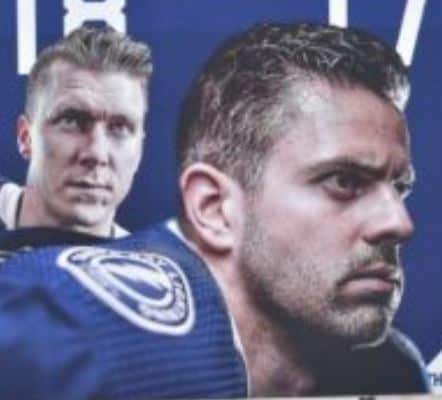 It's hard at this point to believe that the Dallas Stars can stop them. It's hard to believe the Lightning's past postseason troubles can stop them. It's hard to not to believe in Jon Cooper's team after they passed their final test, checked the last box on the list of what makes champions be champions.
The captain delivered.
It will be forever frozen in time.
Steven Stamkos, on the shelf for months after core muscle surgery, a "lower body injury" in hockey parlance, got off the deck and scored early in Game 3. Taking a feed from teammate Nikita Kucherov, Stamkos snapped a goal into the Dallas net. Lightning players and coaches exulted. They celebrated as if they had already won the Cup. Stamkos has scored more than 450 times in his NHL career. None matted more than this one, none.
The Lightning won the game in a rout, 5-2. Now they have no choice except to win the Cup. Stamkos made sure of it. Your stars have to be your stars at this time of year, even if a global pandemic has turned September into this time of year. It doesn't matter, Stars have to be stars.
It has been that way for the Lightning in this march to Stanley, a righteous redemption tour after coming up short all those playoff years, including that ignominious departure last year. In Game 3, Victor Hedman, Nikita Kucherov, Braden Point, and Ondrej Palat scored. But it was 91 who made eyes water.
"At this time of the year, you want to do anything you can to help your team win," Stamkos said. "I've watched these guys, be so committed to what our end goal is. To be part of it tonight, it was a dream at the hand of come true."
"For us to see him work so hard, get back in a game and score one, it's pretty inspirational for our bench."
Point said.
The Lightning have their exclamation point if this story book is in fact written.
"Here we are watching a player come back, and then to do what he did on the biggest stage at the biggest time of year, you have to marvel at it," Cooper said. "It was pretty damn cool."
They Lightning have their Willis Reed moment.
Fifty years ago, Reed, captain, and center of the New York Knicks, who hobbled onto the basketball court at Madison Square Garden to inspire his team in Game 7 win in the NBA Finals. He played on one leg, for but a few minutes, but his job was done. New York won going away.
Steven Stamkos played only five shifts in Game 3, less than four minutes. He sat out the second and third periods. But his job was done. You knew it when he scored that goal, when his teammates exploded.
"You can see how much he means to as us as a teammate and as a leader and as a friend," Hedman said,
The Lightning have their Kirk Gibson moment. It was a hobbled Gibson who hit a walk-off home run for the Los Angeles Dodgers in Game 1 of the 1988 World Series to beat the Oakland A's and propel the Dodgers to a world championship. It was his only at-bat of the Series.
Stamkos might not play the rest of these Finals.
"I wanted to play as much as I could," he said. "Obviously, there's an issue I've been working through."
Issues and more issues. That has been Stamkos' career in Tampa Bay. He arrived here in 2009, an 18-year-old with a wrist shot handed down to him by the hockey gods, with a penchant for leadership, a knack for saying and doing the right thing. He's a better person than he is a shooting star, the complete package, destined for the Hall of Fame. Pausing at the corner of Stanley and Cup would simply cement that.
He has overcome injuries in his career, all those injuries. He has kept going through all those Lightning playoff disappointments. Stamkos has stood in front of media time and time again and tried to explain it all, even when he couldn't. He has hung in there. He didn't take free agency millions to leave Tampa Bay. He stayed for less. He hung in. He had unfinished business. The latest injury, which required surgery, seemed likely to snuff that out.
Lower body injuries have nothing to do with the most important part of the upper body: heart.
Steven Stamkos and his teammates will lift the Cup with two more wins. Granted, the Lightning have been here before, when they were up 2-1 on the Chicago Blackhawks in the 2015 Finals. They were younger, their heads filled with dreams, with a notion that it came that easy. It didn't.
But they hung in, their captain most of all. Steven Stamkos deserves to lift the Cup.
It will be another moment frozen in time.
It'll be tough to top the other night.
But it will be pretty damn cool.
Publishers Note: While The Free Press will always be free for our readers, and ad-supported, we are asking our loyal readers to consider a monthly donation of $3 to maintain our local journalism and help us grow, as we ramp up ad sales locally.
We thank you all for your consideration and for supporting local journalism
Login To Facebook From Your Browser To Leave A Comment