HILLSBOROIGH COUNTY, Fla. – The Hillsborough County Sheriff's Office has made an arrest in the death of a man in Town 'N' Country.
On Tuesday, April 13, 2021, at approximately 1:45 p.m., deputies were dispatched to the area of West Clifton Street and Southern Comfort Boulevard, after receiving reports of an injured adult male.
Upon arrival, deputies found the victim in a grassy lot of a residence. The victim was pronounced dead at the scene. 
A day later, the Hillsborough County Medical Examiner's Office ruled the cause of death to be a homicide. Detectives continued to gather physical evidence, as well as surveillance footage and witness statements, and identified Andy Dominguez-Hernandez, 38, as the suspect in this case.
He was arrested on Wednesday, April 14, 2021, and is facing charges of Murder in the Second Degree with a Weapon, Tampering with Physical Evidence, and Driving with License Canceled, Suspended, or Revoked.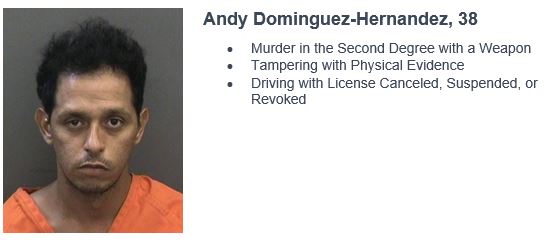 "I am proud of our detectives for their excellent investigative skills that allowed us to make a swift arrest and bring us one step closer to gaining a degree of justice for this victim and his family," said Sheriff Chad Chronister. "We continue to investigate the events that led to this attack and are building a case against this criminal who mistakingly thought he could get away with it."
Other News: 79 Arrested During "Operation Takedown", Land O' Lakes High Girls Basketball Coach, Pastor Arrested
Login To Facebook From Your Browser To Leave A Comment