June 9, 2020
By: Martin Fennelly
The upcoming year in sports, or what is left of it, will be One for the Knee.
They might play the entire NBA season on one knee.
They will be practicing taking a knee in NFL training camps.
We are heading that way in the aftermath of George Floyd's death from a police officer's knee on his neck. The symbolism of what will follow might forever change sports and society. Make no mistake: It will be part of the presidential campaign if I know anything about presidential campaigns.
Meanwhile, the NFL took the first step toward that new day in America when its commissioner, Roger Goodell, emerged from his bunker to apologize for not listening in the past with the league's past treatment of player protests, heavy-handed and smothered in patriotism being the operative approach. The NFL's reversal must look like red meat for President Trump.
On the other hand, Goodell never mentioned Colin Kaepernick by name.
Could someone? Please?
I thought of Kaepernick when Saints quarterback Drew Brees backtracked at warp speed after saying that no matter the cause, he would never disrespect the flag in any way. It was the right way to go. I know it was because Brees was admonished by President Trump for apologizing.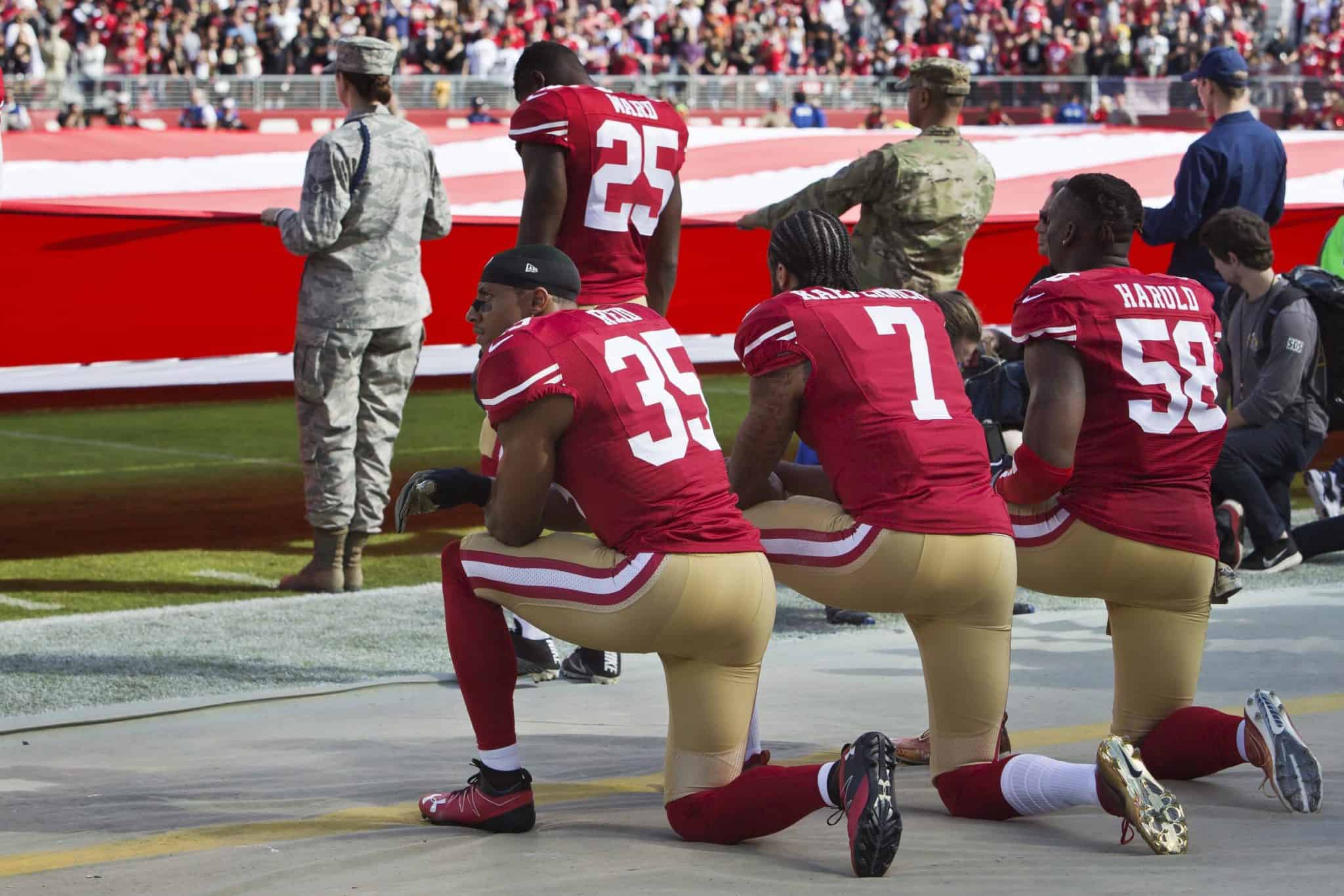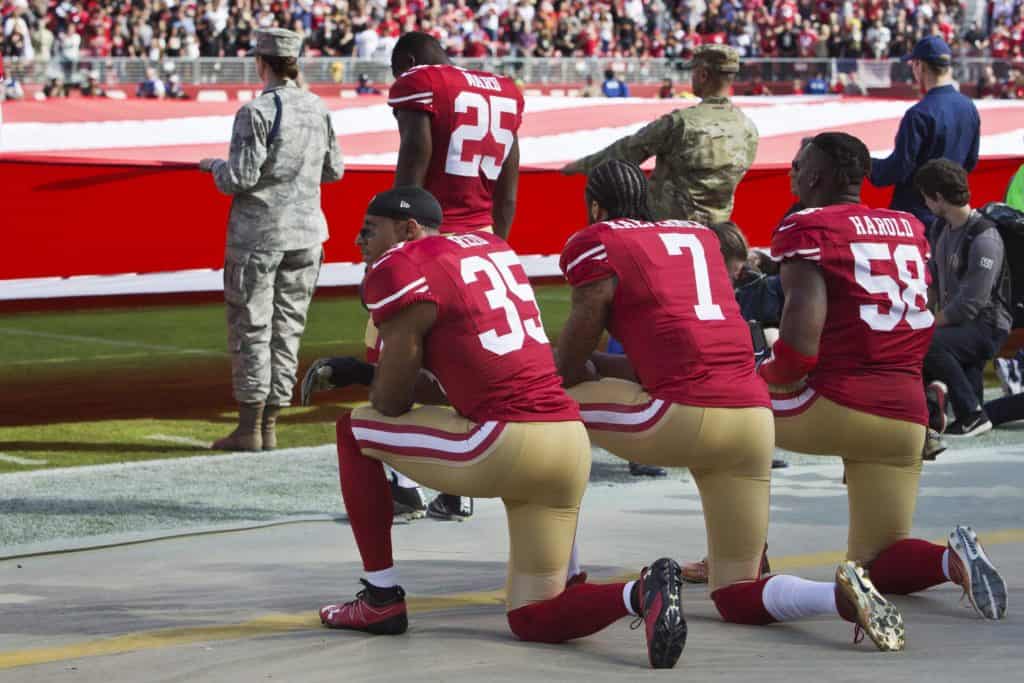 No surprise there. Trump is fresh off denouncing looters and violence while praising peaceful protesters, even as peaceful protestors outside the White House were pushed back with pepper balls and rubber bullets, all to clear a path so the president could hold up a Bible, which he didn't read from, in front of a church, which he didn't enter.
And remember: Trump once dismissed any NFL player who kneeled during the national anthem as a "son of a bitch" and hoped NFL owners would fire them. The NFL stood down shortly thereafter, threatening to penalize players who took knees or protested during the national anthem. Now the president is at odds with Goodell and the NFL again.
But does the NFL, the true table-setter in American sports, a $16-billion industry, really want to throw down?
I mean, really?
Fine. Then apologize to Colin Kaepernick.
And give him a job.
It was Kaepernick, then a San Francisco 49ers quarterback, who took a knee during the playing of the national anthem in 2016 to peacefully protest social injustice and police brutality. It was Kaepernick who was instantly vilified. It was Kaepernick who was ridden out of the NFL. I'm not sure he has any game left or had much to begin with, but I know he is a lot more than a symbol.
I'm not trying to turn Kaepernick into Dr. King. But I had no problem with his protest. It was peaceful. I would never have taken a knee during the anthem. But I respect anyone's right to do it, a right backed up in the courts, including the Supreme one. My late father fought in World War II, and I know he didn't do it so we could all stand in rows and think alike. Brees, as tone-deaf as he was, probably should not have backed down so quickly, as it was his right to say what he felt. But Colin Kaepernick had a right to protest. He still does. Only now he will have lots of company. Peaceful protest. That's the ticket.
Isn't peace what we want? I know I do.
And now the NFL is saying the same thing.
Want to say it good and loud?
Get Colin Kaepernick back in the game.
And I vote for the Bucs to take the first step.
True, it makes no sense. Last I checked, the Bucs have Tom Brady. But there has to be a place for Kaepernick in this league. It would seem right, feel like closure, an acknowledgment of everything that was wrong in response to his protests. I would find a way to hire Kaepernick, even if it's as part player/part advisor. Quarterback or quarterback coach or executive vice president of racial sensitivity coach. Anything.
I know the Bucs can do this. I know because they have broken ground before, once taking a chance on an assistant coach named Tony Dungy. Sure, there was the Doug Williams fiasco, an embarrassment for all time, but these aren't those Bucs. This franchise has hired as many minority head coaches as any NFL team. Don't forget Bucs head coach Bruce Arians. All three of his coordinators are minority hires. Arians has also hired two women as assistant coaches. Arians arrived in Tampa with an open mind. That is who he is.
And that is who the Bucs can be.
No, hiring Kaepernick might not make sense. The Bucs really don't need the spotlight or attention given Brady and Rob Gronkowski's arrival. They're full up with splashy, flashy hires. But that's what would make it feel so good, all in the name of what is right as much as what makes football wins. It would be an American thing to do at this time in America.
The Year of the Knee is just beginning.
Let's stand and get the jump on it.
Bring Colin Kaepernick to Tampa Bay. Or at least back to the NFL. Then let the real work begin.
Login To Facebook From Your Browser To Leave A Comment