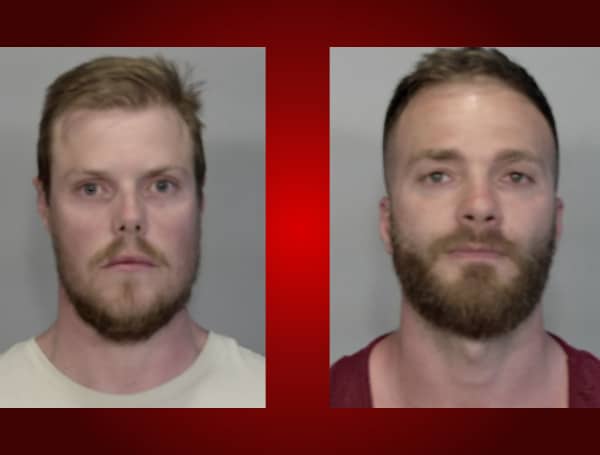 Two men were arrested Tuesday after breaking into an impound yard and leaving with a car that had been previously towed.
Rory Peter Stien, 32, of Burleigh Waters, Australia, and Stephen George Yetman, 36, of Boston, Massachusetts, were both charged with burglary and grand theft of a motor vehicle.
The Sheriff's Office was called to Arnold's Towing in Stock Island, Florida, at approximately 7:55 p.m. regarding a vehicle theft.
Security video showed two men, later identified as Stien and Yetman, forcing the yard gate open, causing approximately $5,000 in damage, and leaving in a Chevrolet Camaro.
In the news: Weeki Wachee Woman Charged In Shooting Death Of Man She Was Lying In Bed With
The Camaro was stopped shortly thereafter in Marathon on U.S. 1. Stien and Yetman were inside.
They were wearing the same clothes as was seen on the video. Stien admitted the car was stolen from the tow yard.
Both were booked into the Monroe County Jail.
In Other News: Florida Man Who Stole Horses And Possessed An Alligator Gets 2 Years In Prison
A Florida man will spend two years in a Florida State Prison for various crimes, including stealing horses and possessing an alligator.
Between December 2021 and May 2022, deputies in Hillsborough County Sheriff's Office Agricultural Unit investigated the thefts of 7 horses throughout Hillsborough County.
On May 26, 2022, dispatchers got a call about another horse being stolen in north Hillsborough County.
The report stated a Hispanic man was seen loading a miniature horse into a trailer. That animal was found the next day in Wimauma.
In the news: Lightning On The Brink After Third-Period Collapse, Another Overtime Defeat
A statewide alert was issued for the suspect's white work van and red horse trailer. Through investigative means and tips from the public, deputies in the Ag Unit located the vehicle on the 15000 block of Colding Loop in Wimauma and arrested the suspect, Esteban Galvez, 57.
"This is a man who not only committed crimes against good, hard-working people, who invest a lot of time and money into their animals, but he committed crimes against nature," said Sheriff Chad Chronister. "Thanks to our Agricultural Unit deputies working with the community, we were able to round up and lock up this thief."
A continuation of the investigation linked Galvez to 3 other horse thefts, and he was found to be in possession of an alligator, and several illegal bird traps. He was sentenced on April 18, 2023.
Android Users, Click To Download The Free Press App And Never Miss A Story. Follow Us On Facebook and Twitter. Signup for our free newsletter.
We can't do this without your help; visit our GiveSendGo page and donate any dollar amount; every penny helps.
Login To Facebook From Your Browser To Leave A Comment