NEW ORLEANS, LA. – At 800 P.M., the center of Hurricane Delta was located by a NOAA Hurricane Hunter aircraft near latitude 19.2 North, longitude 84.5 West. Delta is moving toward the west-northwest near 17 mph (28 km/h). A west-northwestward to northwestward motion is expected over the next couple of days. A slower northwestward to north-northwestward motion is forecast to begin on Thursday, and a northward motion is expected Thursday night and Friday. On the forecast track, the center of Delta will move over the northeastern portion of the Yucatan peninsula late tonight or early Wednesday. Delta is forecast to move over the southern Gulf of Mexico Wednesday afternoon, be over the southern or central Gulf of Mexico through Thursday, and approach the northern Gulf coast on Friday.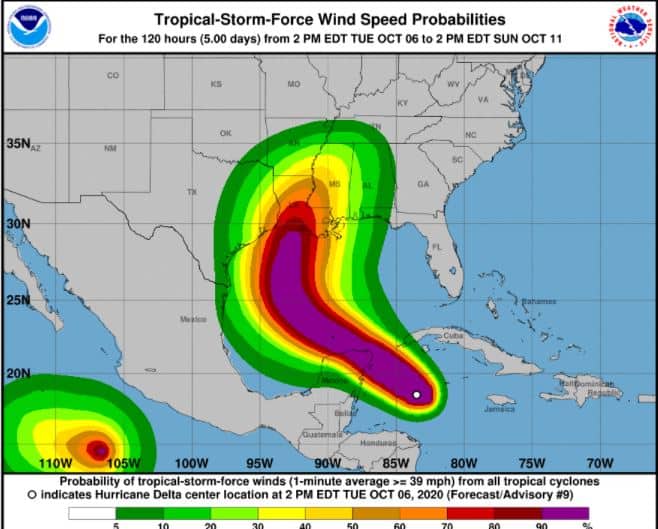 Maximum sustained winds are near 145 mph (230 km/h) with higher gusts. Delta is a category 4 hurricane on the Saffir-Simpson Hurricane Wind Scale. Some strengthening is possible before the center reaches the coast of the Yucatan peninsula early Wednesday. Although some weakening is likely when Delta moves over the Yucatan peninsula, re-strengthening is forecast when the hurricane moves over the southern Gulf of Mexico Wednesday night and Thursday.
Hurricane-force winds extend outward up to 30 miles (45 km) from the center and tropical-storm-force winds extend outward up to 105 miles (165 km).
The estimated minimum central pressure is 956 mb (28.23 inches).
Life-threatening storm surge and potentially catastrophic wind
damage are expected within portions of the northern Yucatan
Peninsula of Mexico beginning tonight. All preparations to protect
life and property should be rushed to completion.
Heavy rainfall will affect portions of the Cayman Islands,
western Cuba and the northern Yucatan Peninsula through midweek.
This rainfall could lead to significant flash flooding and
mudslides. The potential for heavy rain, flash and possible minor
river flooding will increase across portions of the central Gulf
Coast, Tennessee Valley, and southeastern United States as Delta
moves inland later this week.
There is an increasing likelihood of life-threatening storm surge
and dangerous hurricane-force winds, especially along the coasts of
Louisiana and Mississippi, beginning on Friday. Residents in these
areas should ensure they have their hurricane plan in place and
follow advice given by local officials. Storm surge and hurricane
watches will likely be issued for portions of the northern Gulf
Coast on Wednesday.
FORECAST POSITIONS AND MAX WINDS
INIT 06/2100Z 18.9N 84.1W 125 KT 145 MPH
12H 07/0600Z 20.2N 86.1W 135 KT 155 MPH
24H 07/1800Z 21.8N 88.8W 105 KT 120 MPH
36H 08/0600Z 23.0N 91.1W 110 KT 125 MPH
48H 08/1800Z 24.4N 92.6W 115 KT 130 MPH
60H 09/0600Z 25.9N 93.2W 115 KT 130 MPH
72H 09/1800Z 28.0N 92.9W 110 KT 125 MPH
96H 10/1800Z 32.4N 90.9W 55 KT 65 MPH…INLAND
120H 11/1800Z 35.5N 87.3W 20 KT 25 MPH…POST-TROP/REMNT LOW
Login To Facebook From Your Browser To Leave A Comment