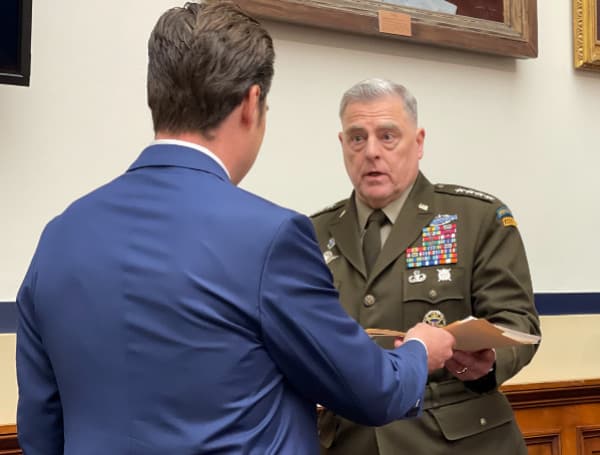 Florida Rep. Matt Gaetz is being applauded for his advocacy against "diversity, equity, and inclusion" DEI, after the Pentagon quietly announced it was disbanding a DEI program within its educational system.
Fox News reported on Friday that the Department of Defense Education Activity — which is responsible for educating the children of U.S. troops — had gutted "an entire unit" devoted to DEI as GOP lawmakers continued to ratchet up pressure on the military's wokeness.
Gaetz, a Fort Walton Beach Republican, has been at the forefront of the GOP effort to call out the Biden administration for prioritizing DEI and blaming white troops for alleged racism and "white supremacy" in the ranks, while offering scant evidence that it actually exists.
In the news: Rep. Matt Gaetz: US Military Faces "Recruiting Collapse" Because Biden Embraces DEI Programs
As The Free Press has reported, Gaetz in the last few days has grilled Defense Secretary Lloyd Austin, Joint Chiefs Chairman Gen. Mark Milley, and Under Secretary of Defense for Personnel and Readiness Gilbert Cisneros, who also serves as the Pentagon's chief diversity and inclusion officer, about anti-white racism and drag queen story hours within the Defense Department.
At a recent hearing, Gaetz criticized Cisneros for not firing Kelisa Wing, a black woman who once led the DEI initiative within the Pentagon's Education Activity, after she posted anti-white tweets.
Gaetz referred to Wing as "the racist person that works for you," yet Cisneros, while saying he did not approve of racist tweets, also claimed she would not be disciplined because her tweets were posted in her "personal capacity," even though she did them while at work.
In the news: VIDEO: Rep. Matt Gaetz Gets Commitment From Gen. Milley To End Military Base Drag Queen Story Hour
Fox News noted that President Joe Biden created and prioritized the DEI unit that Wing once ran as part of a broader initiative to promote "diversity" throughout the federal government.
In a statement, an unnamed Pentagon official told Fox News, "The Department of Defense Education Activity's commitment to diversity, equity, and inclusion efforts for our employees and in support of high achievement for our 67,000 military-connected students remains unchanged."
The agency added that the Education Activity was being "reconfigured," with the staff shuffled off "into key areas to continue addressing barriers to inclusion, closing gaps in representation, and incorporate the institutional insights we have gained over the past two years."
Fox News noted that while the unit is gone, the problem may not be, since the Pentagon suggested the dispersed staff would "further entrench a DEI agenda in every aspect of the Pentagon's schools."
We can't do this without your help; visit our GiveSendGo page and donate any dollar amount; every penny helps.
Still, Fox News added, "The decision to gut the DoDEA DEI unit was made as Republicans in both the Senate and the House Armed Services committees have criticized the Pentagon for ramping up DEI efforts as recruitment numbers dwindle, failing to meet critical targets."
Gaetz made exactly that point in questioning Cisneros, showing a graph that, he added, revealed how military recruiting had "fallen off the table" under Biden.
GOP Rep. Elise Stefanik of New York also took Cisneros to task for Wing, Fox News reported.
She pointed out that the Education Activity was using and promoting "antiracist" books Wing had written. Her topics included advocacy for defunding the police and white privilege. In one of her books, Wing wrote, "White privilege hurts a lot of people. If you are White you might feel bad about hurting others or you might feel afraid to lose this privilege. … Overcoming White privilege is a job that must start with the White community."
Cisneros claimed he did not know the department was using her books.
"You seem to not know a lot of what's happening in the department," Stefanik told him at the hearing, adding that it was "absolutely unacceptable" that such materials were used.
On Twitter on Friday, Indiana Republican Rep. Jim Banks retweeted the Fox News article and added, "Great news and well done @RepStefanik @RepMattGaetz. Wokeness CAN be undone!"
Android Users, Click To Download The Free Press App And Never Miss A Story. Follow Us On Facebook and Twitter . Signup for our free newsletter .
We can't do this without your help; visit our GiveSendGo page and donate any dollar amount; every penny helps.
Login To Facebook From Your Browser To Leave A Comment