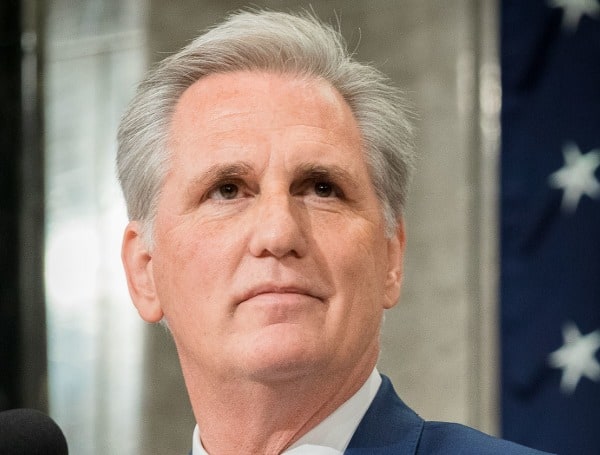 Republican leader Kevin McCarthy was defeated in the first-round voting Tuesday to become House speaker, sending the new Congress into a tangle as conservative colleagues opposed his leadership.
McCarthy had pledged a "battle on the floor" for as long as it took to overcome right-flank fellow Republicans who were refusing to give him their votes.
But it was not at all clear how the embattled GOP leader grasping for political survival could avoid becoming the first House speaker nominee in 100 years to fail to win the gavel from his fellow party members on the initial vote.
McCarthy strode into the chamber, posed for photos, and received a standing ovation from many on his side of the aisle after being nominated by the third-ranking Republican, Rep. Elise Stefanik, who said he "has what it takes" to lead House Republicans.
"No one has worked harder for this majority than Kevin McCarthy," said Stefanik, R-N.Y.
In the news: Florida Governor Ron DeSantis Sworn In For Second Term
But a challenge was quickly raised by Rep. Andy Biggs, R-Ariz., a conservative former leader of the Freedom Caucus, who was nominated by a fellow conservative as speaker.
More than a dozen Republicans peeled away, opposing McCarthy with votes for Biggs or others in protest.
On Monday, as McCarthy was desperately fishing for support to secure his new post, Gaetz announced that he was a committed "nay" vote.
Moreover, Gaetz told The Washington Times on Monday that four other pro-Trump lawmakers remained unpersuaded to get on Team McCarthy.
"I'm a no," the Fort Walton Beach Republican told a reporter as he left a meeting with McCarthy that was described as "brief and productive," according to the Times. Gaetz met with McCarthy as well as House Freedom Caucus Chairman Rep. Scott Perry of Pennsylvania and Rep. Lauren Boebert of Colorado.
Gaetz emphasized the point on Monday with a pair of tweets.
One pushed out a tweet by the conservative Columbia Bugle website that rehashed Gaetz's recent op-ed opposing McCarthy. In the piece, published last month, Gaetz argued McCarthy has no strong ideological foundation, and that the would-be speaker "knows he will end up failing Republicans and caving to liberals."
In the news: Major Investment Firms Find Going Woke Loses Friends On The Right And Little Traction On The Left
The other tweet by Gaetz circulated a post by the conservative business group Club for Growth. In its comments, Club for Growth said lawmakers should reject a "business as usual" candidate and support a speaker who, among other steps, includes a "true conservative" in the senior House leadership and will give the rank and file more of a voice.
Gaetz has said he supports Ohio Rep. Jim Jordan for speaker.
Besides Gaetz, Reps. Andy Biggs of Arizona, Ralph Norman of South Carolina, Bob Good of Virginia, and Matt Rosendale of Montana have all publicly acknowledged opposing McCarthy.
Meanwhile, on Sunday, nine other GOP lawmakers, including Rep.-elect Anna Paulina Luna of Pinellas County, sent McCarthy a letter saying they were prepared to abandon him as well for not being conservative enough. 
Android Users, Click Here To Download The Free Press App And Never Miss A Story. Follow Us On Facebook Here Or Twitter Here. Signup for our free newsletter by clicking here.
Login To Facebook From Your Browser To Leave A Comment