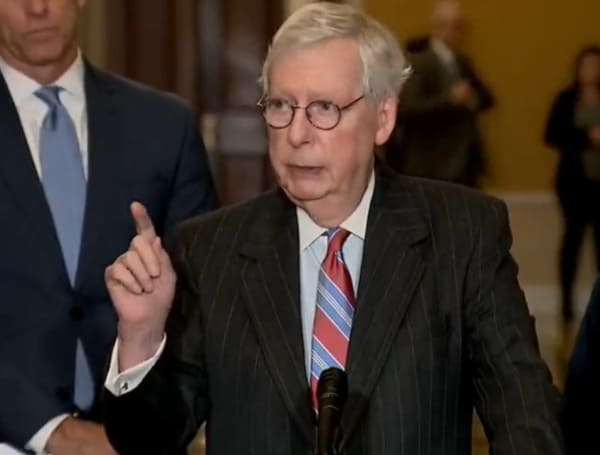 Congressional leaders included an additional $45 billion in emergency assistance for Ukraine against Russia's invasion in its $1.7 trillion bill released early Tuesday.
And Senator Mitch McConnell (R-KY) explained why.
"Making sure the Defense Department can deal with the major threats coming from Russia and China. Providing assistance for Ukrainians to defeat the Russians is the number one priority for the United States right now, according to most Republicans, that's sorta how we see the challenges confronting the country at the moment. " McConnell said Tuesday.
The bill, which runs for 4,155 pages, includes about $772.5 billion for non-defense discretionary programs and $858 billion in defense funding and would last through the end of the fiscal year in September.
The bill is Congress' largest assistance package for Ukraine to date, following a $40 billion package signed into law in May, a $12 billion supplement in September, and $800 million authorized in Congress' defense spending budget, bringing the total anticipated support for Ukraine in 2022 to nearly $100 billion, according to the Associated Press.
This number exceeds President Joe Biden's $37 billion request for military, economic and humanitarian support for Ukraine despite some Republican opposition to offering a "blank check" to Ukraine.
"Finalizing the omnibus is critical, absolutely critical for supporting our friends in Ukraine," said Senate Majority Leader Chuck Schumer of New York said, according to the AP.
Android Users, Click Here To Download The Free Press App And Never Miss A Story. Follow Us On Facebook Here Or Twitter Here. Signup for our free newsletter by clicking here.
Congress appropriated $858 billion in defense funding, in line with the FY2023 National Defense Authorization Act that passed the Senate last week.
It includes $9 billion in direct military assistance under the Ukraine Security Assistance Initiative and $11.9 billion to finance future drawdowns of U.S. weapons stocks and replacements with new equipment through September 2024, the bill shows.
Other funds go toward upgrading the U.S. troop presence in Europe, expanding research and development programs, and increasing procurement thresholds.
It also directs the Secretary of State and Secretary of Defense to provide Congress with a report on actions taken to guarantee that weapons given to Ukraine reach their targeted recipient and are used per their intended purpose, as well as "any other measures to promote accountability" for the use of such weapons, within 45 days after the bill's enactment.
Appropriators also directed the secretaries to report on any illicit diversions of weapons supplies.
The bill instructs The U.S. Agency For International Development, along with the Departments of State and Defense, to contract with a third party for weapons monitoring and adds provisions intended to safeguard cash transfers.
In addition, Congress appropriated at least $12.9 billion for economic aid and $2.4 billion for refugee resettlement in the U.S., along with Department of Energy funding for nuclear security.
Sen. Rick Scott on Monday ripped congressional Democrats for pushing an already overextended America to the point of fiscal meltdown.
The Florida Republican issued a series of tweets critical of the Democrats' spending plans around a new study that showed the U.S. national debt is on track to reach 225% of the U.S. GDP by 2050.
That would almost double the current debt-to-GDP ratio, which is now about 121%, according to USDebtClock.org.
That study, released Monday by the University of Pennsylvania's business school, emerged as Congress is scrambling to finalize a budget bill before an alleged government shutdown on Friday.
Android Users, Click Here To Download The Free Press App And Never Miss A Story. Follow Us On Facebook Here Or Twitter Here. Signup for our free newsletter by clicking here.
The "Pelosi-Schumer spending bill," as Scott called it, for Democratic House Speaker Nancy Pelosi and Senate Democratic Leader Chuck Schumer, would spend $1.7 trillion next year, according to Roll Call.
The national debt climbed to $31 trillion two months ago, as President Joe Biden and congressional Democrats have poured on the spending since Biden took office in January 2021.
According to the Congressional Research Service, Biden and congressional Democrats have tacked on $3.7 trillion to the national debt since January 2021 — at a time when they promote the rebound of the economy as the COVID-19 pandemic wanes and as the tax cuts enacted under former President Donald Trump generate record-setting revenues for the government.
That spending has been largely responsible for driving the inflation rate to levels unseen in 40 years. Meanwhile, the Federal Reserve has pushed the nation's benchmark interest rate to its highest level in at least 15 years to try to smother inflation.
"We still haven't seen a single page of the Pelosi-Schumer spending bill, and they're expecting us to pass it by the end of this week," Scott tweeted Monday night. "It's insane. Congress should NEVER spend YOUR MONEY on a bill we haven't read."
In another tweet, he added, "Washington elites are treating taxpayer dollars like monopoly money. They just keep spending more and more with no concern for how that impacts YOU. I'm fighting to get our fiscal house in order because it's the ONLY WAY to curb inflation and stop reckless spending."
Scott also said on Twitter, "Our national debt reached over $31T this year, and all Democrats want to do is spend even MORE money. It's INSANE. I'm fighting to get America's fiscal house in order and STOP Washington's wasteful spending before it's too late."
In its analysis of the spending trends, Penn noted, "Current U.S. fiscal policy is in permanent imbalance as current debt plus projected future spending outstrips future tax revenue. Achieving fiscal balance would require the federal government to permanently increase tax revenues by over 40% or reduce expenditures by 30% or some combination of both."
Android Users, Click Here To Download The Free Press App And Never Miss A Story. Follow Us On Facebook Here Or Twitter Here. Signup for our free newsletter by clicking here.
Login To Facebook From Your Browser To Leave A Comment