By GEOFF FOX
APOLLO BEACH – Enter Amy Abdnour's office and Nina, her assistant, will calmly show you where to sit.
Nina will command your attention until she decides to saunter across the rug and find a comfortable spot to lie down.
Abdnour is a licensed mental health provider specializing in couples therapy, adolescents and family dynamics, and Nina is her right-hand canine, a German-Belgian shepherd with a mild nature that helps put most people at ease.
"She's trained to be social and engaging," said Abdnour, who has offices in Apollo Beach and Tampa. "She's a therapy dog and emotional support animal. It's about how she responds to hugs and commands and engages with people. She had a trainer that worked with her. (The dog) has to be a certain age before a trainer gets them. There are pretty specific guidelines you have to follow" to be considered a therapy animal.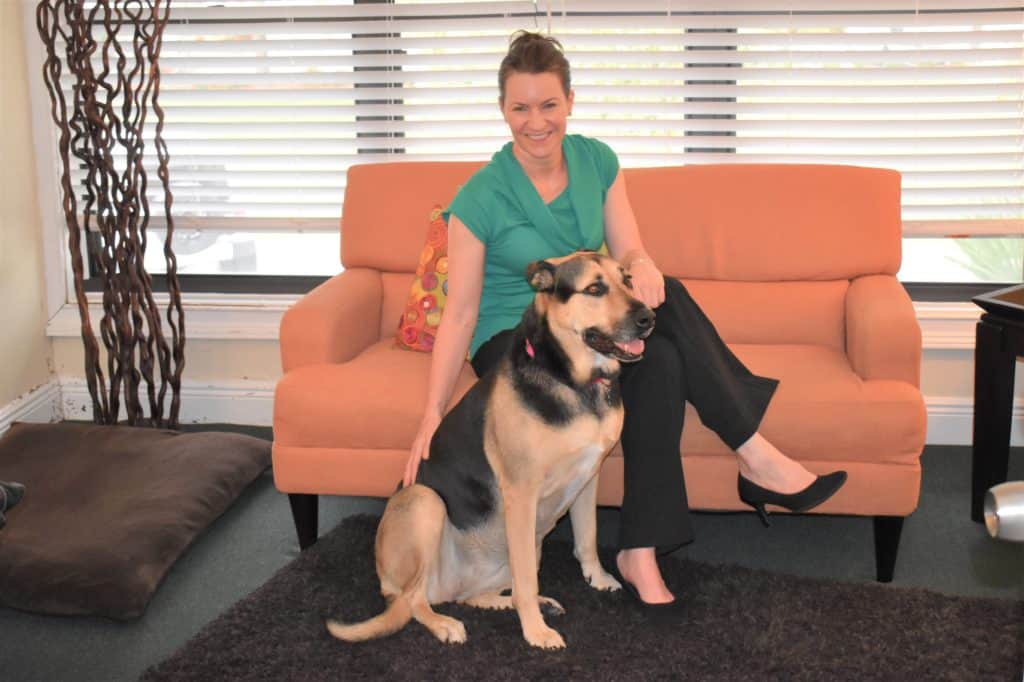 Nina and Abdnour, who opened her Apollo Beach location in 2007, came together quite by accident. Nina had just been selected as a therapy dog for a disabled U.S. military veteran who had lost a leg.
About eight hours after bringing Nina home, the man was driving with Nina when he was involved in a serious traffic crash. Nina, who will be 7 in October, bolted from the vehicle in a panic.
"It was dark, they couldn't find her and he was hurt," Abdnour said. "It went all over the news. It was Easter weekend, a Thursday night in 2014."
Abdnour was at South Tampa's Paintball Co. in the Palm River-Clair Mel area, which she also operates, when she noticed an animal inside the fenced-in field.
The paintball field "is in a heavy industrial area," Abdnour said. "It was like she fell from the sky. I saw her leash and had to get involved. She just sat and looked at me for a while, then ran right over. She was so happy and excited to see a human."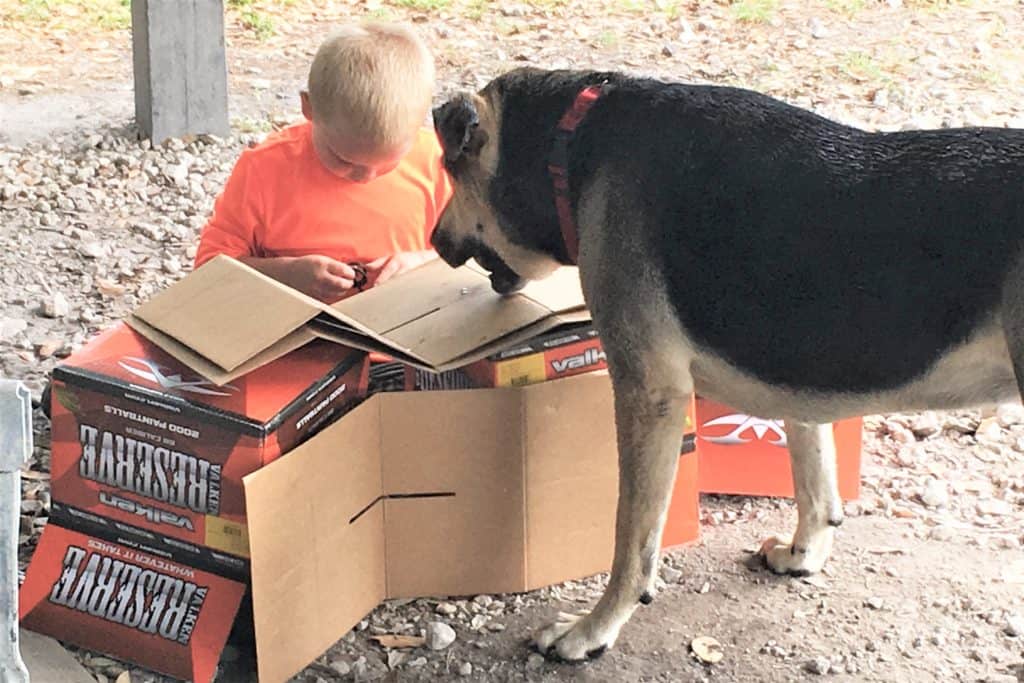 Abdnour knew nothing of the news reports of the injured, disabled veteran with a lost therapy dog until a neighbor showed her a newspaper article. Abdnour took Nina to visit the man in the hospital, and when he was released, he often came by the paintball field to visit with Nina.
"He asked me if I would adopt Nina, and I eventually said yes," Abdnour said. "Up until about a year ago, he would still come to visit at the paintball field, but he knew, too, that this was a better fit" for Nina.
Whether at the paintball field or in Abdnour's offices, Nina quietly draws attention – unless there's a thunderstorm, which Nina does not enjoy.
"At the paintball field, she has her own little act," Abdnour said. "She has this soccer ball that's her favorite, and she'll sit there, right as people are checking in, with one paw up on the ball. People message me there all the time, telling me to say hi to Nina or ask if she's there. She engages them while they're waiting in line."
Nina's training and personality work well with the folks who come to Abdnour for therapy. Abdnour said Nina helps make clients feel more at home, especially men, who may not think that receiving any kind of therapy is terribly masculine.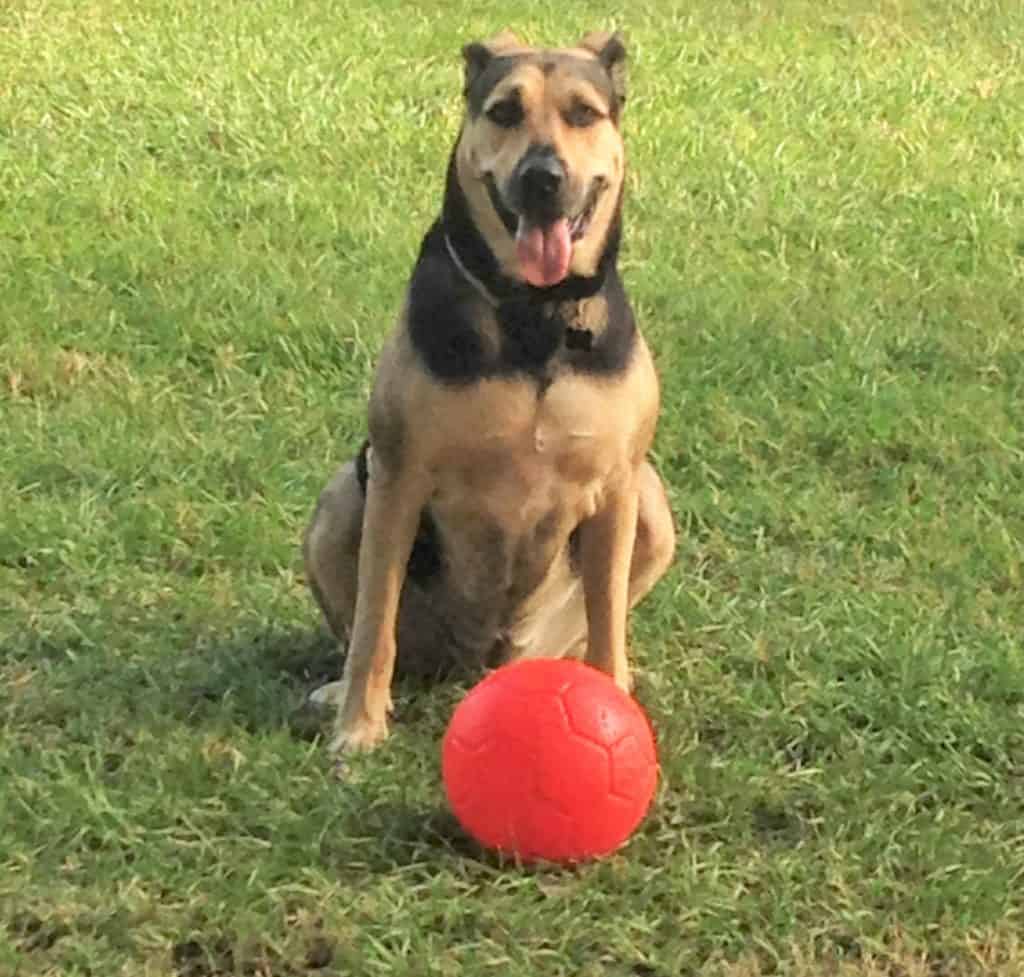 Abdnour said she often sees people's demeanor change immediately upon meeting Nina.
"She puts people at ease," Abdnour said. "Just the act of petting a dog calms anxiety. She gives them attention, and sometimes she insists on more attention. I've had adults sit right down on the floor with her; it's pretty powerful. I think it helps people open up to me more.
"Some of the kids I see have been abused. Sometimes, they sit down on the floor and basically tell Nina their problems while I'm out of the room. Some kids even curl up in her little bed with her. For kids with attention deficit hyperactivity disorder, Asperger's syndrome or autism, they learn about social cues just from seeing how Nina responds to people."
An Illinois native, Abdnour wasn't looking for a dog when Nina came into her life, but she is clearly proud to be associated with Nina and her priceless, professional personality.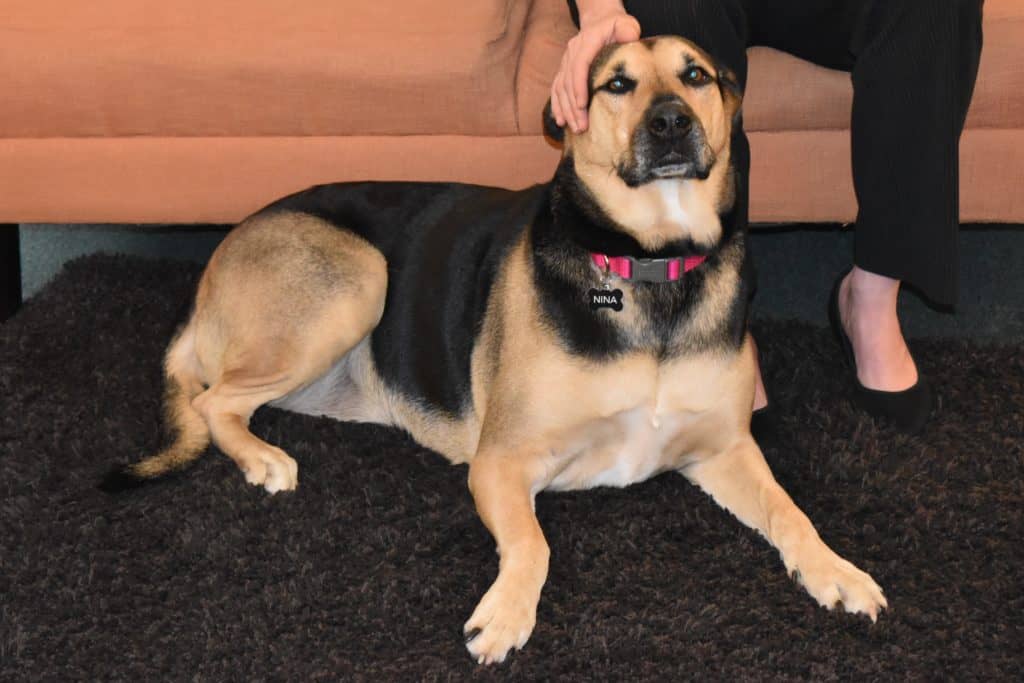 "She sleeps right under my bed," Abdnour said. "When she gets up every morning, she wants her toothbrush, then her toy. Then, she wants breakfast, which is a lot of different foods with green beans, but she doesn't like all green beans. And she loves playing in the pond at the paintball field. That can get her energetic and chatty."
As Abdnour spoke, Nina slowly fell asleep on the soft rug.
"Sometimes, though, she won't want to go outside for 12 hours," Abdnour said. "She's super chill."
Login To Facebook From Your Browser To Leave A Comment