Apparently, Gretchen will never learn.
Michigan's Democratic Gov. Gretchen Whitmer was videoed going maskless while bellying up to the bar in a crowded, upscale Washington, D.C., social hotspot last Friday night.
The Washington Free Beacon reported that under Democratic Mayor Muriel Bowser's indoor mask policy, "bar patrons are required to wear masks when not actively eating or drinking."
"Whitmer was not doing either while maskless. Several individuals standing near the governor were wearing masks," the Free Beacon noted.
The cocktail bar Whitmer visited, called Vue, is inside the Hotel Washington, just a few blocks from the White House. Whitmer was there on the eve of a campaign swing through Northern Virginia to benefit Democratic gubernatorial candidate Terry McAuliffe.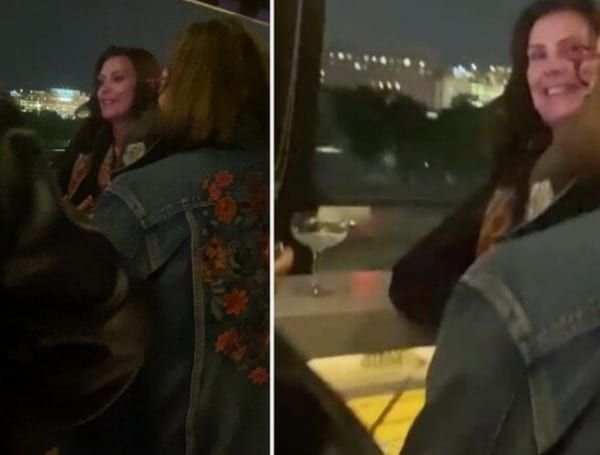 Whitmer is one of several high-profile Democrats McAuliffe has brought in to try to rescue his sinking campaign against Republican Glenn Youngkin.
Whitmer ultimately bailed on McAuliffe. She high-tailed it back to Michigan before her Virginia campaign stops. Her spokeswoman cited a "scheduling change" as Whitmer's reason for abandoning McAuliffe. But Michigan Republicans got wind of her trip to D.C. and began tweeting about it, noting that she was there while some residents back home were battling a contaminated water crisis.
As The Free Press posted earlier this year, Whitmer has routinely violated COVID restrictions.
Back in May, she was photographed at a table in a restaurant with a dozen other people – when she had announced rules limiting such seating capacity to tables of no more than six.
All 13 people in the picture, including Whitmer, were maskless.
Whitmer apologized for that move, but also suggested the cozy arrangement was OK because everyone in her party was vaccinated.
Prior to that incident, Whitmer also had publicly called for a ban on interstate travel, especially to Florida, where many Michiganders spend the winter  – a thinly veiled swipe at Republican Gov. Ron DeSantis' laissez-faire COVID policies.
Then, it was revealed that Whitmer had flown a private plane to travel to Florida to visit her father. Her campaign then had to pay for the flight after Republicans alleged she had violated ethics laws by accepting the flight as a "gift."
That came after two of Whitmer's top aides also had fled the state for late-winter vacations in Florida and Alabama, respectively.
"Governor Whitmer broke her own rule? That would be shocking except that we've seen this movie before," media critic Joe Concha of Fox News said of Whitmer's jaunt to Washington.
"But she'll get away with this too," he added. "Because with Democrats — Biden, Pelosi, Newsom, Lightfoot, Bowser … the list is endless … it's rules for thee, not for Ds."
Support journalism by clicking here to our GoFundMe or sign up for our free newsletter by clicking here
Android Users, Click Here To Download The Free Press App And Never Miss A Story. It's Free And Coming To Apple Users Soon
Login To Facebook From Your Browser To Leave A Comment