By Lt. Jill Brown, Navy Office of Community Outreach
A Tampa, Florida, native is serving with the U.S. Navy's cutting-edge maritime patrol and reconnaissance aircraft squadron in Jacksonville, Florida.
Petty Officer 3rd Class Sierra DeJesus joined the Navy two years ago. Today, DeJesus serves as a naval aircrewman.
"I turned 30 years old and decided I wanted to do something different since I wasn't getting any younger," said DeJesus.
DeJesus serves with Patrol Squadron Five, a high-tech maritime patrol and reconnaissance squadron tasked with monitoring the world's oceans in the state-of-the-art P-8A "Poseidon."
Growing up in Tampa, DeJesus attended C. Leon King High School and graduated in 2006. Today, DeJesus finds the values in Tampa similar to those needed to succeed in the military.
"I learned to be personable and interact with people to get to know them," said DeJesus.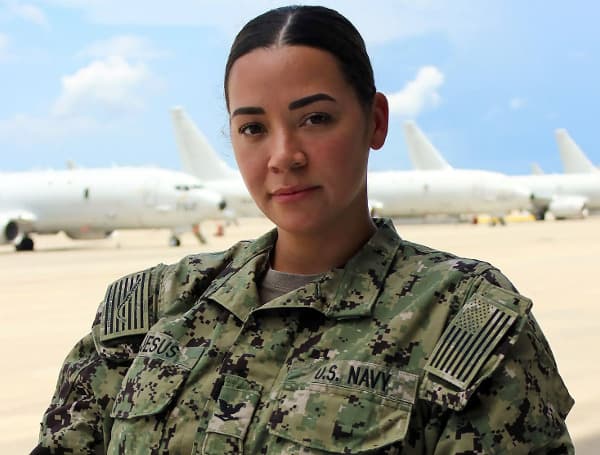 These lessons have helped DeJesus while serving in the Navy supporting the P-8 Poseidon mission.
The P-8 Poseidon mission is to conduct maritime patrol and reconnaissance as well as long-range anti-submarine warfare, anti-surface warfare and intelligence gathering missions. They deploy around the globe to monitor the world's oceans wherever they are needed.
The P-8A Poseidon, the Navy's newest maritime, patrol and reconnaissance aircraft, is a replacement aircraft for the legacy P-3C "Orion". According to Navy officials, leveraging the experience and technology of the successful P-3C "Orion" with the needs of the fleet, the P-8A is designed to be combat-capable, and to improve an operator's ability to efficiently conduct anti-submarine warfare; anti-surface warfare; and intelligence, surveillance and reconnaissance missions.
Serving in the Navy means DeJesus is part of a world that is taking on new importance in America's focus on rebuilding military readiness, strengthening alliances and reforming business practices in support of the National Defense Strategy.
"The Navy protects our families and country and makes sure that we are ready for the mission," said DeJesus.
With more than 90 percent of all trade traveling by sea, and 95 percent of the world's international phone and internet traffic carried through fiber optic cables lying on the ocean floor, Navy officials continue to emphasize that the prosperity and security of the United States is directly linked to a strong and ready Navy.
According to Chief of Naval Operations Adm. Mike Gilday, four priorities will focus efforts on sailors, readiness, capabilities, and capacity.
"For 245 years, in both calm and rough waters, our Navy has stood the watch to protect the homeland, preserve freedom of the seas, and defend our way of life," said Gilday. "The decisions and investments we make this decade will set the maritime balance of power for the rest of this century. We can accept nothing less than success."
There are many accomplishments that come with military service, and DeJesus is most proud of becoming an Aircrewman.
"It was a long pipeline, and I feel proud of all the graduations that I had," said DeJesus. "I joined later in life, so it's good that I was able to accomplish this."
As DeJesus and other sailors continue to train, they take pride in serving their country in the United States Navy.
"It feels like an honor to serve," added DeJesus. "My father and grandfather both served, and it makes me happy to know how proud they are of me."
Support journalism by clicking here to our GoFundMe or sign up for our free newsletter by clicking here
Android Users, Click Here To Download The Free Press App And Never Miss A Story. It's Free And Coming To Apple Users Soon
Login To Facebook From Your Browser To Leave A Comment