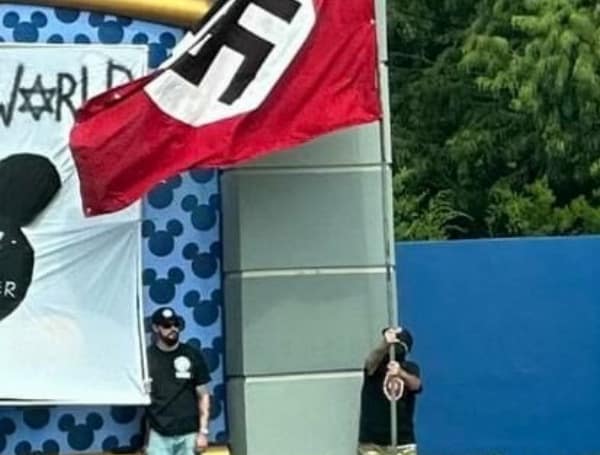 Neo-Nazi groups gathered outside Disney World in Florida, chanting racial slurs and hate speech Saturday, according to Orange County Sheriff's Office.
About 15 people wearing Nazi insignia and waving flags gathered outside the Disney Springs shopping center for about two hours, according to deputies.
NBC News reported, officers were dispatched to the scene at 10:40 a.m. Saturday but no arrests had been made by the time the group dispersed.
According to the Anti-Defamation League said the group was comprised of members from extremist white nationalist organizations including the Order of the Black Sun, Aryan Freedom Network and the National Socialist Movement.
In the news: Pinellas Detectives Charge Palm Harbor Man With 20-Counts Of Child Porn
Later on Saturday, a group of over 50 neo-Nazis demonstrated across the greater Orlando area, waving flags with swastikas, shouting hateful messages and saluting Adolf Hitler.
The members reportedly chanted rallying cries including "White power" and "Jews will not replace us."
Democratic state Rep. Anna Eskamani, called the rally "absolutely disgusting stuff and another example of the far right extremism growing in FL."
At one point, in a video posted on X, the social media platform formerly known as Twitter, an interviewer asked Christopher Pohlhaus, the spokesman for the groups, about their positions.
Pohlhaus was then asked about the presidential election.
He then added, "I think [President Joe] Biden is better than [former President Donald] Trump because he sends rockets to Ukraine." Pohlhaus continued, "Hail Ukraine! Hail Azov," which referred to the Azov battalion, a group of anti-Russian Ukrainian nationalists who are neo-Nazi sympathizers.
In the news: New Jersey Man Charged In $13 Million Tech Support Scam Targeting Over 7K U.S. Victims
At another point in the rally, the group told Laura Loomer, a former Republican congressional candidate who is Jewish, that she should be thrown into an oven.
The neo-Nazi marchers were confronted by a Black man, who was driving by the protest.
Video footage appears to show the participants shouting racial slurs at him, as the man asks, "Why ya'll got those masks on?"—a reference to the cloth neo-Nazis often wear over their face to conceal their identities.
Warning: The Video Below Contains Strong Language And Severe Racial Slurs:
"We know these groups demonstrate in high profile areas in order to agitate and incite people with anti-Semitic symbols and slurs. The Orange County Sheriff's Office deplores hate speech in any form, but people have the First Amendment right to demonstrate. What these groups do is revolting and condemned in the strongest way by Sheriff Mina and the Sheriff's Office. They are looking for attention, and specifically media attention," a spokesperson from the Orange County Sheriff's Office said.
Who is Christopher Pohlhaus?
According to the Anti-Defamation League the Blood Tribe is a neo-Nazi group founded and led by Christopher Pohlhaus, aka Hammer, a former U.S. Marine turned tattoo artist. In 2020, while living in San Antonio, Texas, Pohlhaus cultivated an online following by selling white supremacist propaganda and gear and posting video podcasts during which he lectured followers about fitness and the need for them to participate in "a last stand, a righteous war" against those who "call for the destruction of their birthright and posterity."
As his following grew, Pohlhaus began referring to them as the "Blood Tribe." In 2021, as Pohlhaus networked with other white supremacist groups and recruited new followers, Blood Tribe evolved into a membership organization.
In May 2022, Pohlhaus moved from Texas to Maine, where he purchased 10 acres of land and is building an encampment for white supremacists.
In March 2023, Blood Tribe held their first public demonstration, protesting a drag queen story hour in Wadsworth, Ohio. The attendees, including Pohlhaus, wore matching red sweaters, waved swastika flags and held a banner that read, "There will be blood."
Blood Tribe expanded in the months following this demonstration, establishing chapters across the U.S. and Canada.
Android Users, Click To Download The Free Press App And Never Miss A Story. Follow Us On Facebook and Twitter. Signup for our free newsletter.
We can't do this without your help; visit our GiveSendGo page and donate any dollar amount; every penny helps
Login To Facebook To Comment