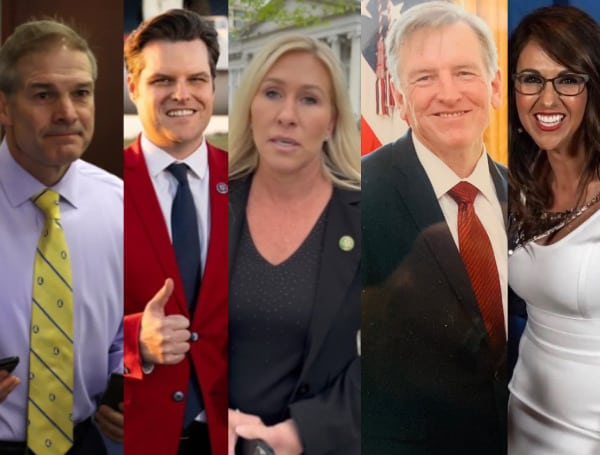 The left-wing Lincoln Project's ability to pad its wallet with liberal cash while sustaining repeated defeats in attempting to oust conservatives has apparently spawned an imitator.
The New York Times reported that a new political super PAC called Mission Democracy would raise money to toss conservative stars out of Congress.
Its hit list includes Republican Reps. Matt Gaetz of Florida, Jim Jordan of Ohio, Marjorie Taylor Greene of Georgia, Lauren Boebert of Colorado, and Paul Gosar of Arizona.
As the Times reported, Mission Democracy "will challenge far-right members of Congress in their often deep-red home districts, running ads and messaging campaigns that accuse the politicians of holding anti-democratic and extreme positions."
In the news: Biden Admin Rejects Rep. Gaetz's Concerns On National Security In Protecting Whale Habitat
Presumably, those "anti-democratic and extreme positions" include believing that men should not compete in women's sports, that China should not be allowed to freely spy on the U.S., that Americans should work to reap taxpayer-funded benefits, and that the Second Amendment allows people to arm themselves as a defense against out-of-control crime.
Spoiler alert: Mission Democracy sees the MAGA enthusiasts as "fascists," the Times noted.
The PAC has banked $500,000 so far. It seeks to raise $18 million.
According to the Times, its leadership includes former GOP Rep. Denver Riggleman, who left the Republican Party; Olivia Troye, a former aide to former President Donald Trump who has turned on him; and Marcus Flowers, an Army veteran, and Democrat.
"If we don't do something now, if we don't get these extreme MAGA members out of Congress, we stand to lose our very democracy," Flowers told the Times. "It's time to hold those members accountable, take them to task, attack them in their districts."
Flowers, for one, tried that and failed miserably.
He took just 34% of the vote in losing to Greene last November. Flowers' poor performance was enabled by a $17 million war chest — almost the entire amount Mission Democracy wants to raise.
The Times reported that only Gaetz's office responded with a comment.
The Fort Walton Beach Republican's office pointed out he won his last election with nearly 70% of the vote, and told the paper, "special-interest PACs aren't trusted by Floridians — Congressman Gaetz is."
In the news: Bud Light's "Marketing Guru" Takes Leave After Face Of The Brand Changed
One left-wing critic, citing the Lincoln Project, wasn't buying it.
Kate Hudson, a columnist at a feminist website called The Mary Sue, wrote of Mission Democracy, "It's a grift, my friends."
"These organizations or Super PACS launched by Republicans aimed at taking down other Republicans are a grift, and I really urge you not to fall for them," Hudson continued. "Of course, Mission Democracy is very confident in its ability to raise money because as P.T. Barnum once said, there's a sucker born every minute."
"If you do plan to donate your hard-earned money to someone, either give it directly to a candidate, or a grassroots organization that is directly involved with the community," she added. "Do not, under any circumstances, give it to a reformed Republican Super PAC, please. I beg of you."
The Lincoln Project, a group of former Republicans who formed in 2019 under the boast that they were oddly saving the GOP from Trump by electing Democrats, has raised $118 million.
Yet its record is dismal.
Trump, for instance, lost in 2020, but he got more votes from Republicans then than he did in 2016. In 2020, the group notoriously targeted 10 Republican senators; eight of them still serve. Florida GOP Gov. Ron DeSantis was one of their targets in 2022. He won re-election by 20 points.
Android Users, Click To Download The Free Press App And Never Miss A Story. Follow Us On Facebook and Twitter. Signup for our free newsletter.
We can't do this without your help; visit our GiveSendGo page and donate any dollar amount; every penny helps.
Login To Facebook To Comment