The "Trump Train" went from a rhetorical device in 2016 to an actual thing by the time President Donald Trump ran for re-election.
During 2020, convoys comprised of dozens if not hundreds – or an estimated 7,000 at one Arizona event – of cars and trucks festooned with Americans flags and/or Trump regalia would travel along the highways promoting their guy.
On New Year's Day, one such "train" rolled into Pasadena, Calif., after the Calamity Janes in Gov. Gavin Newsom's no-fun house cited COVID-19 restrictions to cancel the annual Tournament of Roses parade.
The parade, canceled over the summer, was the first time in 75 years that the procession of colorful, floral floats interspersed with dance troupes and marching bands was called off. Local media reported that between pulling the plug on the parade and moving the Rose Bowl football game to Dallas, Pasadena would lose out on $200 million in economic activity.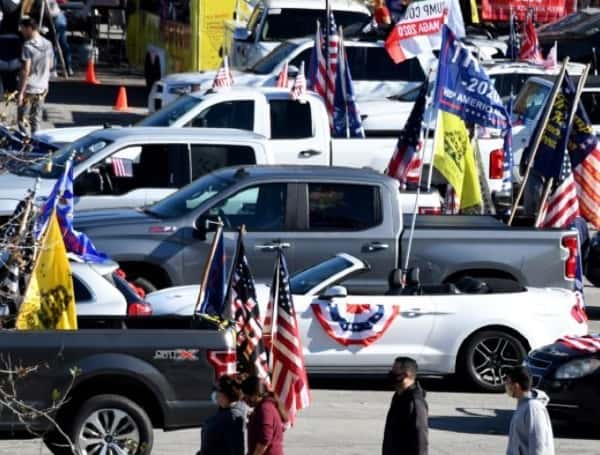 While local officials and media were encouraging parade fans to "reimagine" the event as part of life under the coronavirus, and to watch a televised special in lieu of the parade, Trump fans saw an opportunity.
The Pasadena Star News reported that more than 1,000 vehicles gathered in the Rose Bowl stadium parking lot and then traveled Colorado Boulevard, the main thoroughfare for the parade.
A group called Trump Unity Bridge, which wanted to "uncancel" the Tournament of Roses Parade, organized the event on social media. It was dubbed the "Patriots Rose Parade."
Per the Star News: "Participants were dressed in red, white and blue. Some were draped in Trump/Pence flags and many wore Make America Great Again hats."
"Cars, trucks, SUVs and some older military vehicles were decorated with Make America Great Again signs, Old Glory and 'Don't Tread on Me' flags. Some were covered with roses. The group included various ages, from young children to senior citizens. Those in the caravan were honking loudly, playing the national anthem and 'Proud to Be an American' by Lee Greenwood."
Some participants shouted "Four more years!" and told the paper they hoped Trump would run again in 2024.
Login To Facebook From Your Browser To Leave A Comment