June 15, 2020
By: Staff Report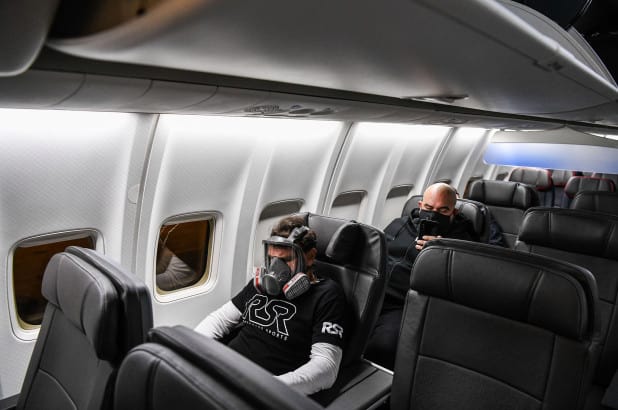 Airlines are ready to crack down on passengers with no face coverings, a month after face mask requirements began and when many passengers just aren't wearing them.
The trade group, Airlines for America, also said airlines will step up penalties for those who refuse to comply. Chicago-based United Airlines said "any passenger that does not comply when onboard a United flight will be placed on an internal travel restriction list."
The trade group representing carriers including American, Southwest, United, Delta, JetBlue and Alaska Airlines said they will increase the number of warnings made to passengers amid attempts to slow the spread of COVID-19 and make people more comfortable flying again.
American Airlines has advised flight attendants to discreetly address a passenger not wearing a face mask and not covered by exceptions that include infants and people with particular medical needs, according to a message to members of the Association of Professional Flight Attendants. Cabin personnel should encourage compliance and seek to de-escalate any issues with other passengers frustrated over the situation, the union said.
"U.S. airlines are very serious about requiring face coverings on their flights," said Airlines for America President and CEO Nicholas E. Calio in a prepared statement. "Carriers are stepping up enforcement of face coverings and implementing substantial consequences for those who do not comply with the rules. Face coverings are one of several public health measures recommended by the CDC as an important layer of protection for passengers and customer-facing employees."
Alaska Airlines, American Airlines, Delta Air Lines, Hawaiian Airlines, JetBlue Airways, Southwest Airlines, and United Airlines have all stated that they will be applying the following policy updates:
1. Pre-Flight Communications: Each individual airline will clearly articulate its specific face-covering policy in communications with customers, and may require acknowledgment from passengers regarding their understanding of these rules during the check-in process.
2. Onboard Announcements: Crew members on board the aircraft will announce specific details regarding the specific carrier's face-covering policy, and outline the consequences that passengers could face if they violate the policy.
3. Consequences for Noncompliance: Whereas, at the gate, noncompliant customers may be prevented from boarding their flight, once they're on board the aircraft, means of enforcing these policies become limited. Each individual carrier will implement its own consequences for passengers who flout the airline's face-covering policy as it deems appropriate, up to and including suspension of flying privileges with that carrier.
Login To Facebook From Your Browser To Leave A Comment