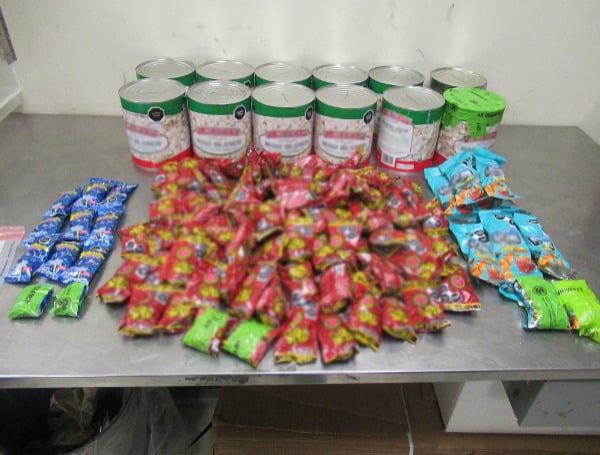 U.S. Customs and Border Protection, Office of Field Operations at the Hidalgo International Bridge intercepted $919,000 of methamphetamine disguised as candy and hidden in canned food.  
"These harmful narcotics will not make it to American streets thanks to our CBP officers who used their intuition and all our available tools and resources to stop this smuggling attempt," said Port Director Carlos Rodriguez, Hidalgo/Pharr/Anzalduas Port of Entry.
On April 20, 2023, CBP officers assigned to the Hidalgo International Bridge encountered a white Mercedes transport van arriving from Mexico. A CBP officer referred the vehicle for further inspection which included utilizing non-intrusive inspection (NII) equipment.
In the news: Border Agents Are Being Told Very Little To Prepare For The End Of Trump-Era Title 42
Physical inspection of the vehicle resulted in the discovery of 110 packages of candy wrappers containing alleged crystal methamphetamine weighing 13.40 pounds (6.08 kg).
Also found were 12 canned foods containing 89.02 pounds (40.38kg) of alleged liquid methamphetamine.
CBP OFO seized the narcotics and vehicle. Special agents with Homeland Security Investigations (HSI) initiated a criminal investigation.
Department of Homeland Security Secretary Alejandro Mayorkas said Tuesday there would be a surge in migrants at the U.S.-Mexico border when Trump-era policy Title 42 ends in less than a month.
The policy is set to end on May 11.
Migrant encounters topped 1.2 million at the southern border between October and March, according to U.S. Customs and Border Protection (CBP).
In the news: With House Vote, Rep. Greg Steube Succeeds In Protecting Women Sports
"We do anticipate a surge in the number of encounters at our southern border," Mayorkas told Senate Homeland Security Committee Chairman Gary Peters during a hearing Tuesday.
"The overarching approach of this administration is not only to invest of the countries of origin, but, given the reason why people flee their homes, whether it's a more authoritarian regime, persecution by reason of an individual's membership in a particular social group, increasing violence, poverty, corruption, what we are doing is building lawful pathways so individuals do not need to place their lives and their life savings in the hands of ruthless smugglers who only seek to exploit them for profit, at the same time, delivering a consequence for those individuals who do not avail themselves with the lawful pathway we provide," Mayorkas said.
President Joe Biden set the expiration of the COVID-19 emergencies, including Title 42, for May 11.
The agents working the frontlines of the southern border had said they had minimal instructions about handling an expected surge of illegal immigrants come Title 42's end and were just being told to 'mentally ready' themselves for the worst.
With Title 42 in place, U.S. Customs and Border Protection has had record migrant encounters, with more than 2.3 million in fiscal year 2022 and more than one million between October and February.
Android Users, Click To Download The Free Press App And Never Miss A Story. Follow Us On Facebook and Twitter. Signup for our free newsletter.
We can't do this without your help; visit our GiveSendGo page and donate any dollar amount; every penny helps.
Login To Facebook From Your Browser To Leave A Comment