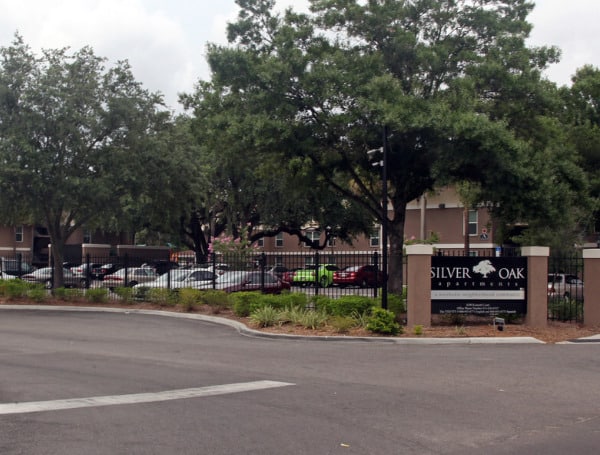 TAMPA, Fla – In January, news spread rapidly that Latoya Gay, 26, was shot and killed from alleged crossfire in a gun shoot-out on January 18.
The incident occurred at Silver Oaks Apartments on Tampa's east side. Gay was shot in the presence of her two young children when gunfire in the community's parking lot struck and killed her.
Silver Oaks Apartments is a federally subsidized rental property that was inspected by HUD in 2022. The community failed its inspection. Thereafter, the property owners replaced their on-site management company, Cambridge Management with Arco Management of Florida, Inc.
But a new lawsuit against Silver Oaks' owners, operators, and latest managers has been filed for security and surveillance negligence.
In the news: Florida Drug Kingpin Charged In Brutal 2018 Murder Of 22-Year-Old Man In Sebring
Under Florida's Wrongful Death Act, Gay's Personal Representative, Hung Nguyen, filed suit on February 16 in the Hillsborough County court system against SP Johnson Kenneth Court LP, Arco Management Corporation, Multifamily Management of Philadelphia, LLC, Multifamily Management Services, LLC and Arco Management of Florida, LLC.
The lawsuit contends that the defendants and their agents and employees "knew, or in the exercise of reasonable care should have known, the premises was a high crime area." It faults them for inadequately providing security, security guards, and/or technological surveillance, considering that prior to Gay's death on January 18, "numerous criminal acts, including, but not limited to, shootings, assaults, muggings, batteries, burglaries, robberies, and drug dealing" occurred on or around the property.
An online photo of Silver Oaks Apartments captures the presence of an electronic security gate while various online reviews complain of mold and rats.
Among the suit's contentions is the alleged neglect of the defendants to warn residents and visitors of the nature and character of the surrounding area. It states they either failed to, or negligently, implemented existing inspection, supervision, and security procedures for the area.
In the news: New Resident Of Florida? Don't Feed The Monkeys
Nguyen's attorneys are Michael Haggard and Adam Finkel of The Haggard Law Firm in Coral Gables.
J.P. Hervis, Communications Director, spoke on behalf of Mr. Haggard and Mr. Finkel, stating, "It's really early, this case is just kicking off, but they will make public comments with The Free Press at a later date."
A review of federal and state landlord security requirement laws indicates negligent security lawsuits are treated on a case-by-case basis. This appears to be due to a lack of specificity in the laws' contents.
Android Users, Click Here To Download The Free Press App And Never Miss A Story. Follow Us On Facebook Here Or Twitter Here. Signup for our free newsletter by clicking here.
Login To Facebook From Your Browser To Leave A Comment