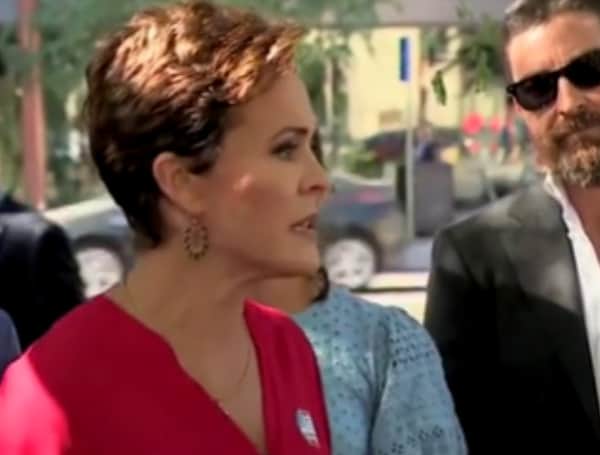 A county in Arizona is refusing to certify the results of its elections following Democratic statewide candidates winning in the state, which could flip a House seat won by a Republican to a Democratic win, according to the Associated Press.
The Board of Supervisors of Cochise County, Arizona, bordering Mexico and the U.S. state of New Mexico in Arizona's Southeast, voted to not certify the official tally of votes in the general elections of Nov. 8, which saw Democratic Sen. Mark Kelly of Arizona reelected to a full term and Democratic Secretary of State Katie Hobbs elected the next Governor of Arizona.
A meeting of the board was held on Monday via Zoom, with the only agenda item being a motion to verify the results. In a voice vote, it received zero votes in favor and two votes against, with the Democratic chair not voting, resulting in an acclaimed failure among the three-member board.
While Republican senatorial candidate Blake Masters has conceded to Kelly, Lake has not conceded to Hobbs and is currently suing the Board of Supervisors of Maricopa County for records, seeking to contest the election.
The two Republican members of the county's board, who outnumber the Democratic chair, have sought to hear from experts, including Hobbs, regarding the "accreditation of voting machines," with the members arguing that the machines used to accept ballots were not properly certified to do so under state law, as stated by members of the public in a meeting of the board on Nov. 18, per the AP.
In the news: White House Says They Are "Keeping An Eye On" Elon's Twitter
The county's non-certification comes on the day of Monday's deadline for all counties to certify their results. Their announcement was met with criticism from Democrats, who announced they would sue the county to compel its verification.
"The only presentation Cochise is going to get is in a courtroom," tweeted Marc Elias, the founder of Democracy Docket and a known Democratic election attorney, indicating that he would sue Cochise County. Meanwhile, Hobbs, in her capacity as Secretary of State, has previously said she would sue the county to affirm her win.
The Board has "failed to uphold their responsibility for Cochise voters," wrote Sophia Solis, a spokeswoman for Hobbs, in an email to the AP.
Should the county not certify its votes, Arizona State Elections Director Kori Lorick has said that its votes may be excluded. If that happens, the results of two elections in the state – for the U.S. Representative for Arizona's 6th Congressional District and the State Superintendent of Public Instruction, who oversees the state schooling system – will change, enabling Democrats to win the U.S. House race and Superintendent's race, while leaving statewide races for governor and senator unchanged.
Republican candidate Juan Ciscomani, a former advisor to outgoing Republican Gov. Doug Ducey of Arizona, defeated Democratic former State Sen. Kristen Engel in the area's congressional race by a margin of 1.4% or 5,232 votes. If Cochise County's 39,650 votes are excluded, a majority of them being in Ciscomani's favor, it would give Engel a slim plurality.
Meanwhile, in the Superintendent's race, Republican candidate Tom Horne defeated Democratic incumbent Kathy Hoffman by a margin of less than 1% of the vote. Excluding Cochise's votes would enable Hoffman to win a second term after previously facing a recall attempt.
In the news: Air Marshals Council Condemns Biden Admin Monday For Border Deployment
Lake's challenge to the results has been supported by former President Donald Trump.
On Monday, former President Trump said Kari Lake should be installed as Governor of the state, "Massive numbers of "BROKEN" voting machines in Republican Districts on Election Day. Mechanics sent in to "FIX" them made them worse. Kari had to be taken to a Democrat area, which was working perfectly, to vote. Her opponent ran the Election. This is yet another criminal voting operation – SO OBVIOUS. Kari Lake should be installed Governor of Arizona. This is almost as bad as the 2020 Presidential Election, which the Unselect Committee refuses to touch because they know it was Fraudulent!"
The state's election cannot be certified in Arizona until all counties have certified the results.
Governor's candidate Kari Lake and Arizona Secretary of State candidate Mark Finchem have not conceded in their races, while Attorney General candidate Abraham "Abe" Hamadeh trails in his race by approximately 570 votes.
A recount is triggered in races that fall within a margin of 0.5% under state law.
Lake told The Daily Mail on Saturday that she still believes she will become governor of Arizona.
"The way they run elections in Maricopa County is worse than in banana republics around this world," Lake said in an exclusive interview, referring to Maricopa County.
"And I'll tell you what, I believe at the end of the day that this will be turned around and I don't know what the solution will be but I still believe I will become governor, and we are going to restore honesty to our elections," she added.
Visit Tampafp.com for Politics, Sports, and National Headlines.
Android Users, Click Here To Download The Free Press App And Never Miss A Story. Follow Us On Facebook Here Or Twitter Here.
Login To Facebook From Your Browser To Leave A Comment