August 13, 2020
Op-Ed By: Patricia Tolson
BROOKSVILLE, Fla. – It hasn't been a good few weeks for Hernando County Commissioner Steve Champion. It's hard when your truth catches up with you, especially when it happens in such a public way. But, as Dorothy Allison once said: "Things come apart so easily when they have been held together with lies." At the Hernando County Board of County Commissioner's (BOCC) meeting on Tuesday, Aug. 11, a specific lie unraveled — brutally — and everyone in the room and those watching the live feed bore witness when Steve Champion admitted he lied about his degree.
The sad history of Champion's anger management issues and the abhorrent way he responds to constituents who dare to ask hard questions have already been exposed.
So too was how the "thin-skinned" commissioner threw a social media tantrum when the Hernando County Association of Realtors endorsed his opponent.
The most damning revelation was how he lied about the origins of his bachelor's degree in business administration. Yet while he claims through social media he would be happy to show his "supporters" his transcripts if they would "stop by" his "business," Commissioner Champion has refused to provide public proof of where he obtained his degree.
So, on Tuesday, Aug. 11, I stood before the Board of County Commissioners confront Steve Champion about the blatant discrepancy regarding his degree."
It wasn't pretty.
I began with an outline of Champion's lie regarding the origin of his degree and the contradictory evidence I had gathered through weeks of research.
On his page of the official Hernando County Government website, Commissioner Champion states he "earned a bachelor's degree in business administration at Hamilton College."
However, his LinkedIn Page and a background check show Steve Champion received his degree from Hamilton University.
Hamilton College is an accredited liberal arts college located in Clinton, New York.
Hamilton University was a known diploma mill operating out of a vacated Motel 6 in Wyoming.
After I contacted the registrar's office at Hamilton College — asking if they have any record of a Steven Douglas Champion attending their institution — they confirmed "we did not receive the name of the student" and Hamilton College "does not offer business administration."
I then presented a document I had only come across the night before. I even printed it off so every one of the county commissioners – including Mr. Champion — could see it for themselves.
It was the Candidate's Statement he filed with the state of Florida through the Supervisor of Elections office when he officially began his campaign for public office in 2016.
Allow me to paraphrase:
"Please support Steve Champion"… Blah, blah, blahblah, blah… "and in 2003 received his Bachelor's degree in Business Administration from Hamilton College…" blah, blahblah "one of us."
"Now Mr. Champion," I challenged. "Considering everything I've just stated, Did you receive your bachelor's degree in business administration from Hamilton College in upstate New York – which doesn't even offer a business administration program – or from Hamilton University, a known diploma mill, which operated out of a vacant Motel 6 somewhere in Wyoming?"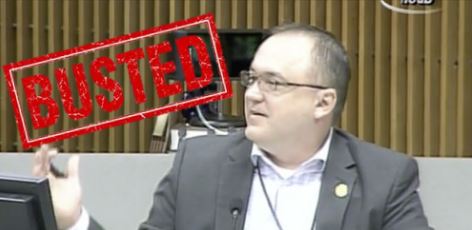 Now I have to share something here. I was undeniably angry as I stood before that board. You can see it in my face when you watch the video. As I disclosed in a previous article: "I voted for Steve Champion in 2016." But, "I have since come to regret that decision immensely."
From the very incipience of my interactions with Mr. Champion I have been nothing short of amazed by the level of ego-saturated hubris with which this man drips. What kind of public servant refers to his constituents as "low-life idiots, trash and stalkers" and tells them to "go to hell" if they dare to question his behavior? What kind of elected official falsely accuses another elected official of being a felon for daring to challenge him or tries to shame someone running for an office for being "a female married to a woman?"
So, yes. I was angry, and as I prepared to confront Commissioner Champion at the BOCC meeting, I prayed that his over-inflated ego would trigger his mouth to open and his embarrassing truth would spew forth for all to see.
I was not disappointed.
"So I'm going to give you a little history behind this," his wandering rebuttal began, turning to address his fellow board members instead of me.
He never did look at me, or at any of his other constituents who stood to address their own passionate grievances with Champion that morning.
"So, we were talking earlier about how we started with minimum wage etcetera and, you know. I didn't have exactly an easy life."
How contrived and rehearsed his victim card was played.
"Started at $3.35 an hour at 14 years old, started working, right?"
Yes. The struggle is real.
"I had a professional job went to community college a little bit here and there and never had a degree so in 2001 is when the Dot Com rage was happening and you could go and you could go online and you could get your degree and work on things, right?"
It wasn't so much that he seemed embarrassed to say his "professional job" was being a "team leader" at Target – as shown on his LinkedIn profile — as it was how casually he admitted he lacked the dedication and self-discipline to complete real courses at a community college.
Then came the moment Steve Champion admitted he lied about his degree.
"So I signed up," he confessed with a disturbing air of pride. "Paid tuition. I took research papers. I've took tests. I Got a GPA. I got all the different classes you have to take to get a degree for myself and in 2003 I got my degree. I have my transcripts with me. I have the degree I would be happy to show legal."
His command of the English language is staggering. Is it not?
"How do you get a degree from Hamilton?" 60 Minutes correspondent Rebecca Leung reported in 2005. "You start by filling out a form on a site that claims to be an independent referral service."
"Your main assignments," she concluded, "are to write a short paper and a big check."
Unlike Hamilton College, Hamilton University had no real students, no faculty and it operated out of buildings, which had once been a Motel 6. Obtaining a degree required "students" to do little more than take a 10-question ethics quiz and write a 2,000-word thesis about their "life experiences."
"Ethics quiz." Don't you just love irony?
According to Wyoming State Rep. Jeff Wasserburger, R-Gillette — a member of the House Education Commission — Hamilton University consisted only of two secretaries who "typed up" diplomas.
According to documents obtained by 60 Minutes for their 2005 report, Hamilton was making between $500,000 and $2 million a year – tax-free.
Why was it tax-free? Because of a little church that was built in the parking lot. Even though it had no pews and held no services, it qualified Hamilton as a tax-exempt religious institution.
Despite the laughable difference between Hamilton College and Hamilton University, Champion insisted to his fellow board members and all who were watching his pathetic meltdown he "never misrepresented anything."
"As far as Hamilton College in New York?" Champion obfuscated. "I never said I went there."
Never mind that he and every other member of the BOCC were holding copies the resume he submitted to be posted on the Hernando County Government website and the 2016 Candidate's Statement wherein he claimed he earned a bachelor's degree in business administration from Hamilton College… which is in New York.
"Facebook populated that," he said.
The astonishment of those present was audible.
"'Cause they didn't have a "Hamilton University," he added with air quotes. "They didn't have that, per say."
It just makes your jaw drop open. Doesn't it?
But here's the thing. According to the disclaimer at the bottom of his Candidate's Statement, "the candidate's photograph and statement are supplied by the candidate and are not endorsed by the County Supervisor of Elections or checked for accuracy."
"So," he diverted. It's so predictable when a liar is caught to attack the credibility of their accuser. "Whatever she has to say, these people in the audience work for my opponent's campaign. They work for the campaign."
Another blatant lie.
"There are pictures all over the place."
No. There aren't.
"And here's the thing with my degree," he rambled on, desperately groping to reclaim the credibility he never really had. "It is not necessary to run a business with a degree. It is not necessary to have a degree to be up here on this commission and I did not lie about it I never lied about it."
He did lie about it. I had documents to prove it.
"Um, so hence the LinkedIn, etcetera," he stammered. "Facebook, the way it populated… that's where the college came about, verse the University."
I was so painful to watch.
"It didn't really matter," he sputtered pitifully. "I took classes, I got a GPA. I got transcripts. I got a degree."
He took a short quiz and wrote a 2,000-word essay about his "life experiences."
"If it's not 100% accredited? I don't know."
Yes he did. Just as he was ashamed to say out loud that his "professional job" was at Target, he was embarrassed to say he bought his degree from a diploma mill once he decided to run for office. Hamilton College is a reputable institution. Hamilton University is the punchline of a joke.
"I've got documents. I got cancelled checks even where I spent the money to do it."
"For $4,000," Wyoming State Rep. Jeff Wasserburger said of Hamilton University, "you could buy any degree that you wanted."
"I should not have to talk about this from stalkers," he whined. "'Cause that's exactly what they are and they stalk me all the time. They're stalkers, and I have sought legal action. I don't know if it will be any good because hey, I'm a public servant according to Garth (the county attorney) and other people so it comes with the territory, even if it's lies."
The most mind-numbing part of this whole day was that – after spending weeks attacking me on social media and accusing me of "spreading lies" about where he really obtained his degree — Steve Champion did exactly what I prayed he would do. He opened his mouth and the truth came out.
While he tried to dismiss the whole matter as nothing – "I never said I went to Hamilton in New York," "they didn't have" a Hamilton University "per say" and "Facebook populated that" – Steve Champion admitted he lied about his degree. According to Florida Statute, it is a first-degree misdemeanor to knowingly misrepresent your academic achievements.
For everyone who was present in the BOCC chamber, and all of those who watched the live stream, and to all of those who have since logged on to watch the recording of that meeting, the truth was finally laid bare.
This was not a "political attack seven days before an election." It was Karma.
You lied, Mr. Champion. You did not "earn" a bachelor's degree from Hamilton College in New York. You bought your degree from a diploma mill that operated out of a vacant Motel 6 in Wyoming… and everyone knows it now.
Let that sink in, Mr. Champion, and — as I said when I left the podium at the BOCC meeting — "Take your time. We'll leave the light on for you."
UPDATE: As shown in the side-by-side comparison of the screenshots of County Commissioner Steve Champion's page on the Hernando County Government website, he has attempted to hide the fact that he said he earned his degree at Hamilton College.
Publishers Note: While The Free Press will always be free for our readers, and ad-supported, we are asking our loyal readers to consider a monthly donation of $3 to maintain our local journalism and help us grow, as we ramp up ad sales locally.
You can click here to support us.
We thank you all for your consideration and supporting local journalism.
Login To Facebook From Your Browser To Leave A Comment