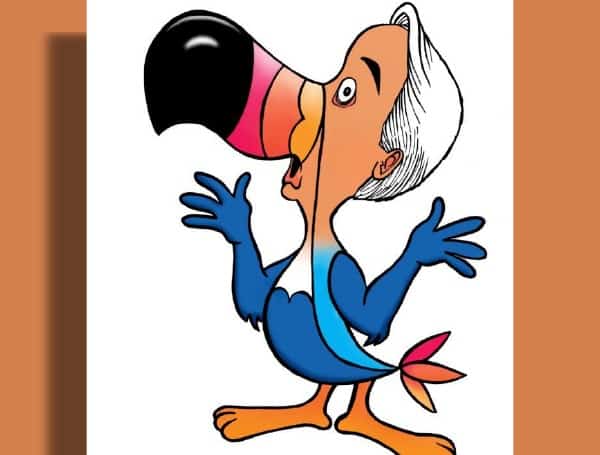 Florida's most famous empty suit, preeminent political opportunist, and ultimate wind-testing invertebrate Charlie Crist recently announced he will run for Florida governor against Ron DeSantis in 2024.
Charlie "Chuckles" Crist is currently a Congressman Crist representing St. Petersburg in the U.S. House of Representatives. Running for governor means the tan man will not be able to run for reelection to Congress, and that should be good news for the GOP's prospects to take back a Democrat-held seat.
But what is good news for St. Petersburg, could spell trouble for Florida, because Charlie Crist as governor would be decimating to the state, and all the gains it has made under the leadership of Governor Ron DeSantis.
Of course, Toutan Charlie will need to win the Democrat Primary before facing DeSantis, and speculation about who else is likely to get in the race includes Congresswoman (and former Orlando Police Chief) Val Demings, Agriculture Commissioner (and former marijuana lobbyist) Nikki Fried, former one-term Congresswoman (and 2020 candidate) Gwen Gramm, plus a host of other retreads and wannabes sitting on the Democrats' second-string junior varsity bench.
One person we can expect won't be running is 2020 nominee Andrew Gillum who made news after losing to DeSantis when he was caught naked passed out in his own vomit in a Miami hotel room with a gay male prostitute (the Dems really know how to pick 'em).
Chuckles' biggest challenge will be winning the Democrat primary.
Although the tan man has now been a Democrat for seven years, outside of his home base of St. Petersburg, many Florida Democrats remain suspect of Crist as a flip-flopping opportunist and an empty suit (as most Republicans do). Many loyal Democrats can't process that Crist was once a pro-life, pro-Second Amendment, anti-illegal immigration, self-described conservative Republican.
Charlie Crist on the issues
One of five congressional Democrats who voted in favor of Trump's border wall – the next day he said he opposed it.
Until 2008, Crist supported a federal constitutional amendment defining marriage as between one man and one woman. Today, Crist supports marriage for same-sex couples.
Crist formerly supported the Second Amendment and received "A" ratings from the NRA. Since becoming a Democrat, he has changed his pro-gun stance and supports most efforts to limit the right to bear arms. His most recent rating from the NRA was an "F."
On abortion, Crist has supported mandatory 24-hour waiting periods and called himself "pro-life." Today, as a Democrat he is pro-choice and has a 100 percent rating from Planned Parenthood.
Once a "tough on crime" governor with the moniker "Chain Gang Charlie" after he reinstitutes prisoner labor on highways, Crist is now supporting criminal justice "reform" including a national standard for the operation of police departments.
Despite those concerns, Crist has advantages going into the race, most notably name I.D. from having been elected statewide three times, and on the ballot statewide five times. Crist can also raise money – boatloads of it from people like his pal John Morgan, the ubiquitous ambulance-chasing trial lawyer. Last but not least, Chuckles is extremely likable. As a retail politician, there are few in the state, if not the country, who can match his congeniality, and at the end of the day, likeability trumps accomplishment in most political campaigns.
For their part, Val Demings and Nikki Fried have their own assets. In a Democrat Primary, being a woman and lifelong liberal Democrat gives them a healthy advantage with party activists. That Demings is Black gives her an added advantage with the most reliable demographic group for Democrats in the state: Black women. For her part, as the only statewide elected Democrat in Florida, Fried has a slightly better name, I.D., and in a General Election is likely more electable than Demings (not that Fla. Democrats are prone to think about such things). Fried also has more established fundraising and grassroots network than any other Democrat.
Regardless of who else gets in the race, for anyone running against Charlie Crist, here is what they need to know. Despite his public amiability, Crist is a cunning political player who is willing to say or do anything to stay in the public spotlight to stroke his fragile ego.
Don't take him for granted. Despite some significant election losses, Charlie Crist still knows how to wind-test the electorate –and win.
Who is Charlie Crist?
Lifelong Republican until 2011.
In 2011 he ran for the Republican nomination to U.S. Senate and lost the nomination to Marco Rubio. Crist then changed parties and ran in the General Election as a No Party Affiliation (NPA) candidate. He lost to Rubio in a three-way race.
In 2014 he switched parties again, this time to Democrat to run for governor against incumbent Republican Governor Rick Scott. Crist won the Democrat Primary, but a fractured party suspect of the tan man's Democrat bona fides contributed to his loss to Scott (who is arguably one of the most painfully awkward people to ever get elected to anything) in the General Election.
Without a job and no marketable skills outside of getting elected to stuff, Crist ran for Congress in St. Petersburg as a Democrat. He defeated one-term candidate David Jolly by four points, sending the first Democrat to Congress from the district in over sixty years.
A snapshot of Charlie Crist's job-hopping political career
Fla. State Senator 1992-1998
Fla. Education Commissioner 2001-2003
Fla. Attorney General 2003-2007
Fla. Governor 2007-2011
Member of Congress 2017-present
Legend: Charlie Crist nicknames
The tan man. Before Donald Trump found orange syrup to spread all over his body, Charlie Crist was known for his unnatural glow.
Chain gang Charlie. Crist was once so pro-tough on criminals he got this nickname after proposing prisoners return to doing roadside labor attached to chains.
Toutan Charlie. Modeled after the toucan mascot for Fruit Loops cereal. Crist is kind of a fruit and is also known to follow the way the wind is blowing. The toucan always follows his nose in a similar fashion, Charlie ads the tan, hence "Toutan Charlie."
Chuckles. Seemingly an appropriate name for someone name Charlie who is more suited to being a circus clown than an elected official making important decisions.
Empty suit. In Washington, D.C., a town full of empty suits, Charlie Crist is the epitome of a politician lacking backbone and ideological convictions.
Chris Ingram is a communication, political, and media consultant in Tampa. Follow him on Twitter at @IrreverentView.
The views and opinions expressed in this commentary are those of the author and do not necessarily reflect the opinion of The Free Press.
Visit Tampafp.com for Politics, Tampa Area Local News, Sports, and National Headlines. Support journalism by clicking here to our GiveSendGo or sign up for our free newsletter by clicking here.
Android Users, Click Here To Download The Free Press App And Never Miss A Story. Follow Us On Facebook Here Or Twitter Here.
Copyright 2022 The Free Press, LLC, tampafp.com. All rights reserved. This material may not be published, broadcast, rewritten, or redistributed.
Login To Facebook From Your Browser To Leave A Comment