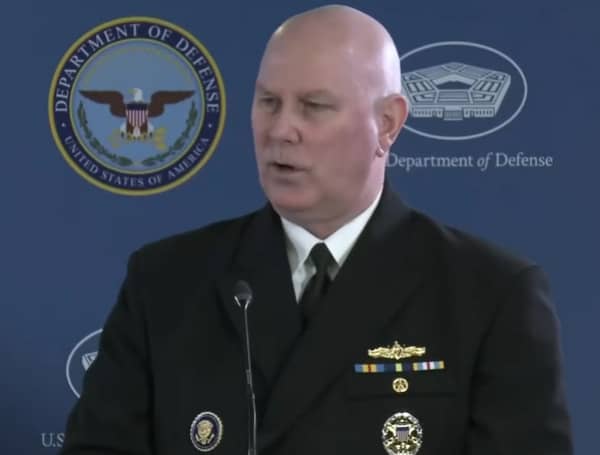 Officials said Monday the Pentagon seeks to overhaul the way it buys munitions, requesting $30.6 billion in funding from Congress to scale up orders for the varieties of weapons needed to confront China.
Surging security assistance to Ukraine has depleted U.S. weapons stockpiles and exposed a need to rethink how the Pentagon procures short, medium, and long-range munitions from defense contractors, officials said at the unveiling of the Pentagon's fiscal year 2024 budget proposal Monday.
In particular, a pilot program for certain long-range munitions would authorize Defense officials to make large orders for several years rather than renegotiate contracts every year, which could lower costs and improve the defense base's ability to manufacture weapons at a large scale, according to budget materials.
In the news: Florida Man Shot And Killed By Sergeant After "Waiting" For And Shooting K9 Deputy 3 Times
"We are buying to the limit and expanding limits," Deputy Secretary of Defense Kathleen Hicks said at a briefing.
The munitions procurement request is $5.8 billion above the administration's request for the fiscal year 2023 and 12% more than Congress enacted, Hicks explained.
It includes $5.6 billion for ammunition, $17.3 billion for tactical missiles, and $7.3 billion for strategic (nuclear capable) missiles, the budget documents show.
Ukraine has not changed the Pentagon's top procurement priorities, Pentagon comptroller Michael McCord told reporters, but it did encourage a new emphasis on munitions. Those prioritized in the Pentagon's request are "not ones key to Ukraine fight but to the Indo-Pacific," McCord added.
Congress added a multi-year procurement facility for certain critical munitions in the 2023 National Defense Authorization Act, incorporating elements of the Pentagon's request.
In the news: Rep. Gaetz Seeks Investigation Of Group FBI Relies On To Determine Who's A "Terrorist"
Lawmakers argued that longer-term contracts provide a more predictable demand signal to the defense industry, lessening the risk of investing in greater production capacity.
Those contracts could be leveraged to expand the production of Javelin missiles and 155 mm ammunition as the war in Ukraine has consumed U.S. stockpiles.
Now, the Pentagon, for the first time, is requesting the authority to grant multi-year contracts for systems like naval strike missiles, medium-range air-to-air missiles, long-range anti-ship missiles, and the stealthy air-launched cruise missile, the so-called JASSM-ER. Some of those weapons would fall into a proposed "Large Lot Procurement pilot program" for long-range munitions, employing dedicated financing and sub-contractors to "maximize manufacturing capacity, accelerate delivery schedules, and drive down unit costs," according to the Pentagon.
The Department of Defense (DOD) budget request also sets aside $1 billion to help American defense contractors, and possibly those belonging to allies and partners, expand munitions facilities, documents show.
In the news: Rep. Steube's Bill To Protect Women's Sports Picks Up Steam
The administration is pursuing "expansions, upgrades and overhauls" of defense systems, Hicks said.
According to McCord, none of the weapons in the Pentagon's budget are meant for Ukraine.
The situation remains too fluid to plan on what Ukraine will need once Congress authorizes a budget months away so that the Pentagon will rely on short-term supplemental funding packages instead, he explained.
Android Users, Click Here To Download The Free Press App And Never Miss A Story. Follow Us On Facebook Here Or Twitter Here. Signup for our free newsletter by clicking here. We can't do this without your help; visit our GiveSendGo page and donate any dollar amount; every penny helps.
Login To Facebook From Your Browser To Leave A Comment