The Florida Sheriffs Association (FSA) is pleased to announce that Pinellas County Corrections Officer Deputy Anthony LaCorte has been selected as the 2023 Corrections Officer of the Year.
Each year, the award is presented at the FSA Winter Conference to an officer who has demonstrated exceptional service. This award is sponsored by Falcon, Inc.
Deputy LaCorte received the award during the annual banquet in front of his friends and colleagues for his selfless attention to duty and perseverance.
When faced with dangerous situations, he demonstrated great bravery and service above and beyond the call of duty.
On July 12, 2022, Deputy LaCorte was off-duty with his family at Anclote Island, a beach located off the Gulf Coast near Tarpon Springs. During this time, two children were swept away from the island due to a dangerous rip current. Both children were last seen underwater. The mother of the two children could be heard calling out for them from the shore. Deputy LaCorte recognized the emergency, ran down the beach, and boarded his jet ski.  
Deputy LaCorte immediately responded to where the children were last seen and navigated the water in circles until he found the children, who appeared to be drowning.
He rescued the younger child first and was able to pull him aboard his craft. The second child went under the water. Deputy Lacorte was able to obtain a grasp of this child and pulled him out of the water and onto the jet ski. Both children displayed water inhalation by coughing and vomiting seawater.
Deputy LaCorte immediately returned the children to the island to reunite them with their family. 
"Deputy LaCorte has served the community, fellow deputies, and inmates in Pinellas County since 2019. His willingness to help in a time of need is well known. He never hesitated to put the safety of those around him and his community before himself. In addition, Deputy LaCorte has demonstrated undying commitment to treating inmates with the same level of dignity and respect as any other community member," said Pinellas County Sheriff Bob Gualtieri. "He represents all our silent heroes who work tirelessly to rebuild a stronger community while serving as detention deputies in our county jails. Being recognized as the Florida Sheriffs  Association Correction's Officer of the Year is an honor for Deputy LaCorte and recognition of  his devotion to serving our mission."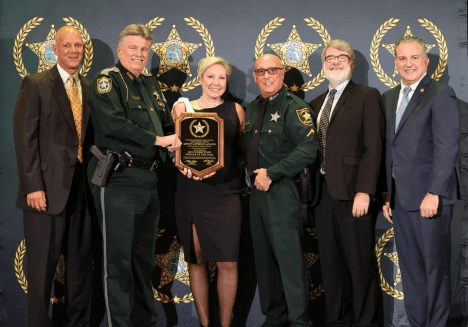 "It is truly a privilege for me and for Falcon to join with the Florida Sheriffs in honoring Pinellas  County Deputy LaCorte for his bravery and dedication to service. He is a hero both on and off duty. By rescuing these children, he has shown his incredible strength and kindness in an act of selflessness that will live on for many decades and generations to come," said Falcon, Inc  Founder and CEO Dr. Elizabeth Falcon. "The same may be said for his work in the Jail, where  even one act of kindness can inspire and change a life for the better." 
The Florida Sheriffs Association Corrections Officer of the Year Award is proudly sponsored by  Falcon, Inc. During the annual winter conference banquet, Deputy Lacorte and his family were given a standing ovation from the attendees.  
Editors note: Thank you, Deputy Anthony LaCorte, for your swift actions that day as you saved the lives of two children, and thank you for serving our community each day.
Android Users, Click Here To Download The Free Press App And Never Miss A Story. Follow Us On Facebook Here Or Twitter Here.
Login To Facebook From Your Browser To Leave A Comment