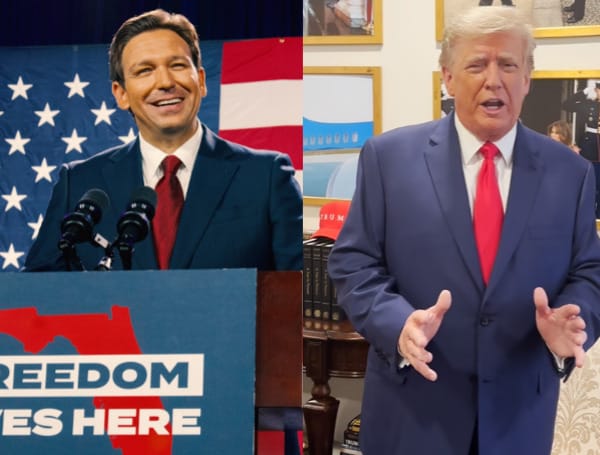 A new poll shows that Republicans still want former President Donald Trump to be the Republican standard-bearer in 2024. Yet Florida Republican Gov. Ron DeSantis is closing that gap.
The Yahoo News poll showed that 57% of Republicans want Trump to run in 2024 and that he would be the first choice among 47% of GOP respondents.
Still, 38% of Republicans want someone other than Trump, and DeSantis is clearly the person they want. That's based on several scenarios offered by the pollster.
For example, 39% of Republicans want Trump to be the party's 2024 nominee. That compares to 29% who want DeSantis. But among people who voted for Trump in 2020, the former president's lead is very narrow, 37% to 36%.
When matched head to head, Trump and DeSantis tie at 42% among right-leaning voters, which includes independents. On this question, 46% of Republicans want Trump, compared to 39% who like DeSantis. Yet among actual Trump 2020 voters, DeSantis leads 46-44.
In the news: Bernie Sanders To Take A 'Hard Look' At Running For President If Biden Doesn't
Trump 2020 voters also believed that another candidate has almost the same chance of defeating the Democrat as Trump does. Within this group, 44% believe Trump can win again, while 41% say another GOP candidate will prevail.
When asked who actually has a better chance of winning in two years, 46% of Republicans went with Trump, while 42% said DeSantis. But again, among Trump 2020 voters, DeSantis led 47-41.
And Trump 2020 voters believe DeSantis has a better chance than Trump of beating President Joe Biden in 2024. ON that question, 87% went with DeSantis, while 84% identified Trump.
When asked who they would vote for if either man were on the 2024 ballot, 80% of Republicans and 39% said they might or definitely will vote for Trump. On the other hand, 37% of all voters sai they definitely would not vote for him.
When the question shifted to Florida's governor, 80% of Republicans and 42% of all voters said DeSantis. Just 28% replied that they would definitely not vote for him.
Among those who might or definitely would vote for him if he was on the ballot, DeSantis claimed 87% of Trump 2020 voters and 21% of Biden's. For Trump, those numbers were 86% and 9%, respectively.
But if it's not Trump, Republicans clearly want DeSantis.
Given seven other choices besides Trump to pick from, 29% of Republicans and 36% of Trump 2020 voters backed the Florida governor.
Coming in second to him, depending on the respondents, were former Vice President Mike Pence and former South Carolina Gov. Nikki Haley.
Among GOP voters, 5% want Pence, with Haley chosen by 4%. Among Trump 2020 voters, Haley claimed 5%, while Pence was backed by 4%.
For comparison, by the way, the liberals' favorite Republican, Rep. Liz Cheney, got the nod from just 2% of GOP voters and only 1% of Trump 2020 fans.
Visit Tampafp.com for Politics, Sports, and National Headlines, or signup for our free newsletter by clicking here.
Android Users, Click Here To Download The Free Press App And Never Miss A Story. Follow Us On Facebook Here Or Twitter Here.
Login To Facebook From Your Browser To Leave A Comment