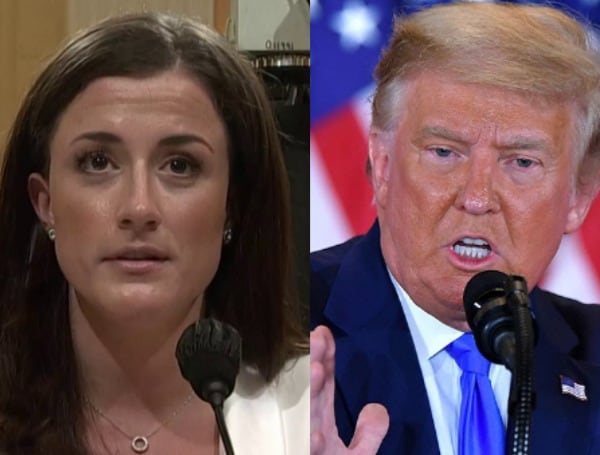 Despite its pretensions and promises, the myopic and highly partisan House committee investigating the Jan. 6, 2021, riot at the U.S. Capitol has offered a lot of sizzle but little steak.
Now, it turns out that the one witness who allegedly brought the most red meat to the anti-Trump hearings is not all that she's cracked up to be.
Last month, Cassidy Hutchinson, a former aide to chief of staff Mark Meadows, held Democrats and the mainstream media – which may be redundant – spellbound, as she spun a tale of former President Donald Trump's behavior on that fateful day.
Her inside knowledge included claims that Trump knew some of his supporters brought firearms but dismissed that, that he demanded to go to the Capitol with the crowd but was denied by Secret Service agents, and that he tried to grab the steering wheel of the presidential limo and attempted to choke his driver when his security team refused his request.
The Secret Service denied that account and has offered to send its agents with Trump that day to testify – an offer the Democrats apparently don't want to entertain.
But The Federalist, a conservative website, has now cast a light on Hutchinson's credibility.
In the news: Rep. Matt Gaetz Refuses To Give An Inch To The Brigades Of The Perpetually Aggrieved
According to its report on Tuesday, the J6 committee's star witness "dramatically changed her story about what she knew and how she felt about what she witnessed as a White House staffer."
Last month, she portrayed herself as still traumatized by J6 events.
"As an American, I was disgusted. It was unpatriotic," Hutchinson told the committee. "We were watching the Capitol building get defaced over a lie, and it was something that was really hard in that moment to digest."
Yet someone leaked months of private communications received from Hutchinson to The Federalist, and those messages paint a far different picture.
"Hutchinson commiserated with other targets of the [Jan. 6] probe about how little information she had about any wrongdoing that day, and lamented how corrupt the politicized committee was. Far from being upset with Trump, Hutchinson repeatedly spoke in favor of him and his presidency," The Federalist noted.
In one message, Hutchinson reportedly said, "I would rather shoot myself dead into the Potomac than see marine one [the presidential helicopter] flying around this city without 45 again." That was in April 2021.
In other messages after she was subpoenaed to testify before the J6 committee, Hutchinson referred to the panel as "phony," and labeled its inquiry "bs," The Federalist reported.
Continuing to recount her leftist conversion, the website pointed out that on Jan. 5, 2021, she visited the Capitol, saying "Gotta see our PEOPLE."
Last November, Hutchinson joked about having "an insurrection at parc Chelsea," an apartment complex where a friend lived. In March 2021, she also joked about using a photo of Trump's Jan. 6 speech as her Zoom background when she wa deposed by the J6 committee.
Last September, Hutchinson ridiculed Reps. Liz Cheney and Adam Kinzinger, Pelosi's hand-picked Republicans on the J6 panel, as a "crop of losers."
According to other messages from May 2022, Hutchinson fumed about a Politico story that claimed the J6 committee could break through "stonewalls erected by Donald Trump's closest allies" by talking to subordinates like her,
"The members LITERALLY told you they're taking advantage of us,"s he said. "So shut the [f—] up and stop tweeting about me … leave me alone … there is no story here."
When a friend poked at her that Politico was selling her former Nixon aide John Dean of Watergate fame, she answered, "It's honestly nauseating."
After top CNN anti-Trumper Jim Acosta reached out and told Hutchinson, "Thank you for your bravery and courage. We and the American people look forward to learning more from your testimony," Hutchinson confessed she had "about twenty snarky responses typed to respond back but just let it go."
"Like stop WARPING everything you [f——] [j—–] … and also I couldn't give less of a [f—] what cnn thinks of me. Truly," she added.
As The Free Press reported earlier this month, Trump revealed that Hutchinson was a farce not to be reckoned with.
He called her a "social climber" who lied about his behavior that day.
Trump also noted that Hutchinson also "forgot" to share with the J6 committee that "she was desperate to go to Florida with certain others of the Trump staff, long after January 6th had come and gone."
"If I was so evil," he continued, "why did she fight so hard to stay a part of the MAGA TEAM? This is all documented in writing! Why did it take her so long to tell (make up!) these ridiculous and obviously Fake Stories, even after previously sitting for four long depositions? Was it, just maybe, her brand new lawyer? Lying under oath???"
In the news: Fugitive Sex Offender In Florida Charged With Sexually Battery Of 12-Year-Old
Visit Tampafp.com for Politics, Tampa Area Local News, Sports, and National Headlines. Support journalism by clicking here to our GiveSendGo or sign up for our free newsletter by clicking here.
Android Users, Click Here To Download The Free Press App And Never Miss A Story. Follow Us On Facebook Here Or Twitter Here.
Copyright 2022 The Free Press, LLC, tampafp.com. All rights reserved. This material may not be published, broadcast, rewritten, or redistributed.
Login To Facebook From Your Browser To Leave A Comment